If you have a local business, then understanding how Google Business Profile works and can benefit you is critical. Ranking on Google Business Profile can help you launch your business into orbit by generating more leads, traffic, and engagement.
Ready to rank higher on Google Maps? You're in the right place. Learn how to rank on Google Business Profile in just nine steps. This will help your small business land in Google Maps listings and in local search results.
What Is Google Business Profile?
Google Business Profile is an online platform available for small, local business owners to share company information with consumers. It helps you boost leads and foster relationships within your local community.
In short: when you search Google Maps, business listings near you appear. That's a Google Business Profile page!
As people search in Google Search and Google Maps for local businesses near them, a Google Business Profile profile gives them all of the information they're looking for. This helps consumers find you and your products or services.
Why You Need a Google Business Profile Profile
Local businesses not utilizing a Google my Business profile are missing out on tons of opportunities for online marketing, consumer trust, and local search optimization.
It's Free Marketing for Businesses
Google Business Profile is a completely free tool that local and small businesses can use to appear in local search results. Plus, your customers are actively using it – so you'd be amiss to skip out on this service. In fact, 76% of consumers searching on their phones for a nearby business will visit within a day.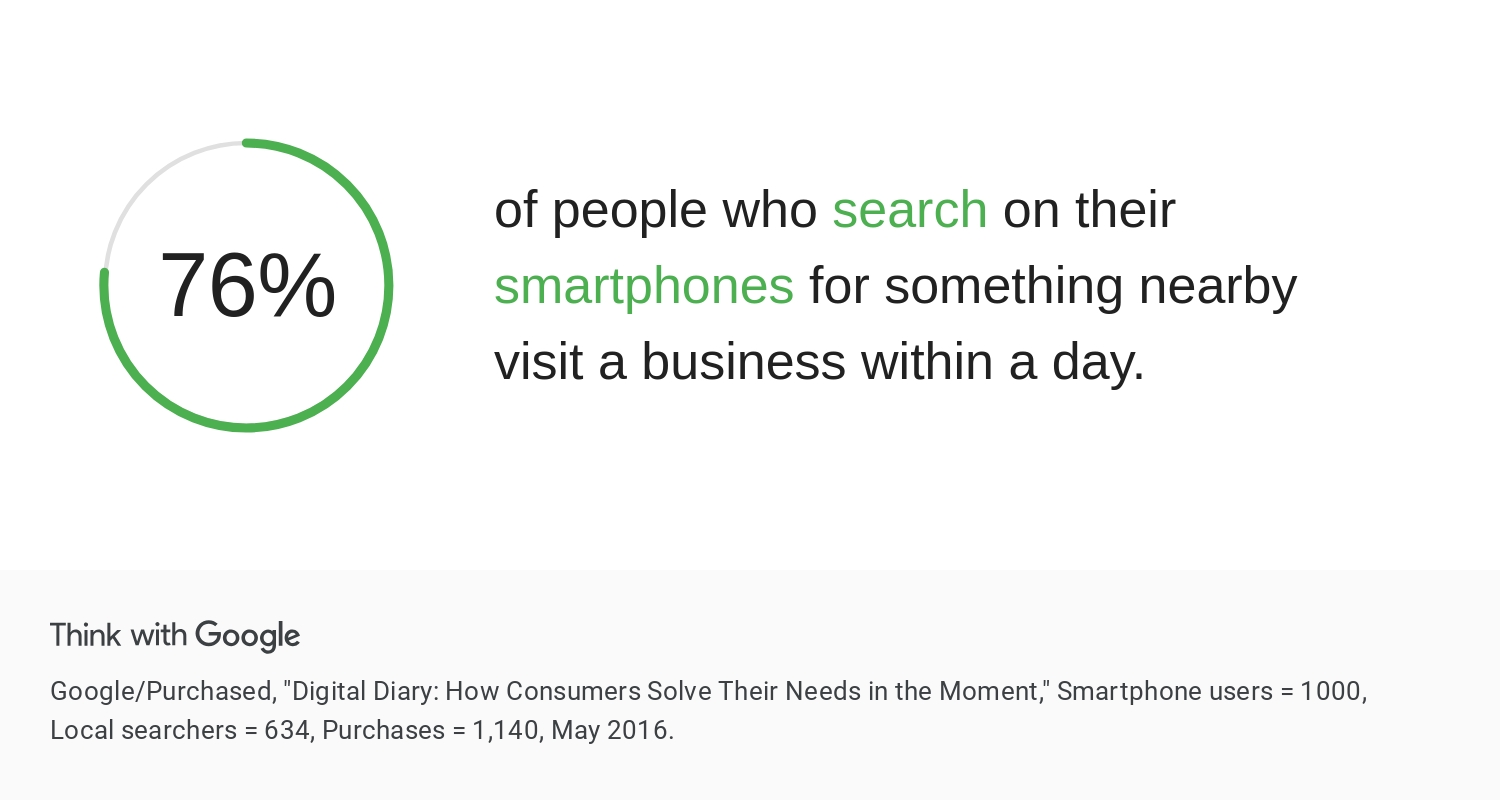 Having a Google Business Profile profile helps you bring in organic traffic and leads. Plus, with additional free tools like Google Marketing Kit and Google Insights, it's easier than ever to connect with and understand your customers.
It Builds Consumer Trust
Having a Google Business Profile profile helps build consumer trust. It gives you the opportunity to connect directly with your potential customers. You can do this through Messaging, Posts, and – most importantly – Reviews.
Did you know that 91% of people aged 18-34 trust online reviews just as much as they trust recommendations from friends and family? With a Google Business Profile account, you can respond to your reviews in a timely manner. This way, you can thank your customers who leave positive reviews and turn around any negative experiences.
It Boosts Your Search Engine Optimization
Having a Google Business Profile profile alone isn't enough to boost your SEO. However, if you play your cards right, your Google Business Profile page can be a lead-attracting conversion machine.
Let's say you fully optimize your Google Business Profile profile and start sharing Google Business Profile Posts once per week. Your business starts to rank at the top of Google's map pack. Being in Google's map pack can lead to an increase in website traffic and positive reviews. This helps with your prominence scores in Google's ranking, which means a local SEO boost for you!
How Google Decides Ranking
When it comes to local search rankings, there are three key categories you have to keep in mind. All rank factors will either relate to your small business' proximity, relevance, or prominence.
Proximity
Proximity is a fairly straightforward factor: it is determined by the searcher's location. Google can calculate their approximate location if they don't have a user's exact data.
For example: if someone lives in Los Angeles, but your business is based out of Orlando, then you won't show up in their search results. This is especially true for local searches that include "near me" in the query.
Relevance
Relevance is, as the name suggests, all about if your business matches the search query. The more detailed your Google Business Profile profile is, the better your chances of ranking in relevant search results are.
For example: If a law firm offers both family and personal injury legal counsel, then they need to make sure their Google Business Profile profile reflects that accordingly. This way, they show up in searches for both "family lawyer near me" and "personal injury lawyer near me."
Prominence
Prominence boils down to how well known your business is and how reputable you are. This takes your prominence offline into consideration, too.
For example, if you searched for "museums in Paris," The Louvre would rank highly due to its prominence as a famous museum and landmark.
You can boost your prominence scores with the help of online reviews. In fact, your Google Reviews play a massive role in your prominence score ranking here! Google will also pull information from across the web to factor into your prominence score, like from web directories, articles, and links.
Prominence can also be influenced by a few factors in search, including:
The exact query that the search types in (for example, best lawyer vs. closest lawyer near me)
The searcher's exact location
How relevant your business is to the query
Your business prominence in relation to the query
How to Rank on Google Business Profile
Follow these nine steps to have your Google Business Profile profile rank in Google Search and Maps.
Step 1: Claim & Verify Your Listing
Your business might show up on Google Business Profile whether or not you claim it. But if you want to manage and take ownership of your listing, then you need to claim and verify it. If you don't, then you won't be able to optimize your profile and get it ranking.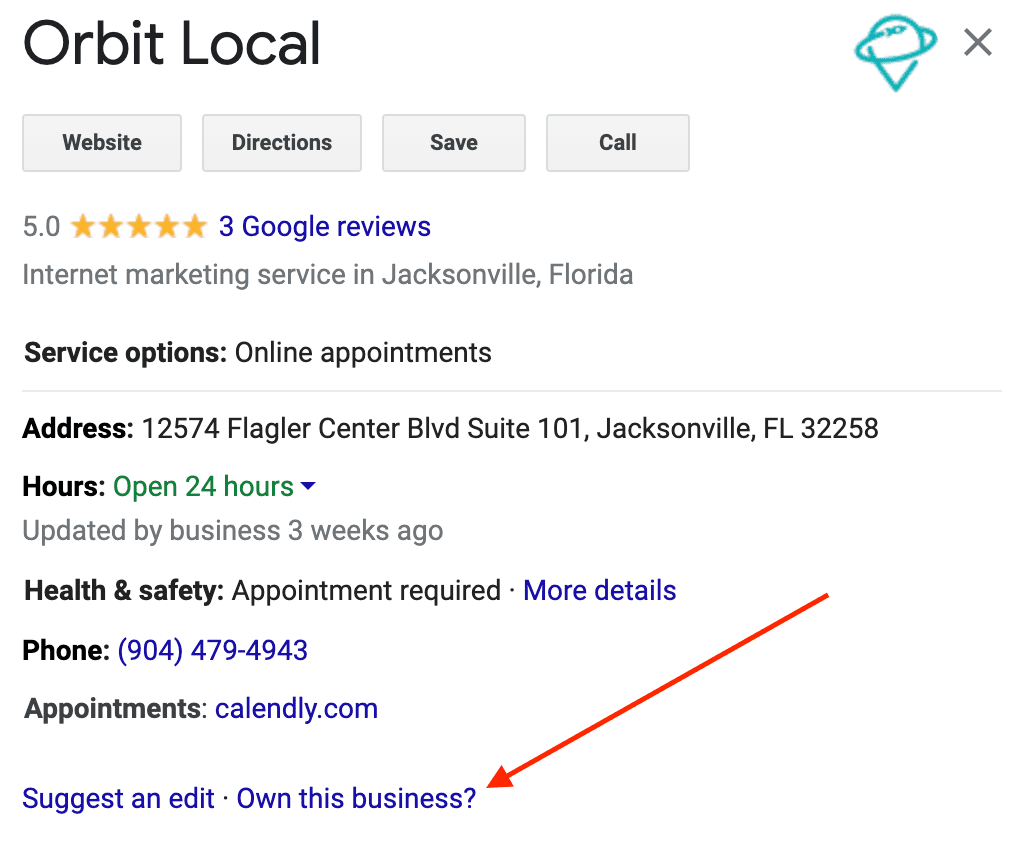 If your business already exists on Google Business Profile, you'll click on "Own this business?" and then follow the steps to claim it. Google will then verify your identification via postcard.
Step 2: Have consistent NAP Info
NAP stands for name, address, and phone number. Keeping your business' NAP information consistent across the web is a major ranking factor for search engines. It'll give your Google Business Profile Profile a boost, too!
The more consistent your NAP is online, the more it legitimizes your business to Google. It also helps with the profile verification process.
Just remember to make sure your business name is how it appears in real life. For example, don't include any keywords in your business name to try to boost your local ranking in search engine results. If it's not how your business is presented in real life, then you may not get verified.
You also need to use your business address, not a PO Box. Google Business Profile does not allow users to use PO Box. If you don't have a physical location, you can set your business up as a service area business instead.
Step 3: Include All Of Your About Info
Don't forget your About info! The more business information you can provide, the better it is for your business ranking. Including as much information as you can makes it easier for customers to find you. This includes:

Your NAP
Your business website URL
Your business hours
Social media profiles
Plus other ways to contact you
Step 4: Add Primary and Secondary Categories
You can select up to 10 categories for your Google Business Profile listing. First, pick the primary category that best describes your business. Then, you can add up to nine more secondary business categories.
More does not always equal better. Make sure that you're getting specific when selecting these predetermined categories. This helps lower your competition pool by making sure you show up in relevant searches. Remember, it's all about local intent when it comes to search.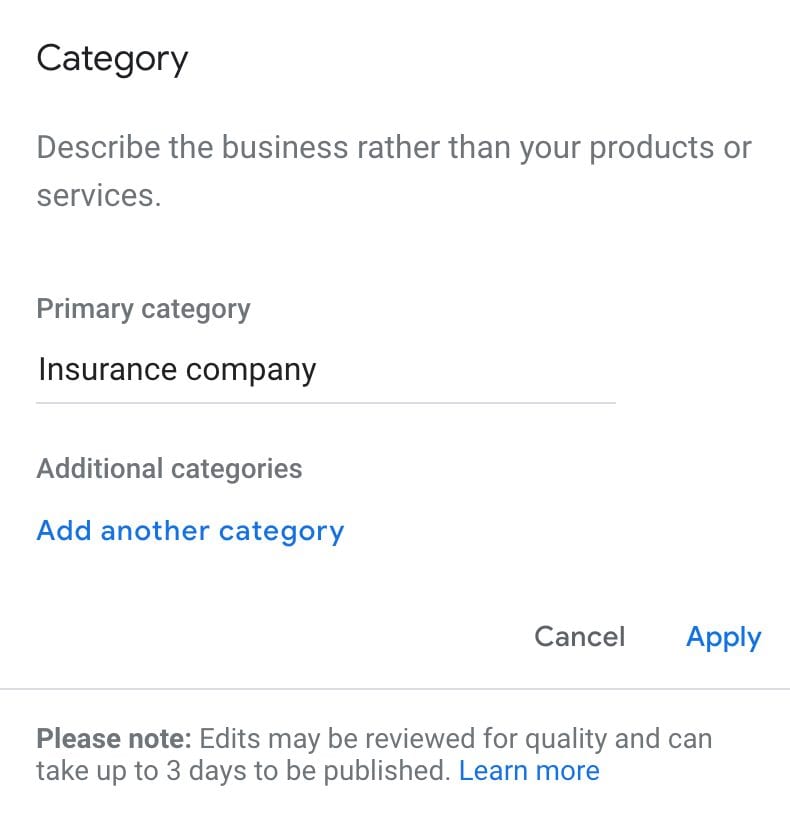 Another perk of this is that you can add features to your Google Business Profile profile that are specific to your business listings. For example, profiles listed as Restaurants have the option to add buttons for booking reservations or viewing the menu right from Google Maps.
Step 5: Get Specific With Your Description
Get as specific as you can with your business description for your Google Business Profile profile. You want to provide as much information as you can to your customers and for Google to understand what products or services you offer. This is a great opportunity to share how your business benefits your customers.
Remember how we mentioned not to use any keywords in your business name that doesn't appear in real life? Here's where you can put those keywords! We recommend focusing on one or two keywords in your description.
What you should not include here are any sales, offers, or links. Doing so goes against Google's policy.
Step 6: Add Attributes to Your Profile
There are special attributes you can add to give customers even more information about your business. These attributes give customers important information at a quick glance when they're in Google Maps.
Some examples of these include:

Handicap accessibility features
Dining options (such as breakfast, lunch, and dinner or if you have outdoor seating)
Amenities (such as WiFi or public restrooms)
Activities
Crowd (such as adults-only or LGBT-friendly)
Women-Owned
Veteran-Led
Product offerings
Languages spoken
Accepted payment types
The first photos you'll want to add to your Google Business Profile profile are your logo and cover photo. We recommend making these the same ones that you use across Facebook and other social media channels. Consistent branding will make it easier for customers to recognize you.
You should also upload Photos to your Google Business Profile Posts. While sharing Google Business Profile Posts doesn't directly impact your ranking, it can help boost conversions and engagement – which does make a difference. Make sure you're not using any stock photography. Instead, focus on sharing high-quality photos.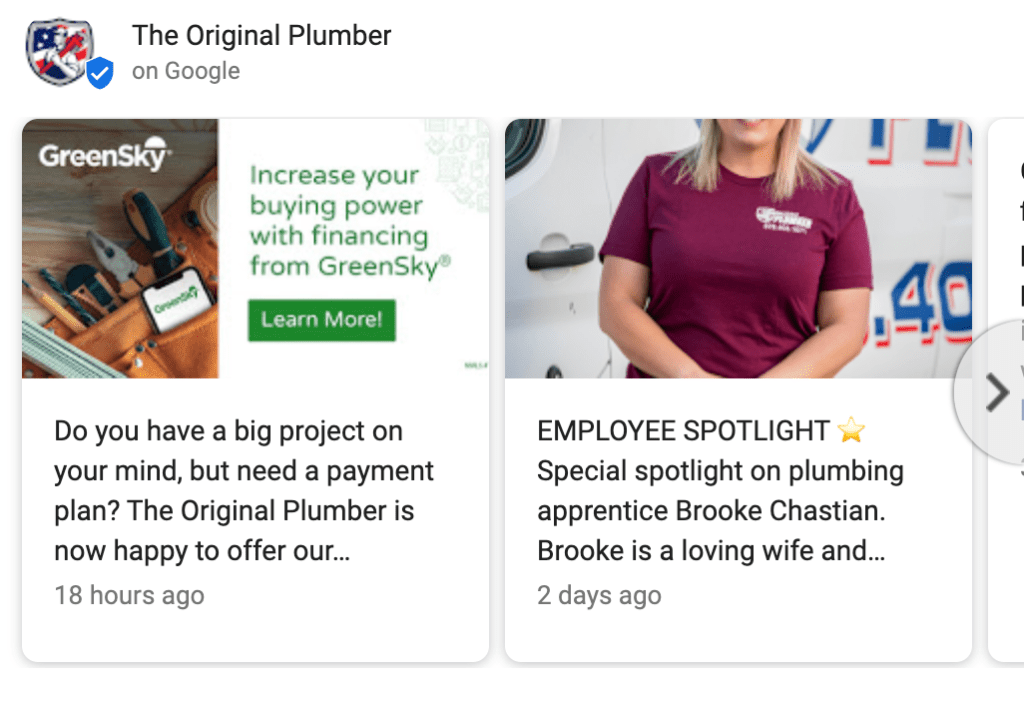 We recommend posting at least once per week to build a relationship with your customers and followers. Make sure your captions include a keyword related to your business so you can increase your visibility.
Step 8: Respond to All Google Reviews
Did you know that Google Reviews play a direct role in your search engine rankings? Positive reviews can make a great impact on your prominence ranking.
Responding to Google Reviews can help build consumer trust. It also gives you a great chance to connect directly with customers and collect feedback in real-time.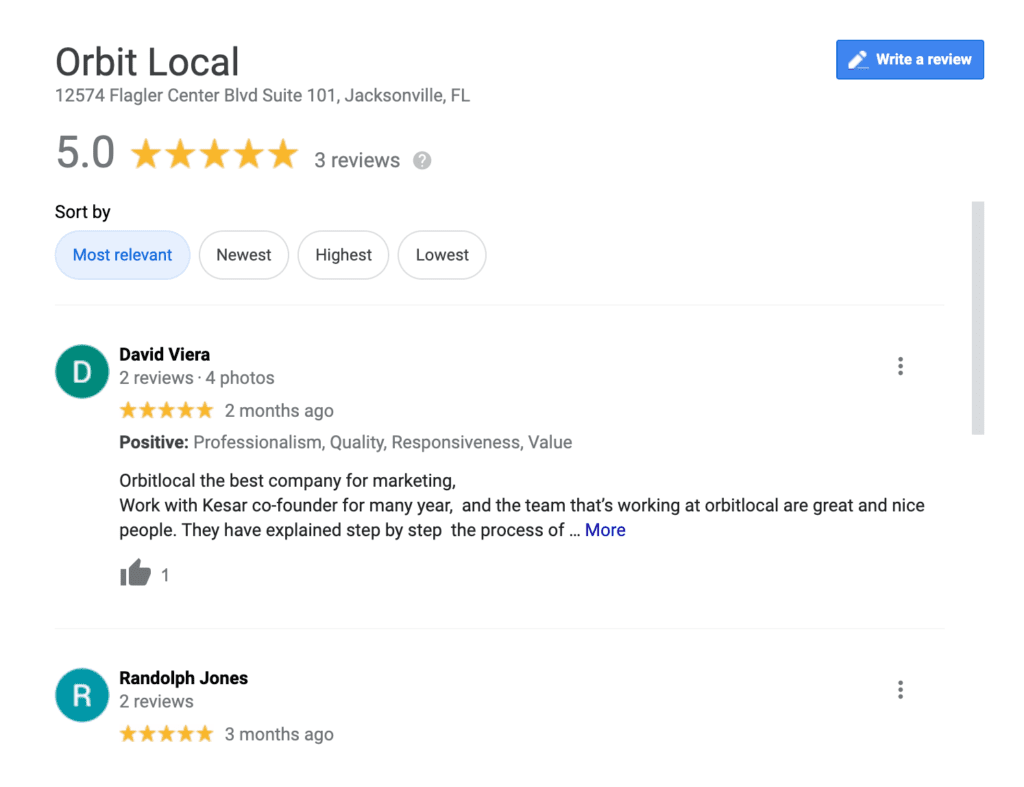 Even if you get negative reviews, you should still respond. Negative reviews provide you the opportunity to flex your customer service skills and build consumer trust. Knowing how to respond to them properly can help turn a negative situation around!
Step 9: Add Products and Services to Your Profile
Finally, add your available products and/or services to your Google business listing. When you list your products and services on your Google Business Profile listing, customers can quickly see a description and price for them. Each product or service shows up as a tab on your profile that customers can click on for more details.
Optimize Your Profile for Higher Rankings
If you followed all of the steps to rank on Google Business Profile, then you've already got a head start on fully optimizing your profile. Having a fully optimized Google Business Profile listing is key to increasing your visibility and rankings.
When you optimize your Google Business Profile listing, then Google has all of the information it needs to rank you at the top of the local map pack. This leads to increased website traffic and more reviews. This can not only give you an SEO boost but help play into your prominence and relevance rankings.
Download Our Free GMB Checklist
Download our Google Business Profile checklist to start optimizing your profile today. It is completely free and shows you the best practices our agency uses to optimize your Google Business Profile listing.
You'll learn:
How to claim your Google Business Profile listing
How to verify your Google Business Profile profile
Secrets to fully optimize your profile
Let Orbit Local Do The Work For You
If managing your Google Business Profile account feels overwhelming and time-consuming, then you can count on Orbit Local. Our team of digital marketing experts will handle everything from fighting fake listings to regularly posting for you. We'll make sure your profile is completely optimized to bring in more leads and conversions. Contact us today for a free consultation!