Social Media Marketing at Rocket Speed
Custom social media marketing services designed to propel local businesses to new heights. Grow your social media presence. Increase brand awareness. Connect with your audience. Get results.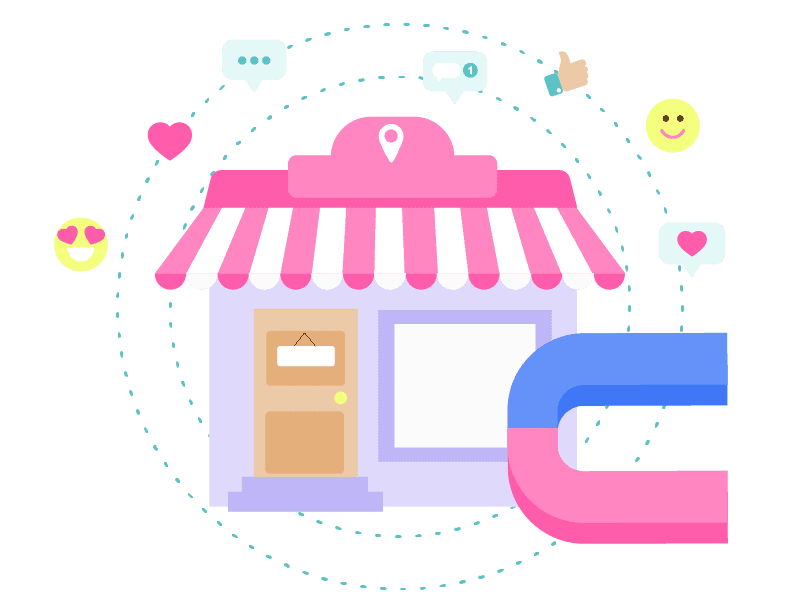 Social Media Marketing Services That Are Exactly What You Need
Trying to learn all there is to know about social media wastes valuable time and resources. While you're busy decoding the perfect Facebook Ad campaign, you could be focusing on tasks that make a difference in your bottom line.
Social media marketing is complex. We know the platforms, campaigns, demographics, and keywords that will shoot your business to the stars. We develop a custom social media strategy for your brand that includes the social networks you need.
As small business owners ourselves, we know how difficult it can be to manage everything. Let us handle the digital marketing while you take care of the business itself.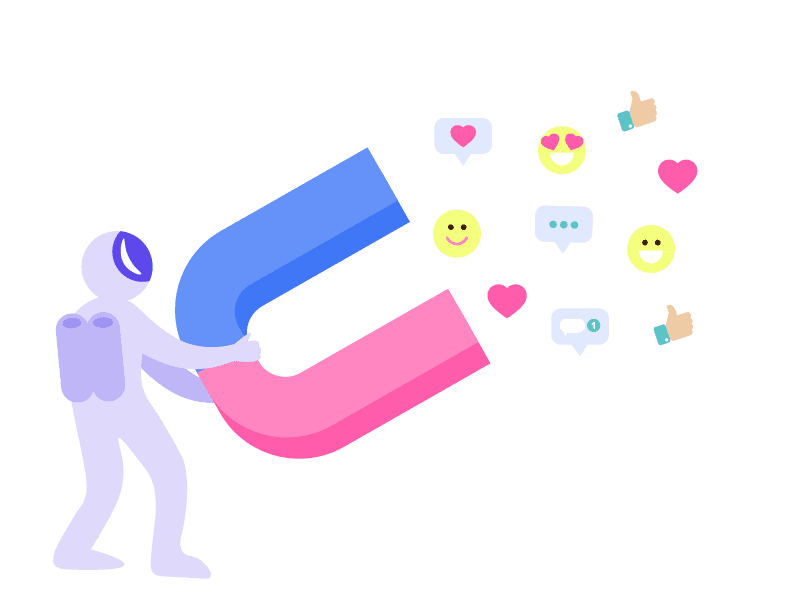 Top-Rated Jacksonville Social Media Marketing Agency Ready for Lift Off
Your business is nothing short of amazing, so you deserve social media marketing services that are the same. Not all social media marketing packages are meant to suit your needs. At Orbit Local, we customize our plans specific to your business and its goals. Our Jacksonville social media marketing team focuses on:
Social Media Strategy
We learn your brand inside and out, from top to bottom. From there, we draw on our years of experience to craft a stellar social media marketing plan that not only helps you reach your target audience but helps you create brand advocates. We'll analyze your tweets and other content to learn more about what's working and what's not.
Profile Creation and Optimization
No matter what your social media presence looks like, we'll step in to make sure you have all the social media profiles you should have. But we go further than the setup itself. We'll optimize each profile on any social media platform, whether we create it or you're already using it. Profile optimization is crucial before launching any social media campaign so that you show up in search results.
Content Creation: No Content? No Problem!
If content creation isn't your thing, that's okay. We take care of the copy, visuals, and everything you need to grow and engage your customers on social media. If you want to expand your social strategy, we can work with you on a content strategy that supports your paid advertising and online marketing.
Facebook and Instagram Advertising
There are 2.54 billion daily active Facebook and Instagram users and 3.21 billion monthly active Facebook and Instagram users. Your clients are definitely on those social media platforms. If you're not launching social campaigns here, your business social media is losing the opportunity to connect with its target audience.
Social Media Monitoring
Some social media marketing companies stop at a certain number of social media posts per month. You can use social media to connect with your customers, but if you're not listening, you could miss out. With us, your social media account manager listens for brand mentions, replies to messages, comments, and more. Community management is crucial to using social media in engaging customers and driving traffic to your website.
Social Media Reporting
There are 2.54 billion daily active Facebook and Instagram users and 3.21 billion monthly active Facebook and Instagram users. Your clients are definitely on those social media platforms. If you're not launching social campaigns here, your business social media is losing the opportunity to connect with its target audience.
Don't take our word for it. Just ask our previous clients.
Industries We Serve
Even though we're an SEO company in Jacksonville, we work with small businesses all over the country. If your company has a local business area, we can help.
Law firm Social Media
Plumber Social Media
Dentist Social Media
Medical Social Media
Chiropractor Social Media
HVAC Social Media
Veterinary Social Media
Photographer Social Media
Surgeon Social Media
Pest control Social Media
Social Media Marketing Packages for Small Business
Effective social media marketing and advertising aren't about the amount of money you spend. It's about how and where you invest it. That's why we offer social media packages that are tailored to your business needs.
A Look Inside Our Social Media Management Services
At Orbit Local, we go into hyperdrive for our clients. When we work together to build your social media marketing strategy, we take time to learn more about your industry and your direct competition. We're not just pulling something out of thin air – we're using our expertise and your brand's distinctive style to create something we know works
For us, you're not just another faceless number. You're a real person, with a real business that we really get to know. We go beyond learning about the features you offer and the services provide so that we can truly understand how those fit in your target market. That's how we set you apart from the rest.
Dedicated Account Manager
When you work with us, you'll never have to worry about someone not knowing what's going on with your account. We don't pass you around to whomever. You'll always work with your dedicated account manager, who knows you and your brand.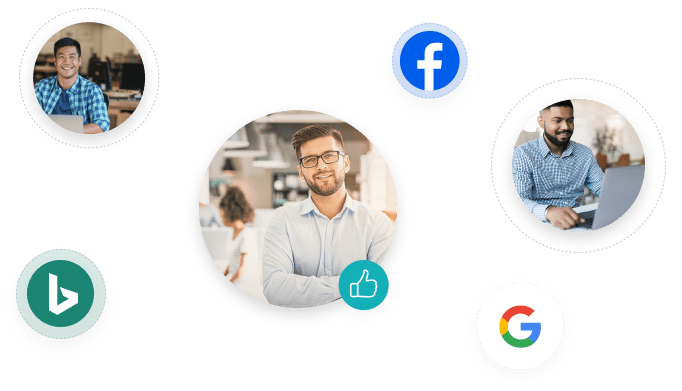 Facebook Ads
Your social media specialist will work to develop a number of social ads for use with pay per click (PPC) advertising for paid social media campaigns on Facebook.
Instagram Ads
Targeting customers on Facebook gets results, but when it's best for your brand, your social media specialist may also run a social media marketing campaign on Instagram.
Social Media Calendar Optimization
Knowing what to post on social media and when to post it is a science. Your social media account manager will create a calendar that gets your blog posts and other content in front of as many followers as possible, across all your social media networks.
Social Media Listening
With social media listening, your brand gets the chance to track, analyze, and respond to conversations taking place across all social media channels. We "listen" to what people are saying about your company – whether they are complimenting your customer service, or complaining about late delivery.
Armed with the knowledge of brand chatter, you can spot trends that will allow you to make data-driven decisions about what to do in your business. Once you make changes that people like, you'll see more customers.
Success Stories
Our track record checks out. Don't believe us? Just ask our previous clients.
Social Media That Drives Leads
Effective social media services are about more than content marketing, ads, and community management. To make the most of the new followers and engagement your social media marketing campaigns bring to your business, you need more. And at Orbit Local, that's exactly what you'll get.

Lead Tracking Dashboard
We give our clients access to a lead tracking dashboard so they can see the results and track where each lead is. Whether they came from a search engine, word of mouth, Facebook, Twitter, or another place – they funnel into a single dashboard. That way, you can quickly determine how and where your new customers came from, along with what actions to take to convert them from a lead to a paying customer.

Conversion Rate Optimization
Conversion rate optimization is all about making adjustments to your website to increase the chance that your audience will become customers. This can be as simple as changing colors or changing copy, or more complex changes. Through split-testing and a variety of other methods, your dedicated social media team will take steps to ensure your conversion rate is optimized.

High Converting Landing Pages
Getting leads from social media ads is only part of the battle. The landing page visitors see plays a big part in what happens next. Our digital marketing agency experts design landing pages that turn traffic into paying customers and help boost your SEO.

Call Tracking
When people call your business, it can be difficult to know where they came from. Our call tracking software makes it easy to track the results of your social media advertising efforts.
Social Support
And when with your work with us, you're working with a brand that believes in the power of giving back to the community. We not only give back to small businesses in need, we actively support organizations that are doing good things in and around the Jacksonville area, including 3 Grains of Rice, JT Townsend Foundation, and Champions for Hope.
Why Hire Our Social Media Management Company
Choosing a social media management company isn't a simple process. Spending hours scrolling around so many agency websites trying to determine which broad-stroke approach is right for you is nobody's idea of a good time.
That's why Orbit Local is proud to be out of this world. We don't believe in "one-size-fits-all" because no two small businesses are the same. Even in the same industry, your business is unique. Our social media management team works with you to review, analyze, and get to know your brand so we can provide you the best social media strategy and fuel growth. You'll have an entire social media team behind your business.
Our process begins with a full social media audit. We look at your current presence and evaluate all your profiles. We determine whether you need to have a profile on any other social media platforms.
We go beyond your business, to review and analyze what your competition is doing, too. We look at their social presence, activity levels, followers, reputation, and more.
We take a look at your current social media marketing strategies, your current brand reputation, and make recommendations based on our findings.
From there, we implement best practices, to ensure all your profiles are fully optimized. We'll craft content your audience is sure to love. And, we'll curate content from other sources to ensure you provide value to your customers without constantly promoting your own products and services. Too much self-promotion will negatively impact interactions with your audience. We'll also build landing pages and make sure your website is ready for all the traffic you'll get from social media. After all, if your website what your visitors expect it to be, they won't consider becoming a customer.
We use social media analytics tools, along with Google Analytics to evaluate the results and optimize for future content.
Our social media marketing service also includes a reporting and communication dashboard where you can see the results of your social media advertising campaigns and our other marketing efforts.
We work to earn your trust and aim to be a partner, not just a service provider. From day one, we work to provide value. When our clients start with us, they stay with us…. and it's not because we charge retainer-like many other marketing agencies out there. It's because we work to earn your business every month.
Are you ready to dominate social media?
Want to learn more about how our social media agency can help you grow?
Book a consultation for a strategy session