Social media marketing is indispensable when it comes to growing your small business and developing loyal fans. Nearly three billion people use Facebook, so having a social media presence for your brand is a great way to attract prospective customers or clients.
To help you get started with your social media branding and marketing plan, we've created this comprehensive guide on how to craft your brand's social media personality, create content, build your community (aka grow your followers!), and execute an effective social media strategy.

If you're looking to build brand awareness for your small business, social media marketing is a great place to start. In fact, 54% of people use social media to research a brand's products or services before they make a purchase. To build your brand on social media, it's essential to identify your ideal persona and your target audience.
What is social media branding?
Social media branding can best be summed up as how you consistently present your company on social media. Social media branding creates brand awareness and recognition, which leads to loyal customers and soft lead generation. When you're building your brand on social media, you're building your community, which turns into a group of potential customers.
Building a brand through social media
When you're working on your social media marketing, it's important to remember that having a strategy is key. Maintain consistency and build a strong brand image on your social media channels by defining your target audience, creating a brand persona guide, and publicizing your brand's visual identity.
Define your target audience
Defining your target audience helps you optimize your social media content strategy. It's important to ask yourself exactly who you are looking to reach so that way, you can find prospects on social media and encourage them to engage with your brand.
To do this, it can be helpful to assign names and personas to your target audience. This way, it helps you envision exactly who you are targeting rather than just an abstract idea. For example, you may say that your ideal target audience is a 40-year-old woman named Susan with a spouse and two kids, a specific job, geographic location, and set of values. You can then ask yourself, "What kind of content would Susan like to see?" to act as a guide.
Assigning a fictional persona to your target audience can also be helpful if you find that your audience starts to vary on each social network. Then, you can adjust your content as necessary to best cater to your audiences and maximize engagement. For example, your followers on LinkedIn will likely end up being different from people who follow you on Instagram (both in demographics and in interests), so it's important to regularly monitor your follower metrics so you can stay nimble and optimize accordingly.
Additional Resources:
Chapter 2: Build awareness with your visual identity

Your brand persona acts as the first impression of your brand to users who find you on social media. As a best practice, you should establish a certain visual identity and keep it consistent across your website and social media platforms.
Create your brand's visual identity
To create your brand's visual identity, you'll need these key elements:

Your company's logo: Your company's logo should also serve as your profile picture across all of your social media pages.
A cover photo: For platforms like LinkedIn, Twitter, and Facebook, you'll also need an eye-catching cover photo. It should match your logo through color and font, and be the same on all platforms
Fonts: Any fonts that you use in your graphic design elements should remain consistent across all of your visuals. Try picking two or three fonts that fit your brand's aesthetic.
A color palette: Having colors built into your visual identity can go a long way with brand recognition. For example, when you think of the colors red and yellow together, you likely think of McDonald's.
Your company's bio: Your bio goes on your page right alongside your profile photo on social media. You should use this space to briefly describe what your business is and what you do. A good template to follow is "We are [business type] that helps [ideal customer] by [service you provide]." Your bio should also include customer service contact information.
Your company's boilerplate: The blurb featured at the end of most press releases that describes the company (in more depth than a social media bio) is a boilerplate. You can use this for your Facebook page's About description, which allows for more characters than a social media bio.
Your brand voice: This is the tone your business will take in social media posts. Ask yourself how you want your brand to be perceived. You can craft this based off of your target audience combined with your company's values. When crafting your ideal brand voice, think of personality traits that a human would have when speaking and apply those.
Create a brand persona guide
After you've established your visual identity and voice, create a guide – such as in a Google Doc or a PDF – that contains all of this information. This will help you remain consistent across every social media channel that you use since you'll have something you can refer back to if you ever feel stuck. You can also create this using a brand kit and logo building tool like Mojomox.
When crafting your brand persona, you can take a similar approach as defining your target audience. If it helps to envision your brand as a mascot or character, then you have something tangible to work with as you develop your company's personality.
Why you should keep your branding consistent across platforms
In building brand awareness with a visual identity, it will prevent confusion in your followers. If someone follows you on Facebook and wants to also follow you on Instagram, they can assure it's your business due to your consistent visual identity. This consistency creates brand recognition, which will help grow your engagement by attracting the right target audience to your pages.
Additional Resources:
Chapter 3: Creating a content strategy

Now that your brand persona is set, you'll need to create a strategy before you post. The key to effective social media marketing is making sure you have a strategy or plan to your posts so you can best optimize your content and see results.
How to form a social media plan
It's important to first ask yourself what social media websites you should be using. You can research the average demographics of different platforms and use that information to help you narrow down which sites you should be using. For example, if your target demographic tends to be more on Facebook, Instagram, and Pinterest, but the opposite is true of YouTube and Twitter, then you should begin by focusing on Facebook, Instagram, and Pinterest.
Your social media plan should also include the timing of your posts. This may take some trial and error as you grow your audience; once you have some followers, you can see the analytics that pertain specifically to your pages. Generally speaking, you should pick days and times where users are most active on social media to maximize the chance of impressions and engagements. For example, if you notice that posting on Tuesday at 9:00 a.m. gets you less engagement than posting at 6:00 p.m., switch your morning posts to early evening times.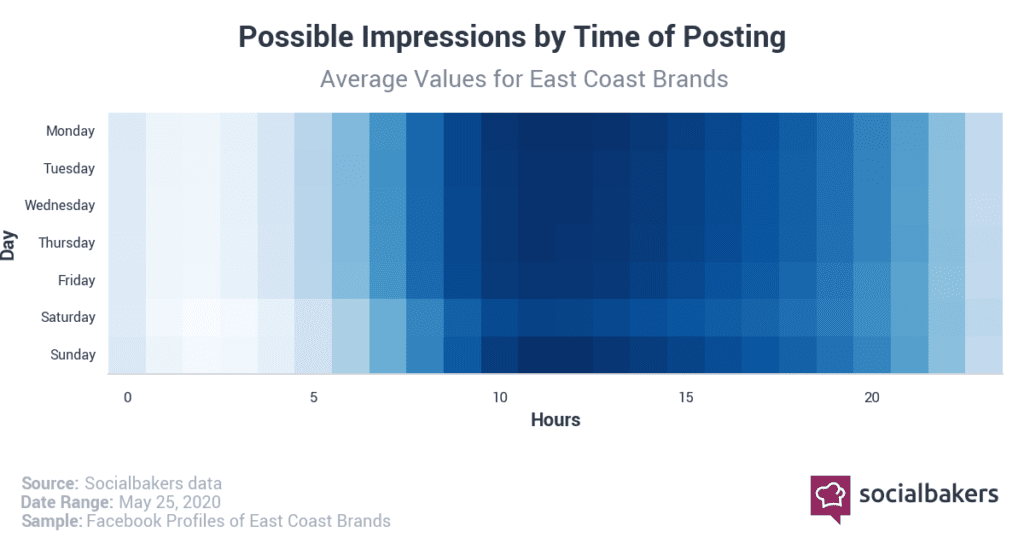 Graph courtesy SocialBakers
Why you need ah-mazing images
Having eye-catching photos and graphics to share on social media will make people stop scrolling, which is half the battle. The goal is to get people to look at your content and then engage with it.
Some examples of great ways to share your videos on social media to maximize impressions and engagement are:
Carousels and photo albums: Sharing multiple photos looks a bit different from platform to platform.

Sharing multiple photos on Facebook, Twitter, and LinkedIn can increase your engagement due to users clicking through to see all of the photos.
On Instagram, sharing multiple photos that users can swipe through in a single post creates a carousel. Instagram users are typically likely to swipe through, which can give you a nice organic boost with the algorithm.

Animations: If you have a graphic designer on your team, you can add fun animations to catch the users attention when they're scrolling through. You can also use a site like Canva or Colorcinch, which offers free graphic design templates and assets.
Videos: Consider adding video into your content strategy, whether it be by creating a YouTube channel or uploading them to Facebook directly. Most algorithms prioritize video because it often captures viewers' attention for longer, and one-third of people's time online is spent watching videos.
Pro tip: Some brands will use their color palette to build out their social media strategy, especially on Instagram. Since your Instagram profile is viewed as a grid, you can use your color palette as a base to create a visually appealing and branded grid for when a user looks at your page. Then, if a user sees an individual post in their feed, they'll be able to associate it with your brand just by color.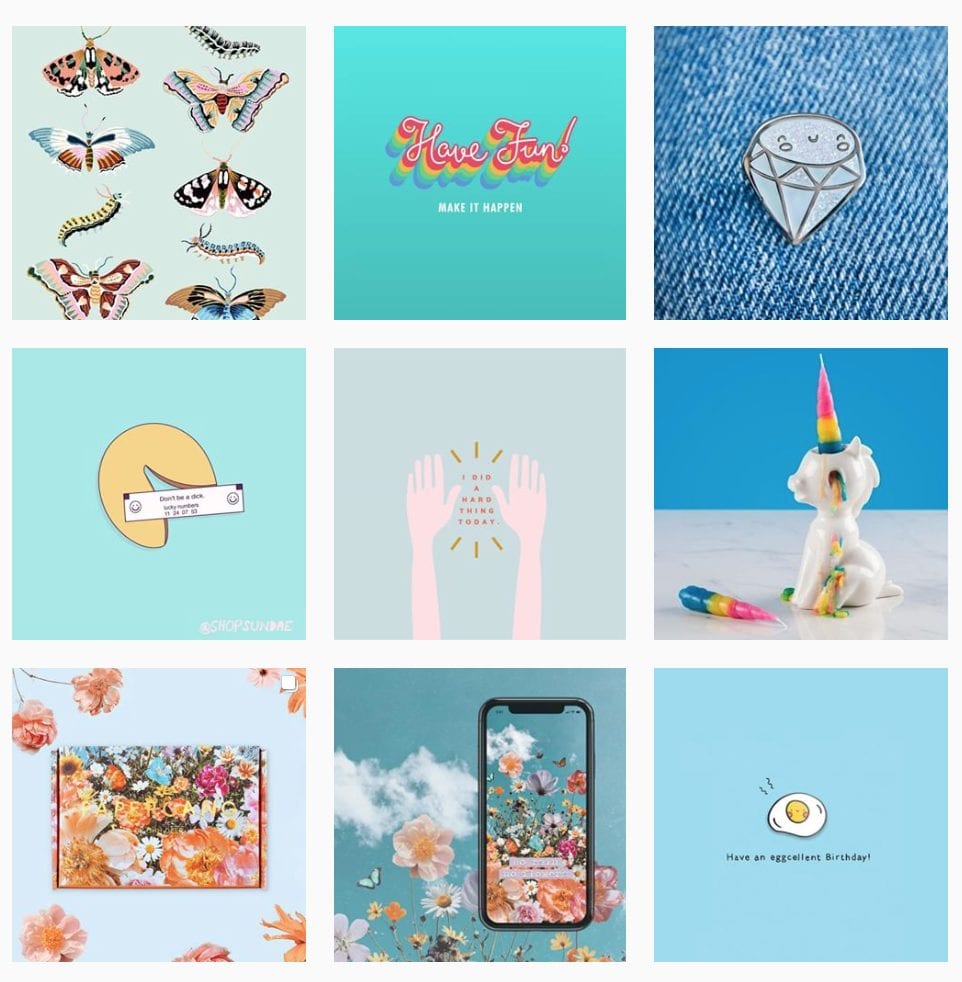 @ohhdeer (stationary brand) on Instagram
Making your content share-worthy
While your social media profiles don't directly impact your search engine optimization (SEO) rankings, they do increase brand exposure – and the links to blog posts and websites that you share do influence SEO since it increases your visibility and reputation.
CognitiveSEO researched 23 million shares on social media and found there was a connection between post engagement and SEO ranking in Google. Sites with a higher ranking had a higher number of engagements (such as shares, likes, and comments) on their social media posts.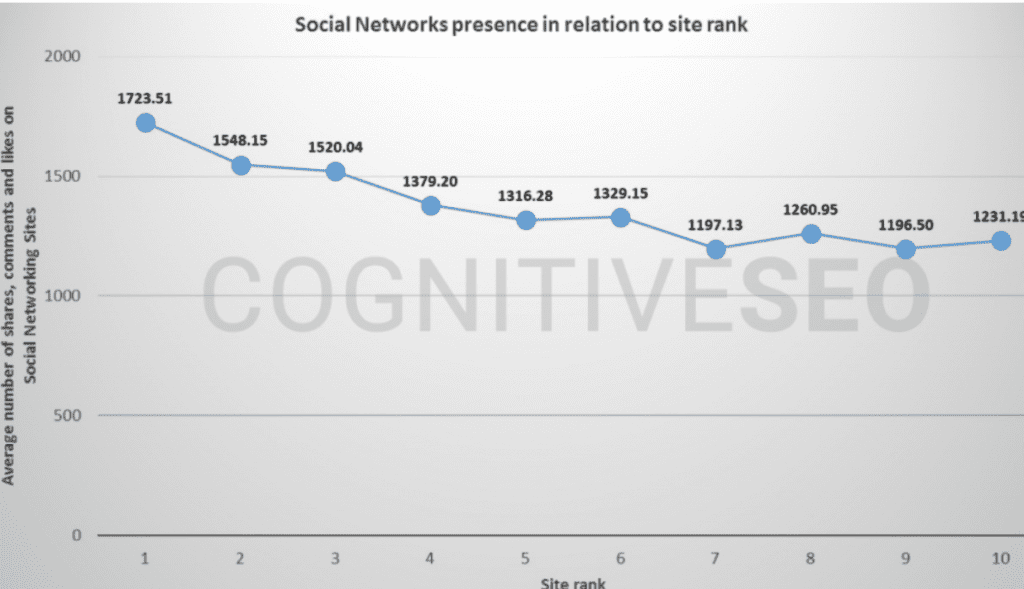 Graph courtesy CognitiveSEO
When people share your content on social media, it tells the platforms' algorithm that your content is engaging and interesting to people. This makes it more likely that your post will make it to the top of people's feeds.
How creating a content calendar can save you time
Creating a social media content calendar allows you to plan your social media content in advance. You can create a calendar for a week or month depending on what works best for your small business. You can plan exactly what you'll post and create a schedule.
This way, you can batch create content and save yourself time in the long run. From there, you can schedule your posts (for some websites, like Instagram, you'll need a third-party platform, but Facebook allows you to schedule directly within their Publishing Tools) so there's a level of automation.
When you batch create content, don't be afraid to look for opportunities to repurpose content. For example, if you share some videos in your Instagram Stories that have some information about a product or service, you can save them and post them on Snapchat if your business has an account there. You can also use them to create an Instagram Reel, which can then be reuploaded as a video on Facebook and Twitter (pro tip: Tweets with video attract ten times more engagements than Tweets without!).
Additional Resources:
Chapter 4: Turning followers into a community

The importance of building a community
Building trust with your audience precludes being able to build a social media community.. According to Nielsen, online consumer reviews are the second most trusted source of brand information – so as people seek out your social media websites, you can create an environment where fans get answers from your brand directly. This creates transparency and, by extension, trust.
Community building also has the benefit of obtaining user-generated content (UGC). If you have loyal fans who love your business and you engage with them on social media, there's a higher chance of them talking about it on their own social media profiles. From there, you can ask for permission to share their posts onto your own profiles, which gives you more photography and testimonials to work with. UGC also shows fans what your product or services are really like from the point of view of fellow customers, further deepening their trust.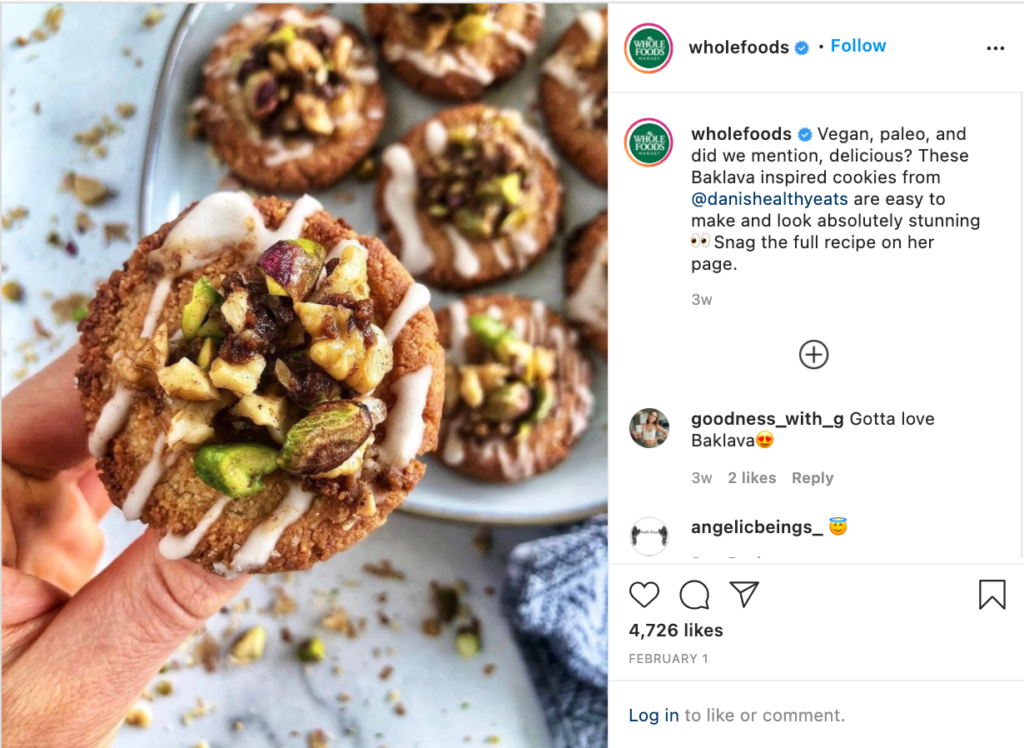 @WholeFoods using user-generated content
Ways to keep your posts interesting
It's important to keep your content interesting so your followers can see and interact with your posts rather than mindlessly scroll. To help humanize your brand and make people stop scrolling, make sure your posts fall into one of these three categories:

Educational: Can someone learn something from this post?
Inspirational: Will this post encourage or move your followers?
Entertaining: Will this post make people smile or laugh?
Additional Resources:
Chapter 5: Humanizing Your Brand for Growth

As you build your brand awareness and community, it's important to be social on social media! This means humanizing your brand rather than focusing exclusively on lead generation and sales.
Why you should be social on social media
As you humanize your brand, your audience will trust you even more – which can lead to sales down the road as they grow to love your business and become loyal to you.
Some tactics for humanizing your brand and being social include:
Sharing posts geared towards brand awareness: This gives your brand a human element that encourages fans to engage with you and helps them become loyal followers (and eventually customers). An example of this is highlighting a product or service without overtly selling it.
Establishing your brand voice: Focus on what you're posting (educational, inspirational, or entertaining content) and engage with your followers on this content. When someone leaves a comment, respond. Sparking a conversation goes a long way in community building.
Tap into features provided to you from platforms: This includes Instagram Stories stickers or Facebook Live videos. Both of these provide great opportunities to give your followers a behind-the-scenes look at your business or host a Q & A session about your business or your services. Even a simple geotag sticker can help you connect with your local audience.
Don't go overboard with filters: Using a filter on your photos on Instagram may seem tempting and trendy, but authentic content helps build trust. If you do use filters, stay consistent to match your brand's look and feel without going overboard.
Additional Resources:
Chapter 6: Executing your strategy

Now that you have identified your audience, built out your brand identity and formed a content plan, it's time to execute your social media brand strategy. As you get ready to start posting, here are a few things to keep in mind.
How to get the most out of your content with promotions
Paid amplification can help get your social media posts in front of more people. The beauty of running social media ads is that you can target your exact audience. A Facebook ad can be customized on these demographics:

Where your target audience lives
How old people who will be served your ad are
What interests your audience has based on other Facebook pages they like
You can also set your goal for the ad campaign, such as brand awareness, new followers, or link clicks. This helps you maximize your dollars and increases your reach.
Examples of social media profiles that are winning
It can never hurt to take inspiration from other brands and social media accounts out there. Here are a few examples of small businesses and brands that are executing a great social strategy and built a great community with their followers and customers.
Wave Mount Dora is a sushi restaurant in Mount Dora, FL with a large and loyal social media following. Wave makes creative dishes out of sushi, like pizza and burgers, so they lean into this by keeping their captions lighthearted and funny. They keep the background of their posts consistent and clean, and almost every single post is a carousel so fans can swipe to see a behind the scenes look at how the food was made.



Refine Dentistry is run by Dr. Richard Lam, a Texan dentist who leans on two content pillars: sharing successful client stories of dental before and after photos, plus videos that both entertain and educate potential clients at the same time. Dr. Lam's funny videos that feature dental tips and tricks earned him both a large social media following and brought new business to his practice.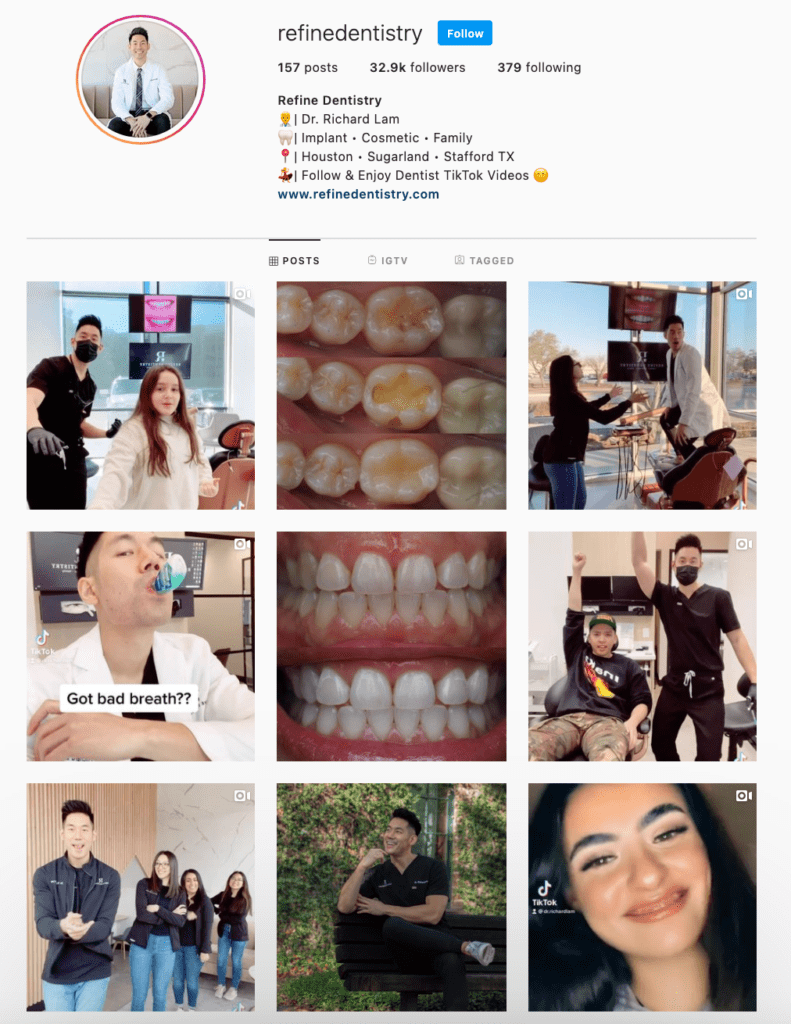 Camp Gladiator is a four week fitness bootcamp that tailors content to their different social media audiences while remaining consistent. Their LinkedIn profile header, photo, and graphics in posts all feature the same colors and fonts and are geared towards job seekers. They maintain this consistent branding on their Instagram and Facebook pages, where they target potential new campers.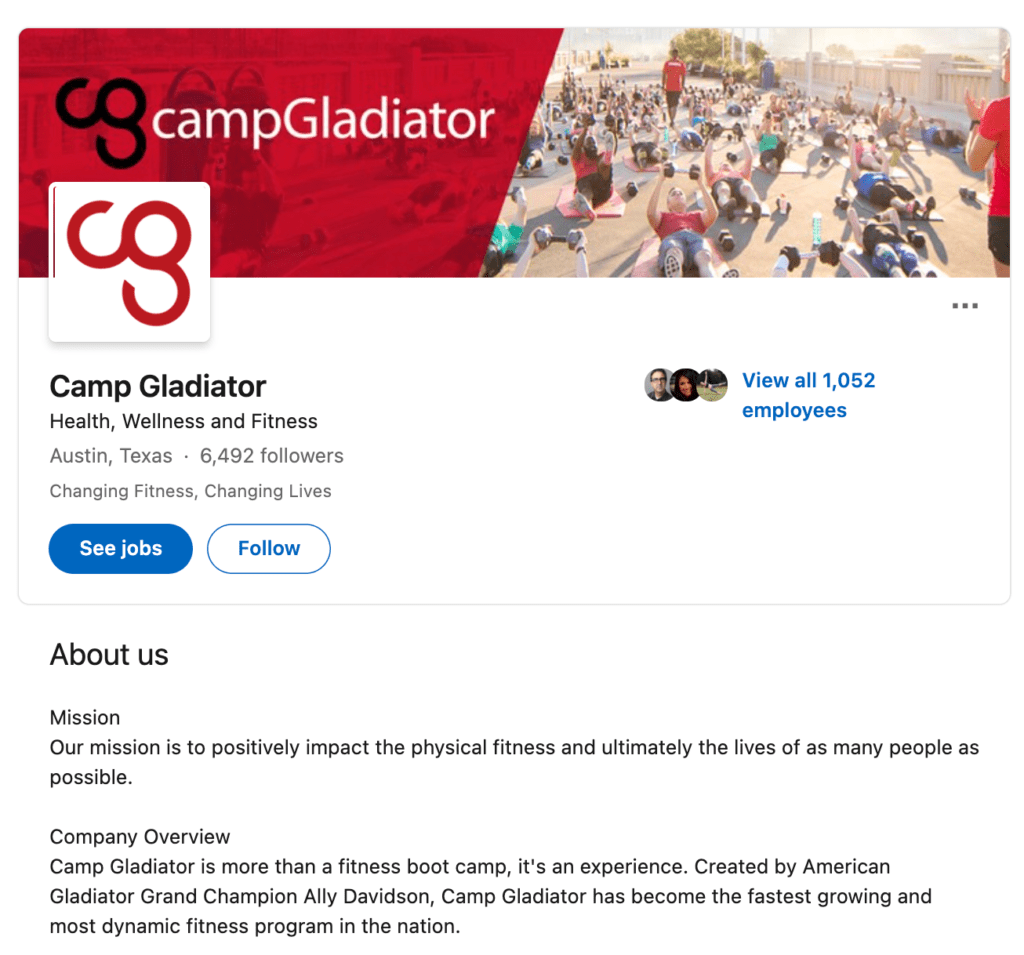 Additional Resources:
Chapter 7: Next steps for your small business

Creating a social media strategy can feel overwhelming and time-consuming, especially for a small business. But if you take things one step at a time, you can create an effective social media campaign, even with a small team.
If you're ready to get started, here are some next steps you can take:
Build your brand persona if you haven't already done so. This should be the guide to everything you do on social media!
Monitor your analytics on social media to see what posts are performing best. This way, you can know what is resonating with your audience and tailor your content accordingly.
Watch what your competitors are doing on social media. This way, you can see not only what they're doing well, but where they might be dropping the ball – and you can use that to your advantage to benefit your shared audience or to learn from their mistakes.
Search for your company's name or username to see if people are talking about you online. Social listening and media monitoring lets you understand what your customers are saying. You can also leverage social listening to keep an eye out for your company in the press.
Analytics You Should Be Tracking
Your social media analytics let you know important metrics so you know what posts are performing well. These are some of the metrics that you should be tracking, depending on your goals:
Impressions: Impressions are the total number of times your post has been viewed. If you are looking to build brand awareness, focus on impressions.
Reach: Reach is the number of unique people who have viewed your post. It's normal for your reach to be a bit lower than your impressions since impressions count every single time your post has been viewed.
Engagements: This is the sum of how many people have liked, commented, saved, and/or shared your post. If you are looking to grow your community, focus on keeping your followers engaged.
Engagement rate: Engagement rate tells you how many people are engaging with your posts based on your average impressions. A standard engagement rate is around 1-3.5%, and a high engagement rate is considered 3.5-6%.
Clicks: If your goal is to drive traffic to your website, look for link clicks in your analytics. You'll see how many people click on your post or click through a link.

Keep in mind that the average click through rate (CTR) for any industry on Facebook Ads is only 0.89%, so don't get discouraged if your CTR feels low!
Additional Resources:
Get Social Media Management Help
If you're ready to take advantage of social media and apply these tactics into your social media branding and marketing strategy, we can help. Our marketing agency specializes in helping small businesses reach customers in their local communities. Our team can help you set up your social media profiles, establish a strategy, and tie it in to your local marketing campaigns. Contact Orbit Local today!