Google Business Profile is a powerful tool to grow your business by generating leads. With Google Business Profile, you can manage all of your online information from one place.
Google Business Profile is free and connects you to all of Google's services, including Google Maps. Google introduced GMB in 2014 when it replaced Google Places and Google+ Local.
Google Business Profile optimization makes it easy for customers searching for a service provider to find and contact you. This will also boost customer engagement with content that's relevant to them – leading to higher conversion rates!
We're sharing how to optimize Google Business Profile so you can make the most of your online presence.
Why You Should Verify Your GMB Profile
Before you get started, you should properly set up and verify your Google Business Profile account to fully optimize it.
According to Google, claiming your Google Business Profile listing has five main benefits:
Increasing your online credibility
Helping customers find you in relevant results
Attract customers to your company and convince them to do business with you
Increase customer retention and loyalty
Make the most out of your advertising online
Simply put, getting your business listed and claiming your Google Business profile benefits you by making life easier for your customers – and thus helping you increase your sales.
If you haven't already, you'll want to create or claim a Google Business Profile listing for your company. If a business profile does exist but is unclaimed, you can then go through the process of claiming your Google Business profile to avoid duplicates. There are options for service area businesses and for a hybrid business owner, too.
After you set up your business profile, you'll go through Google's verification process. Google will send you a postcard to confirm your business and identity.
Benefits of a Fully Optimized Google Business Profile Listing
Having a fully optimized Google Business Profile listing has its perks. There are many benefits of a fully optimized Google Business Profile listing, including:
Increased conversions in zero-click Google search. This is where customers get all their information through your GMB Profile without ever visiting your website.
Increasing your position in local search ranks, which boosts your traffic.
Acquiring new customers and building relationships with existing ones.
How to Completely Optimize Your Google Business Profile Listing
Once you have your profile verified and ready to go, it's time to fill out all of your information. Complete and accurate information is critical for users. Optimizing your listing is what will set you apart from your competition and get you ranking in Google's map pack.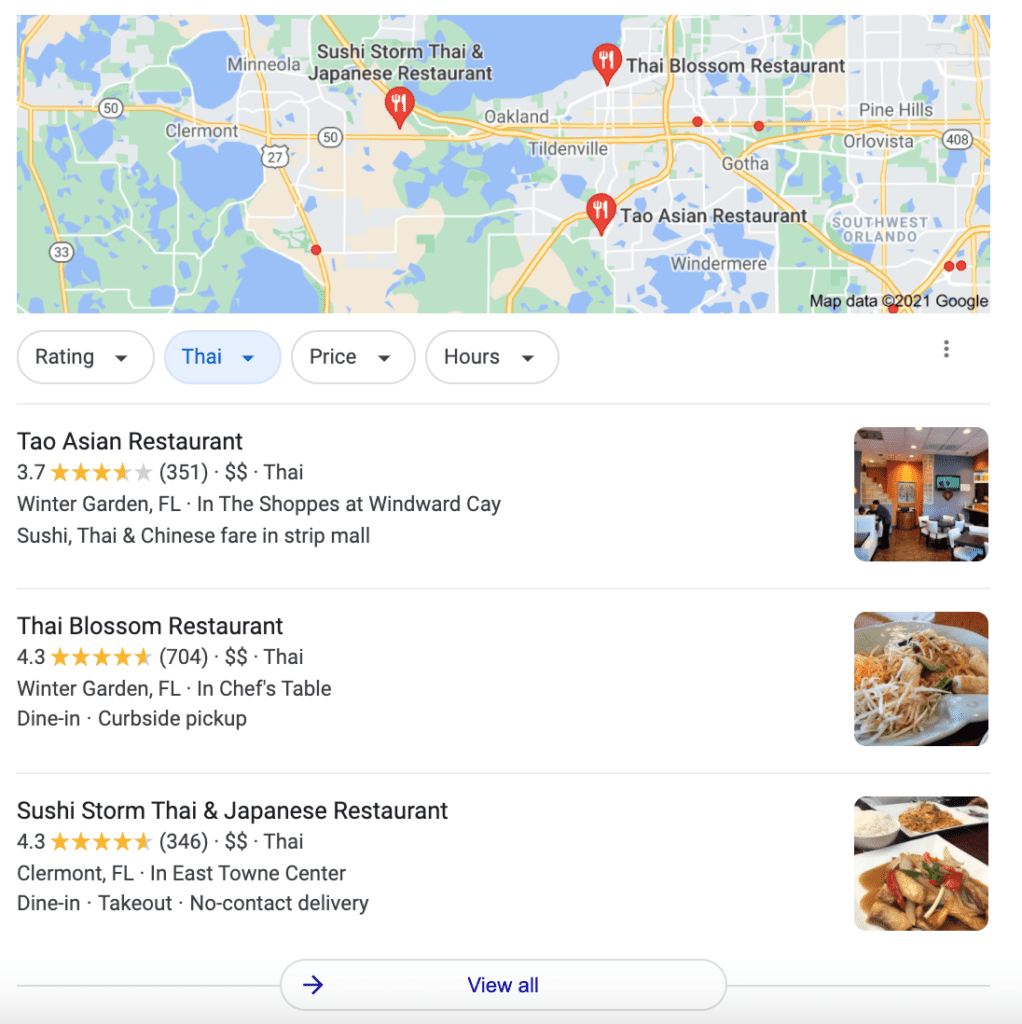 Create an Accurate Business Listing in the Info Tab
Having accurate, updated information is the first step to optimizing your Google Business profile. Your business information mainly consists of your name, primary category, and description. You'll also want to add your business's opening date.
There are also special attributes you can include in GMB listings. From outdoor seating availability to letting customers know your business is black-owned or women-led, this is another great way to connect with your community. Use these to further help paint the picture of your business information.
Business Name
It can be tempting to add keywords and extra information to your business name on your Google Business Profile listing. But this is not allowed by Google! Make sure your business name matches the real world.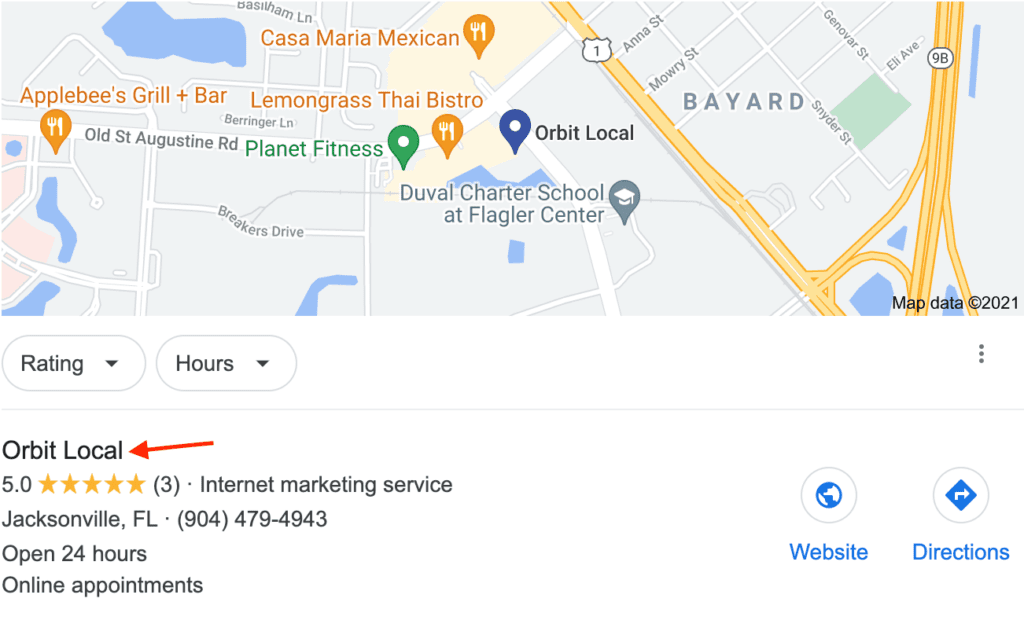 Choose Up To 10 Relevant Categories
You can add more categories after selecting your primary business category. We highly recommend this so that more customers can find your services in search results. There are nearly 4,000 categories total that you can choose from.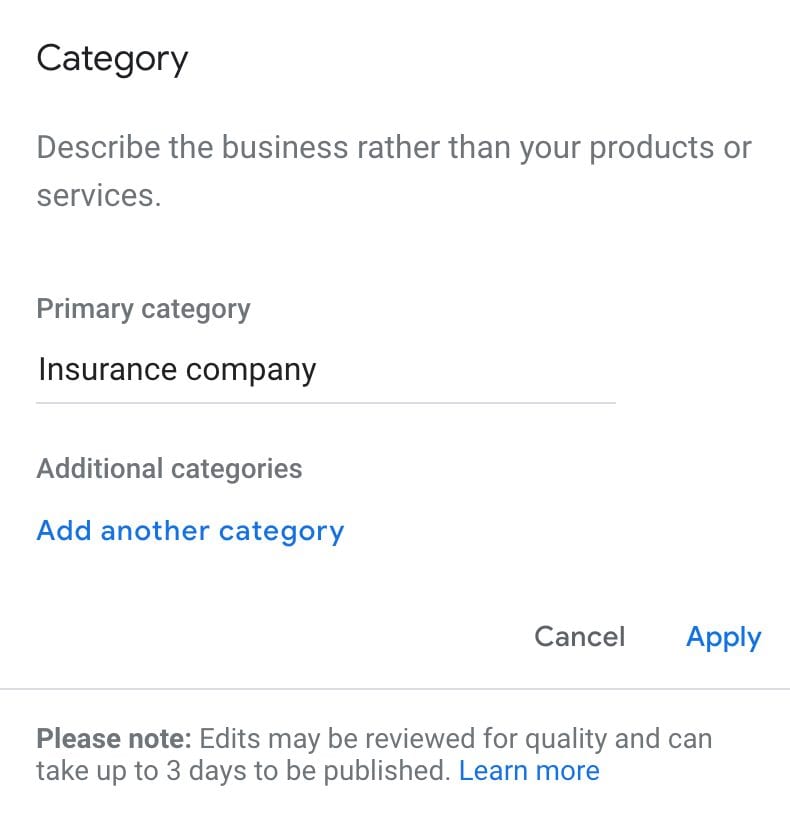 Google allows you to select up to 10 primary and secondary categories combined. However, more does not necessarily equal better in this instance. You want to be as specific as you can when selecting your store categories.
Not only does this make business profiles easier to find in local results, but it will also lower your competition pool. We also recommend you don't use any services you offer as categories, but rather stick to what best describes your business.
Let's say you're a doctor with a general practice, but also specializes in sports medicine. You should select the following secondary categories:
Sports Medicine Clinic
Sports Medicine Physician
Doctor
General Practitioner
Another perk to categories is that Google offers some features specific to each business category that appear in your Google Maps listing. For example, small businesses in the Restaurant categories will have the option to include buttons that link to their menu or for people to reserve a table right from the Google Maps listing.
Provide a Clear, Keyword Driven Description
You can create a description for your business in your Google Business listing that details your company and how you serve customers. This appears right above your business address in the map pack.
Some best practices for writing and optimizing your Google Business Profile description are:

Include keywords. Focus on around two keywords to include in your description. This can reinforce to your customers that you're exactly the business they're looking for! Plus it can give your organic rankings a boost.
Share benefits to your customers. Be sure to share what makes you unique from your competition! Let your customers know how you can help them or solve their problems.
Be clear and concise. Sixty-three percent of Google searches are on a mobile device. There's a good chance that consumers search for your business when they're on the go and requesting directions! Keeping the information clear and concise will help them better understand what you offer in a digestible way.
Don't include any links. This goes against the Google guidelines, so your description will be rejected.
Don't include any sales or offers. Sharing sales in your description goes against Google's policy. Save them for your Offers posts (more on Google Business Profile posts in just a bit)!
Blast Your Business NAP Everywhere
NAP consistency means keeping your name, business address, and phone number consistent across the web. NAP consistency is a huge ranking factor for search results.
You may also hear this referenced as local citations. The backlink to your website also counts towards your NAP, so it's important to keep this consistent in your GMB profile, too!
When your citations are consistent, it tells Google and its crawlers that your business does exist and verifies legitimacy. Some examples of local citations include:
Platforms and review-oriented sites like Google Business Profile, Facebook, Yelp, etc.
Local business directories geared towards your geographic location or industry/niche
Online publications including blogs, news articles, maps, etc.
You should be adding your business to local directories to increase your ranking in Google Business Profile. Business listings will help your citations because these sites give you a high-quality backlink.
Be careful of some local directories that allow you to submit your listing: some of these can become spammy and low-quality. Look for websites that verify your information before adding you to their list.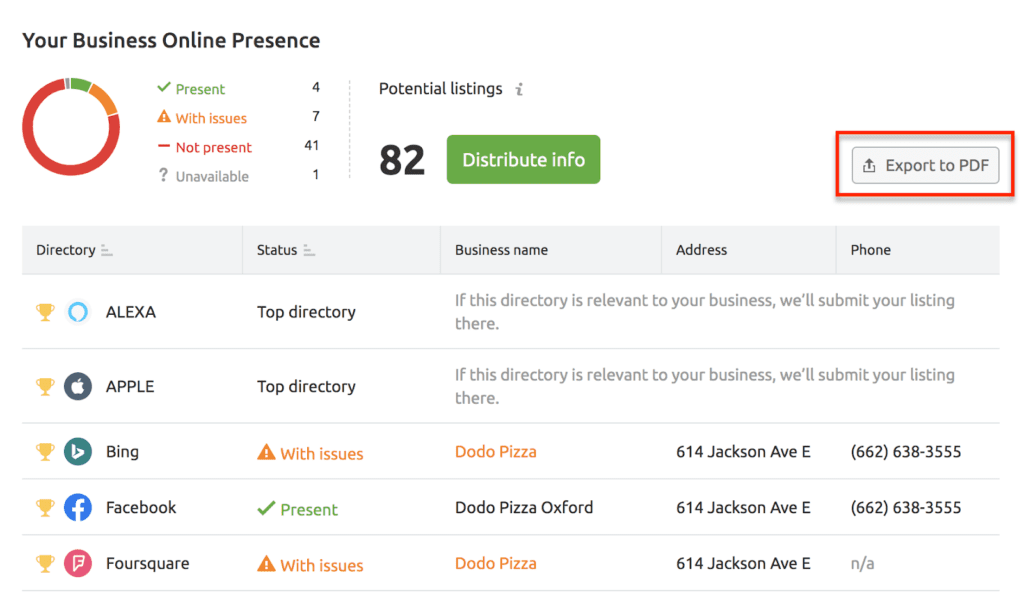 Want to see how your competitors stack up? You can check out all of their citations online by searching for their business name and phone number in this format: "Name Number"
For example, you could search Restaurant 123-456-7890 to see that restaurant's local citations from all across the web.
If you don't have a website, then you can create one through Google Business Profile. A Google Business Profile website is free and optimized for mobile devices.
Upload Photos Often to Attract Customers
Photos are a surefire way to attract more customers to your business by highlighting your product or service offering. According to Google, businesses that add photos to their GMB Profile get 42% more requests for directions compared to businesses without pictures.
We recommend avoiding stock photography, though. Remember, you want your business to be represented like it is in the real world! Try to upload a high-quality image about once a week. Then your customers can see the quality of your goods or services for themselves and know that it's up-to-date!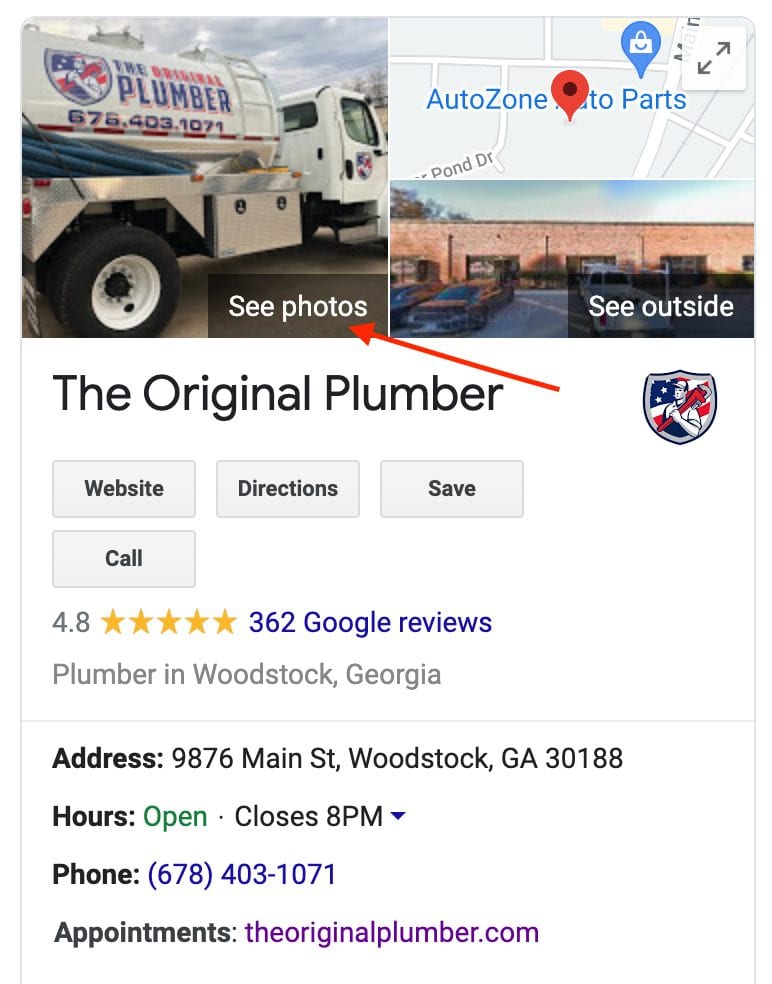 We recommend using your logo for your thumbnail photo. You should keep this consistent with your profile photo on any social media pages you have to establish your brand's visual identity. Your cover photo should best represent your business.
Pro tip: You should also geotag your photos and videos that you upload to your business profile. This tells Google where the photos and videos were taken, which lets Google know that you really are in that local area. You can do this by uploading the media to Google Photos before you add them to your business profile. From there, you can add the location and then redownload the photo to your computer.
Showcase Your Products & Services
Adding products and services to your business profile can better showcase your business and what you offer to your customers. These will also act as Google posts to your page for added visibility.
With products and services, you can share the description and price of each one. They appear as tabs on your business profile that views can expand for more details.
You can also use the Google Posts section to add products, but they won't share as a traditional post. Rather, it will just post it to your Products tab. Once you've added a product, you can go to the Product Editor to further manage the entry.
Share Posts to Keep Customers Updated on Your Business
Sharing posts on your GMB Profile doesn't directly impact your ranking, but can be beneficial for conversions and building brand awareness. Google Posts allow you to share updated information, promote any sales or offers, and engage with your customers directly.
There are six different types of post categories on Google Business Profile, including the aforementioned Products post type. We recommend posting to your Google Business Profile page at least once a week so you can build an ongoing relationship with your customers. You'll want to include keywords in your local posts to increase the visibility of your page.
No matter what type of post you're sharing, we always recommend including one of the call to action buttons when given the opportunity. This can help increase traffic to your website and convert people into customers.
Connect with Customers with What's New GMB Posts
These posts are for sharing general information and updates about your business. You can include photos, videos, a call-to-action button, and/or descriptions.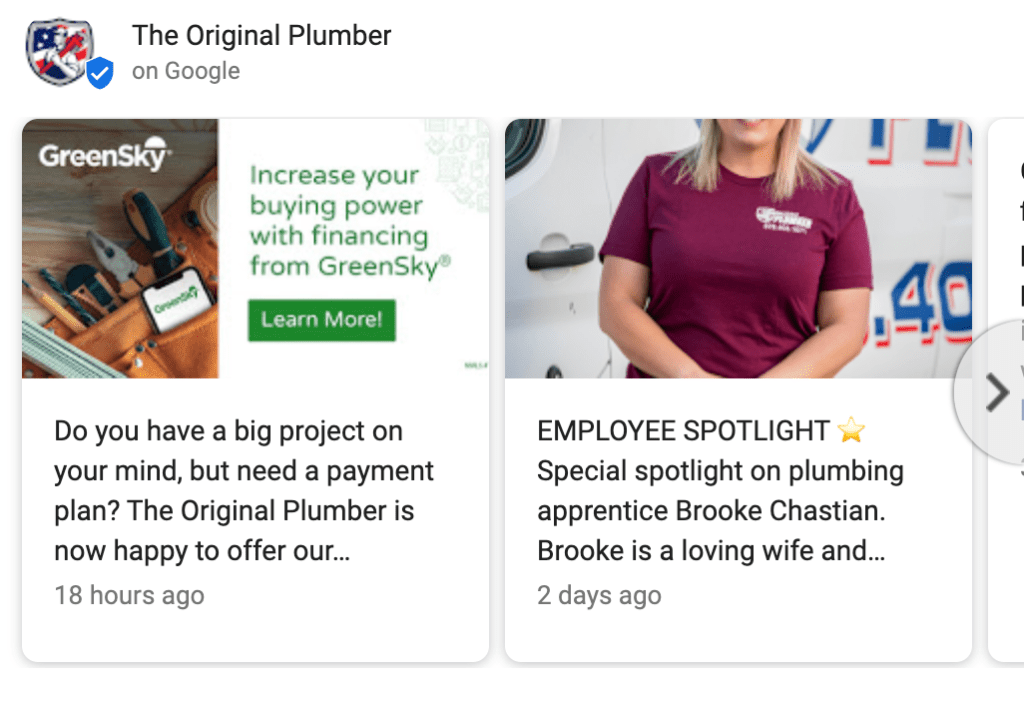 Use Offer Posts to Promote Sales
These allow you to share promotional information with your customers. This includes any sales or business offers you're running. When sharing an offer, you can include a photo or video, link, description, terms and conditions, and/or coupon code. Offer posts automatically include a "View Offer" call-to-action button.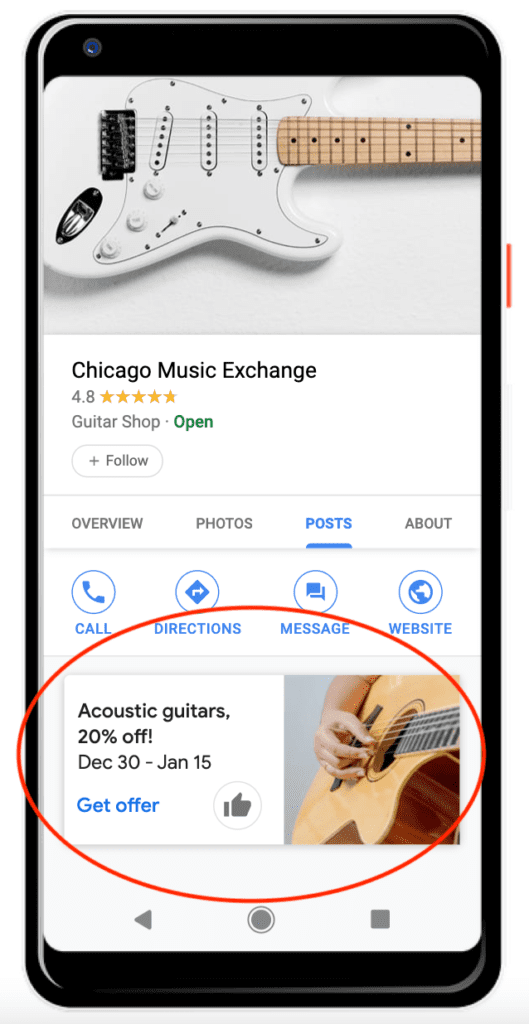 Host and Promote with Events Posts
If you're hosting an event at your location customers can attend (even virtually!), you can use the Events post category to promote it. You need a title, date(s), and time. If you don't have a time set, Google will default your event to 24 hours. You can include pictures, videos, descriptions, and a call-to-action button on Event posts.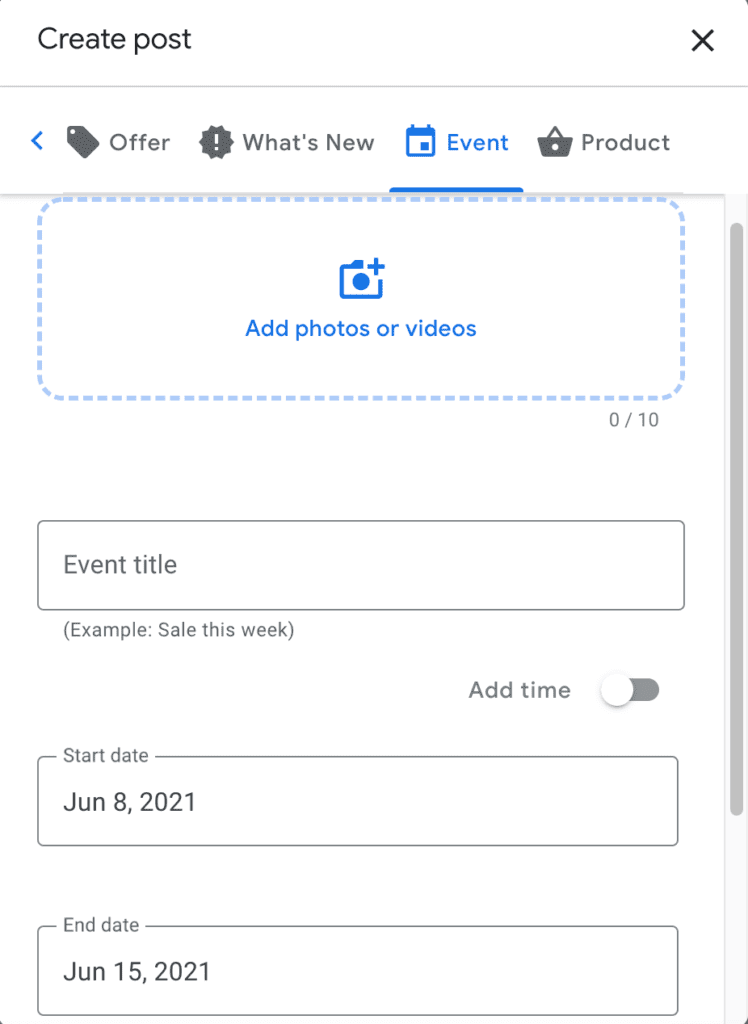 Keep Your Hours Updated So Customers Know When You're
If you reopen or change your business hours, update your hours in the Info tab to let your customers know. This sends customers a message when they visit your Google Business Profile, alerting them of the change. Plus it also is shared as a post for increased visibility.

Use COVID-19 Posts to Update Customers on Safety Measures
This is for business updates specifically regarding the coronavirus. This includes updated business hours, support requests, what your safety and hygiene measures are, and any changes to your usual business operations (for example, you can let customers know to call ahead of time for more information).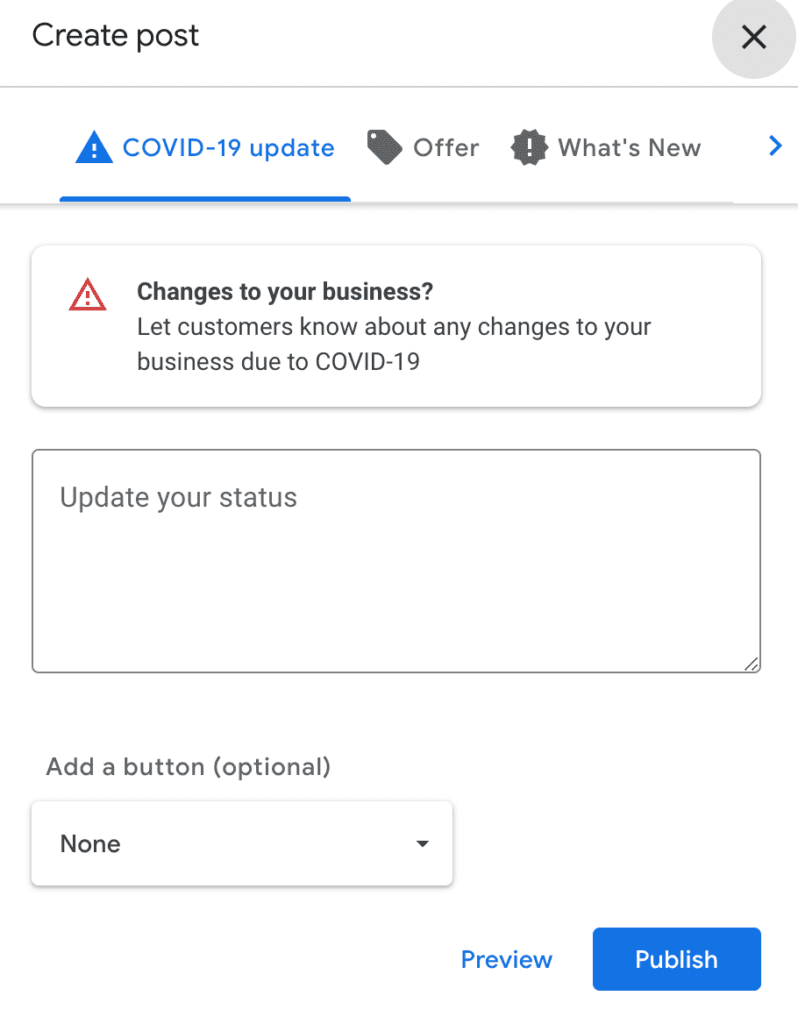 Positive Reviews Help Credibility
Did you know that reviews can impact your search rankings? This is because reviews help make your business appear credible, which can result in more traffic to your website.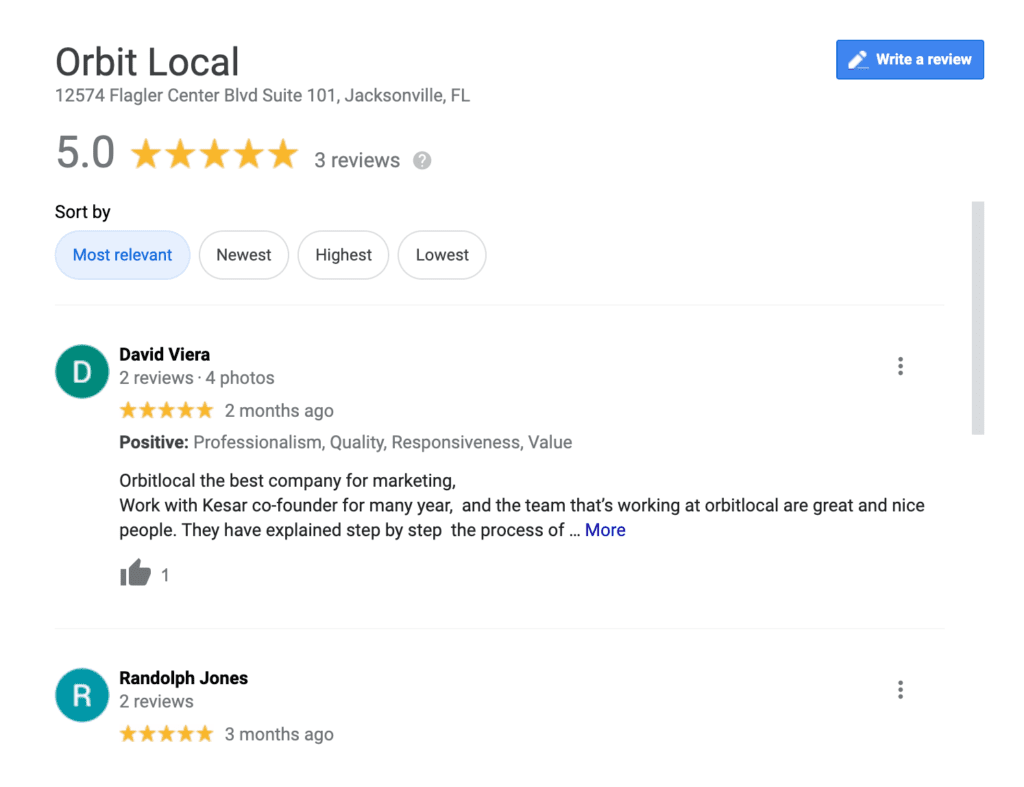 Encourage Customers To Leave Reviews
If you're looking to encourage customers to leave reviews, one great way to do this is to create a short name for your Google Business Profile. A short name on a Google Business profile acts as a vanity URL that is easy to share with your customers on business cards or other marketing materials.
Sharing your business's Google Business Profile profile is a great way to solicit reviews and increase your Google Business Profile listing's visibility.
To create a short name on a desktop:
Sign in to Google Business Profile
Select the business profile you want to create a short name for
Click on the Info tab
Click on Add profile short name
To create a short name on mobile:
Open the Google Business Profile app
Tap on Profile
Tap on Add profile short name

Your short name must be between five and 32 characters. This will appear beneath your reviews.
How To Respond to Google Reviews
You should respond to all reviews, positive and negative. This will help you build relationships with your customers, which can humanize your brand and increase consumer loyalty.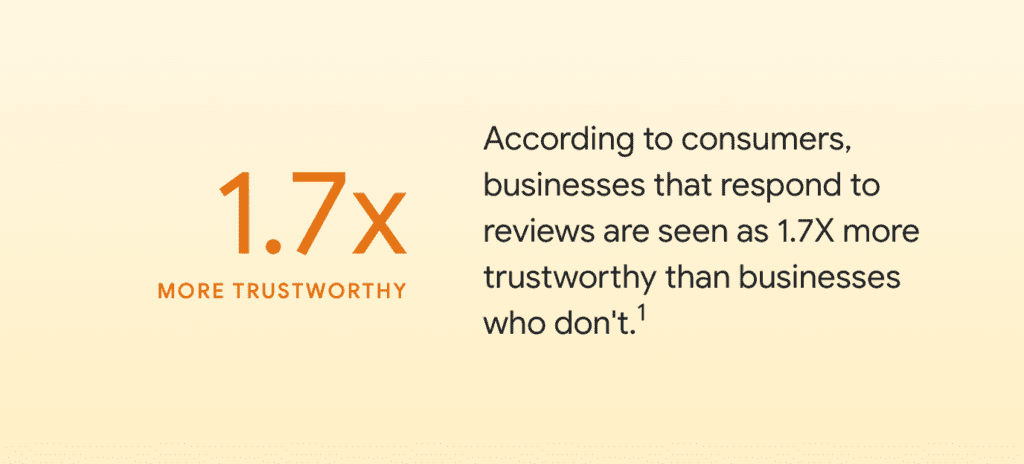 Knowing how to respond to reviews is critical, especially for negative reviews. Reviews are powerful and influence consumer decisions. Research shows that 91% of people aged 18 to 34 trust online reviews as if they were a personal recommendation from a friend or family member!
Don't look at negative reviews as a hit on your business. Think of it as an opportunity to showcase your great customer service skills! Here are some best practices for responding to negative reviews:
Take your emotions out of it. This is easier said than done! Remember, reviews are public, meaning everyone will be able to see how you replied. Responding strategically and in a customer service-centric manner can help you turn the situation around.
Be sure to apologize to them. Even if it's simply to tell them, "I'm sorry to hear you had a bad experience!" This can go a long way in making people feel heard and it shows that you're willing to take ownership.
Be action-oriented. Trying to offer support, suggestions, and a way to make things right in a bad review is always a good idea for making a customer's bad experience positive.
Try to take the situation offline. This goes for any kind of online review, whether it be on Google or Facebook. Encourage the customer to reach out to your business via phone or email to resolve the issue.
Be sure to respond to reviews regularly. A great way to stay on top of this is to set a day and time each week to check your reviews or have push notifications sent to your phone. Then, you won't have an overwhelming amount of reviews to respond to at once.
Answer Questions
Potential and loyal customers can leave questions for your business to answer. These are not available through the Google Business Profile dashboard (where you manage your Google Business Profile listing) but can be accessed through your listing. Just search for your business while logged in to the business account you use to manage your Google Business Profile listing to answer them as your company.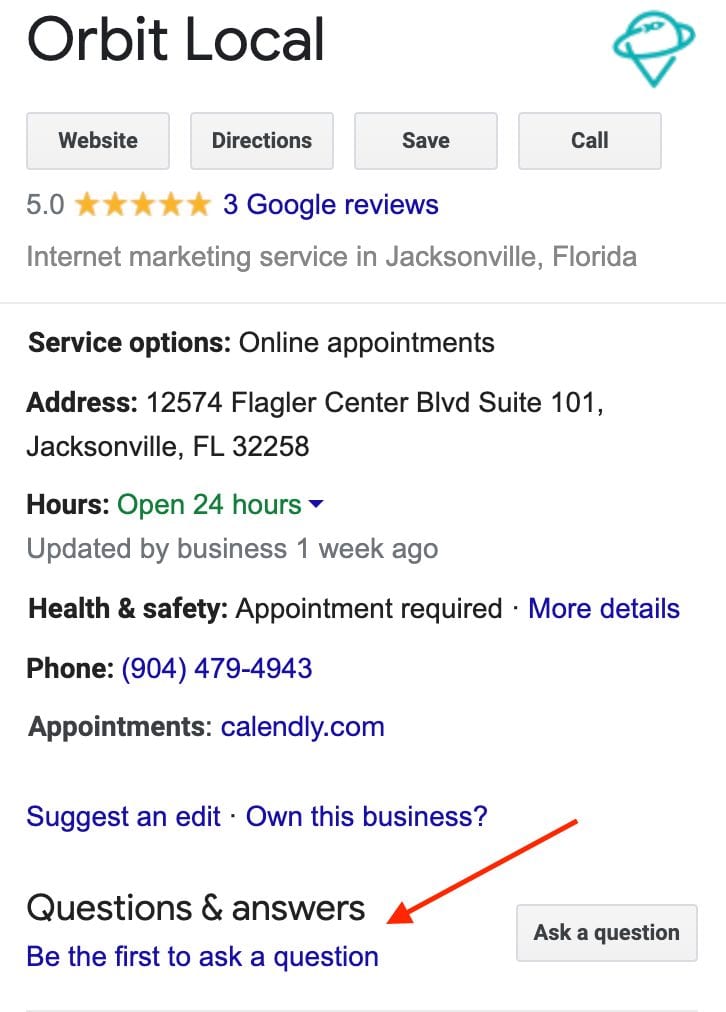 Text Customers with GMB Messages
Responding quickly is key to Google Business Profile' messaging feature. Google recommends answering messages within 24 hours. Luckily, you can set up automatic replies. These custom automated responses can help you welcome your customers with incoming messages and keep your response time up.
Don't worry about your personal information – even though the messages can go to your phone, Google won't share your phone number with potential customers. Google's Allo app allows you to use a different one.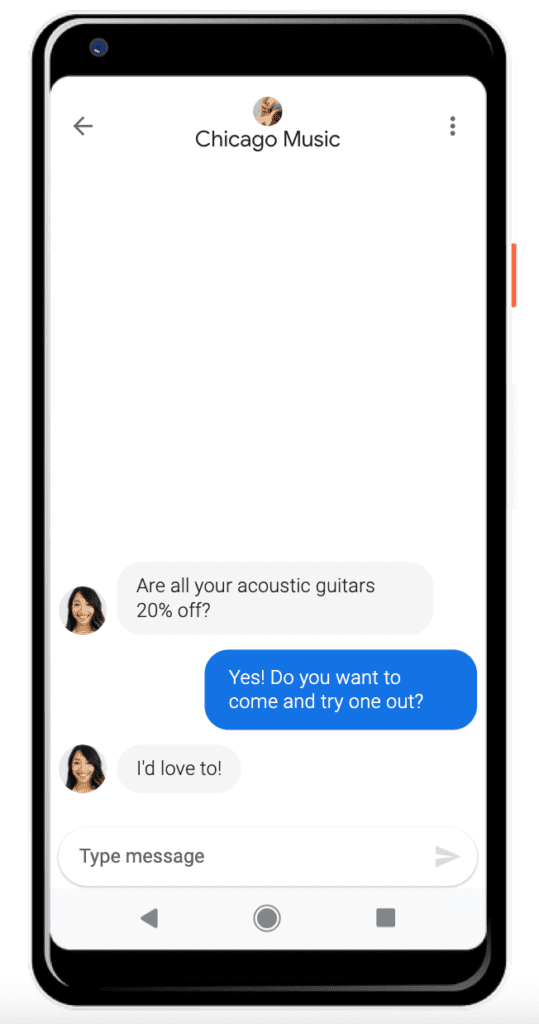 How To Use Google Business Profile for SEO
Did you know that your Google Business Profile account can give your local SEO strategy a boost? While it doesn't have a direct impact on your search engine rankings, it can indirectly play a part.
A fully optimized business profile will help you rank at the top of your local pack. This can lead to increased website traffic and positive reviews for your business. This increase in reviews and traffic tells Google your website is a trusted authority in your industry, which factors into your site's prominence – a ranking factor in itself.
At Orbit Local, we recommend a blended strategy for local search results. You can generate multiple impressions for your business listing through text ads, map ads, local map pack, and organic search.
Local SEO Ranking Factors
There are many ranking factors for local search engine optimization. The best way to sum it all up is to break it down into three categories: prominence, relevance, and proximity.
Prominence refers to how well-known or popular your establishment is. How well-known you are offline affects this, too, but this is where ranking factors like citations, reviews, and links come into play.
The relevance of your business online concerning a Google search query is a huge ranking factor, too. Using the right keywords on your Google Business listing and your website can help ensure that your business shows up in relevant discovery searches. Discovery searches are when customers look up a service; direct searches are when they look up your business name.
Proximity is a location-based ranking factor. Making sure your Google Business Profile account is properly optimized can help with this, too, so that way Google can show your business in the right geographic location. You can also geotag your images and videos, which will also give this a boost in the right direction.
On-Site Local SEO
Optimizing your website is a major key to ranking in relevant searches. Beyond adding relevant keywords and including pages for all your services or products, there are a few steps you can take to bring your website up to the next level.
Local Schema
Google relies on structured data on your website to index your pages. Local business schema is code you add to your website that makes it easier for Google's crawlers to understand what you offer.
If you've added a schema to your site and want to make sure Google picks it up, there's a free tool for that! Just head to their Structured Data Testing Tool.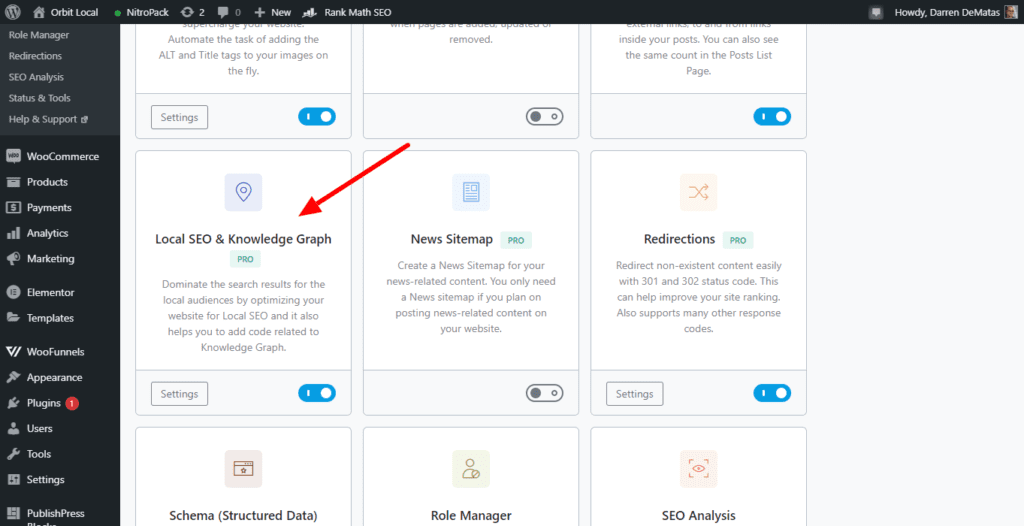 We use Rank Math to add Local Schema for small business websites in WordPress. As you can see from the screenshot below, this information aligns with your GMB and NAP listings.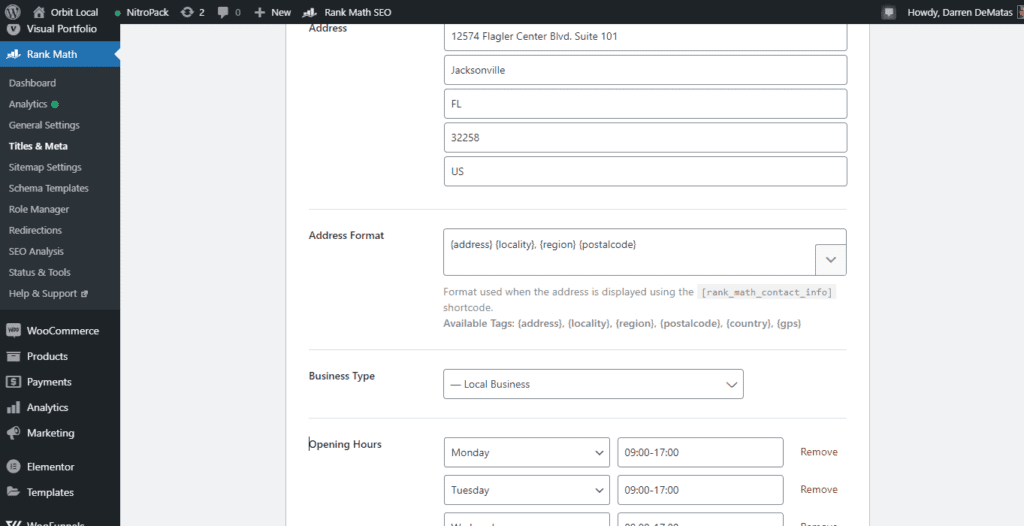 Having Google see the same information on your website and GMB sends a strong trust signal to Google.
Add Business Reviews
Reviews on your website can be indexed by search engines. This means they can give you an SEO boost while also showcasing your top reviews to potential customers! You can display Reviews on your website easily with a service like Rich Plugins.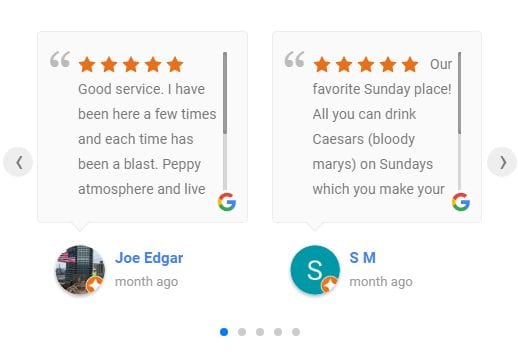 Website NAP
You should include a NAP listing that matches your Google Business profile on every single page. An easy way to do this is to include it in your site's footer.
Do you have more than one business location? Be sure to include all of the business locations.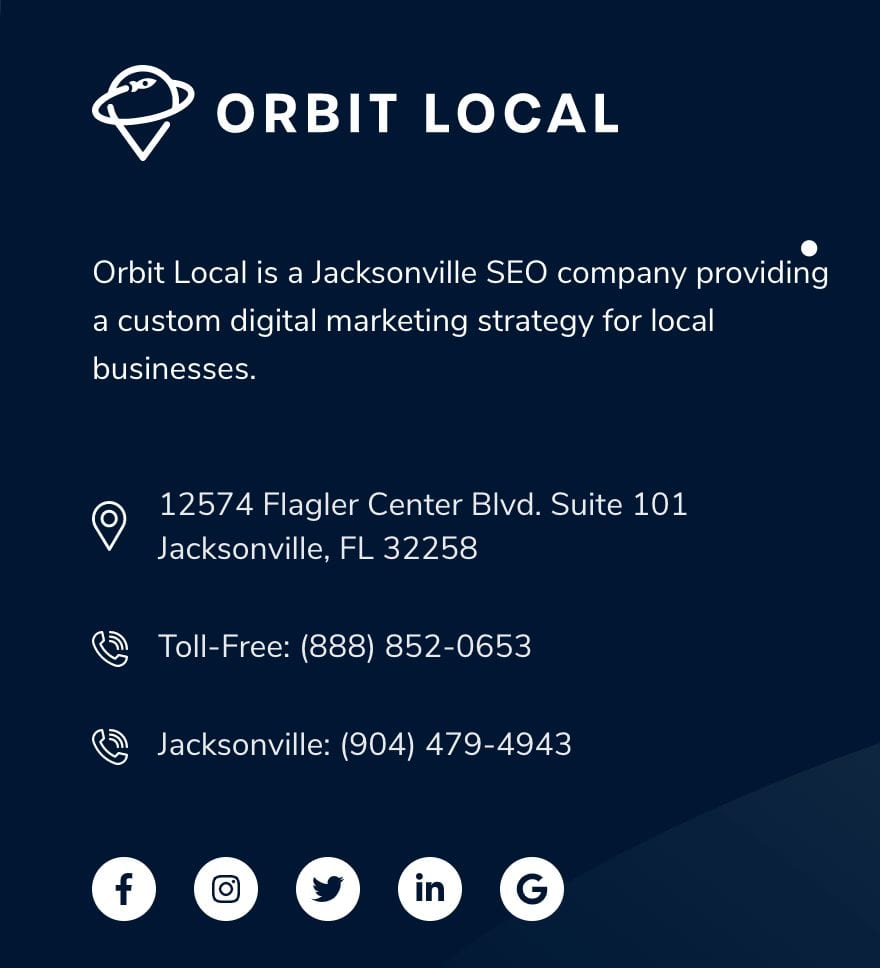 Social Signals
Your social media business profiles don't directly impact your SEO but can increase your website traffic and send signals to Google that your site is trustworthy. This is especially true for sites like Facebook and Twitter, where people and business profiles can share links directly to your website from a post.
It's also important to consider social media into your SEO strategy overall as social media platforms evolve. Your social media profiles may show up in Google search results, and users often go to these pages to get a sense of the brand's values and personality before shopping.
Social media sites now also have their own search features. On Instagram and Pinterest, for example, users can enter a search and find profiles that match the keywords on the platform.
That being said, securing your branding on social media profiles and keeping your information consistent is crucial for this. Some tools that make this process easier are Namebolt and Knowem.
What Are Web 2.0 Links?
Some businesses will create subdomains for themselves on free microblogging websites like Tumblr, Reddit, and Quora. They'll use these sites to link back to themselves. This has been dubbed "Web 2.0 Links" by marketers.
While the strategy is controversial, it can serve a positive purpose. We don't recommend doing this as a link-building strategy, but more so from an online reputation management standpoint.
This can help you make sure you have NAP consistency on your social media profiles. Plus, it would be unfortunate if another user claimed your brand's name for their microblog and shared posts that were not aligned with your company values or used it to bash your company.
How to Fight Fake Listings
Unfortunately, Google Business Profile is not without its scammers. Google does its best to eliminate phony listings, but you may encounter a fake listing of your business. Fake listings often have incorrect information, which can steer potential customers in the wrong direction.
One way to fight fake listings is to fully optimize your Google Business profile. Keep it updated, respond to reviews and questions, and share Google Posts frequently. Staying active can help Google differentiate between your business listings and a phony.
You can also fill out Google's Business Redressal Complaint form. This form allows you to report fraudulent listings and activity that you come across on Google. Be as detailed as possible when filling this form out!
If you see a fake business profile, you can also suggest edits to the listing. This gives you the chance to tell Google the place does not exist. The more evidence you can provide Google, the better.
Use Insights To Understand Consumer Behavior
Want to make sure your efforts are resonating with your customers? That's where Google Analytics comes into play! With this tool, you can track all of your conversions and other important business insights and metrics.
Google Analytics offers you information on:
How and Where Customers Find You
Customer Actions
Direct Requests
Phone Calls
Post Analytics
Using Google Analytics can greatly improve engagement and conversions. If something is or is not resonating with your audience, you can use the analytics to guide your future Google posts or figure out what you need to update on your GMB profile.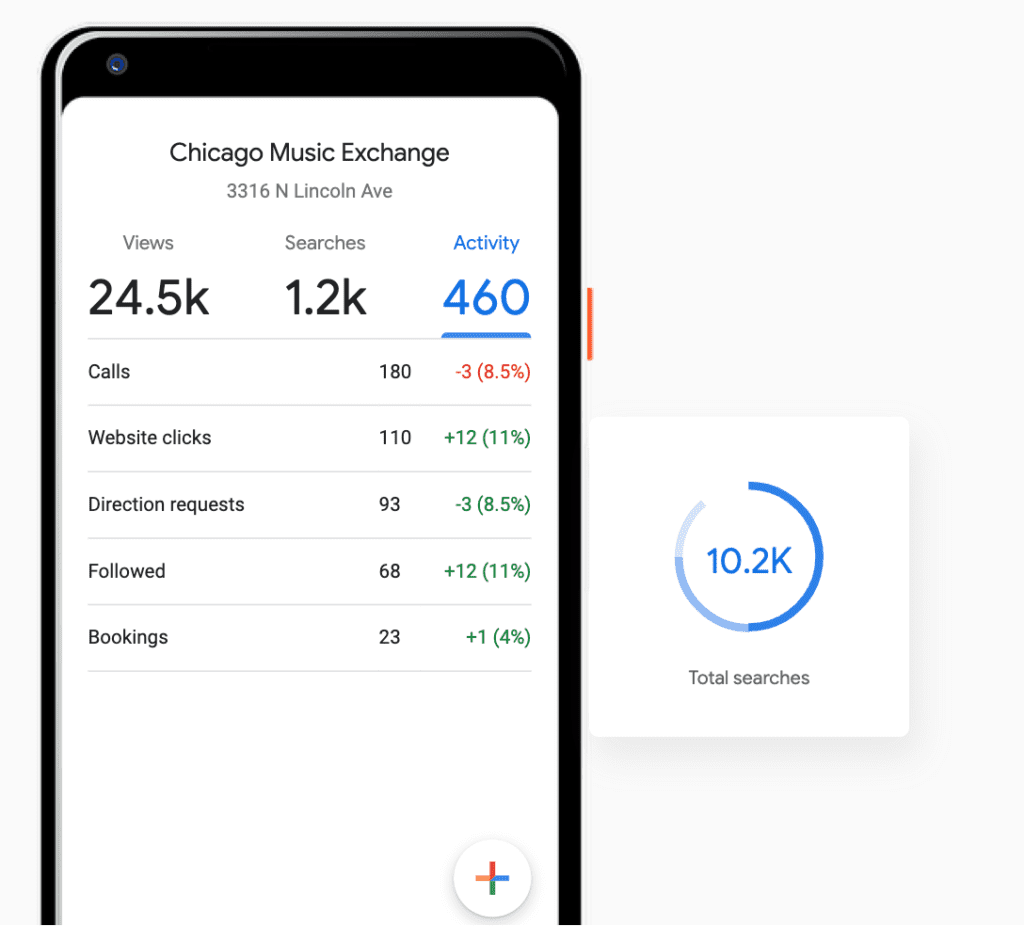 Website Tracking
Setting up website tracking can help give you the full picture of the traffic and conversions that your insights will report on. Normally, visits to your website from Google Business Profile will just be listed as Google / organic. But this doesn't tell the full story of where your traffic is coming from.
Website tracking to see who is clicking on your website is easy to do thanks to Google. You can add UTM codes via Google's URL Builder Tool. UTM codes are used to measure digital campaigns. In this case, the campaign is traffic from your GMB Profile.
Gauge Performance With Local Rank Tracking Maps
Local rank tracking helps you understand your visibility score on a local SEO heatmap. You can use this to understand a keyword's performance across multiple locations in your area. Most tools let you track five keywords at a time for your local visibility score.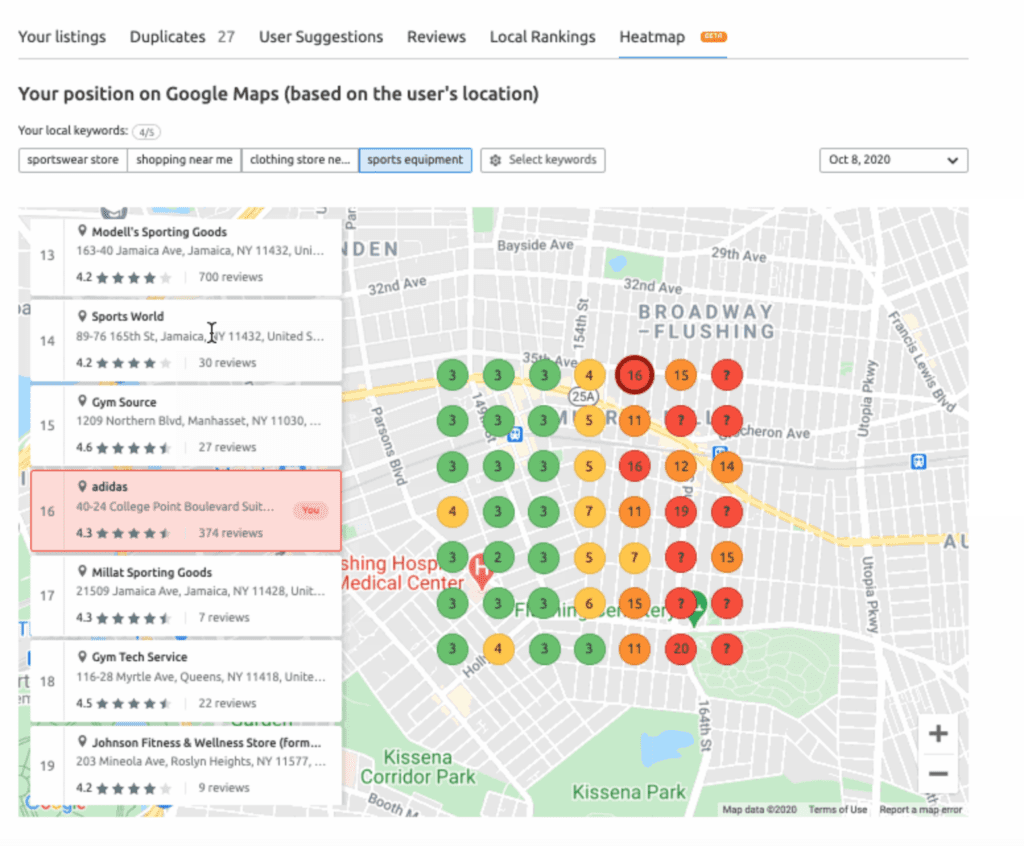 These heatmap reports use your keywords and geographic location to determine how you're performing compared to other businesses in your scan radius. Each spot on the grid reflects a local search for your selected keyword. You can see how that ranking changes as you move throughout the area so you can more accurately know your visibility from different points in your community.
These insights clue you into your local visibility score. They also show how your competitors rank in comparison.
If your visibility score is low and you aren't ranking in the map pack, optimizing and improving your Google Business profile will help!
You can also run Google Ads to give yourself a quick boost while you work on optimizing your Google Business profile. Many businesses run ads to be placed at the top of the pack.
Grow Your Leads With Our GMB Optimization Services
Managing your Google Business Profile account can feel overwhelming and time-consuming. This is especially true if you don't have a Google Business Profile account set up yet, or even a website.
If you're ready to launch your business into orbit and generate more customers, schedule a call with our team of digital marketing experts! Our Google Business Profile optimization services offer everything local businesses need to get more leads and conversions online.