If your business isn't on Google Maps, you are missing a tremendous chance to increase local visibility. The best way to get started and to rank locally is through Google Business Profile. Google Business Profile is a completely free way for you to attract new customers and build credibility.
If you want people to find your business, being on Google Maps is critical. According to Google, 60% of mobile device users contacted a business directly using search results. Here's everything you need to know about how to get your business on Google Maps.
Step 1: Create or Claim Your Listing on Google Business Profile
The first step to adding your business to Google Maps is to create or claim your listing as the business owner. It's fairly simple to claim or add your business to Google!
Log on to Google Business Profile and follow the instructions to create or claim a free business profile. GMB is a free tool that connects you to all of Google's services, including Google Maps!
Your business listing may already exist, in which case you would claim it. If it doesn't exist, you will create a listing. Verify or provide basic information about your business, including:
Business name
Business address
Primary business category
Website URL
Business phone number
Operating hours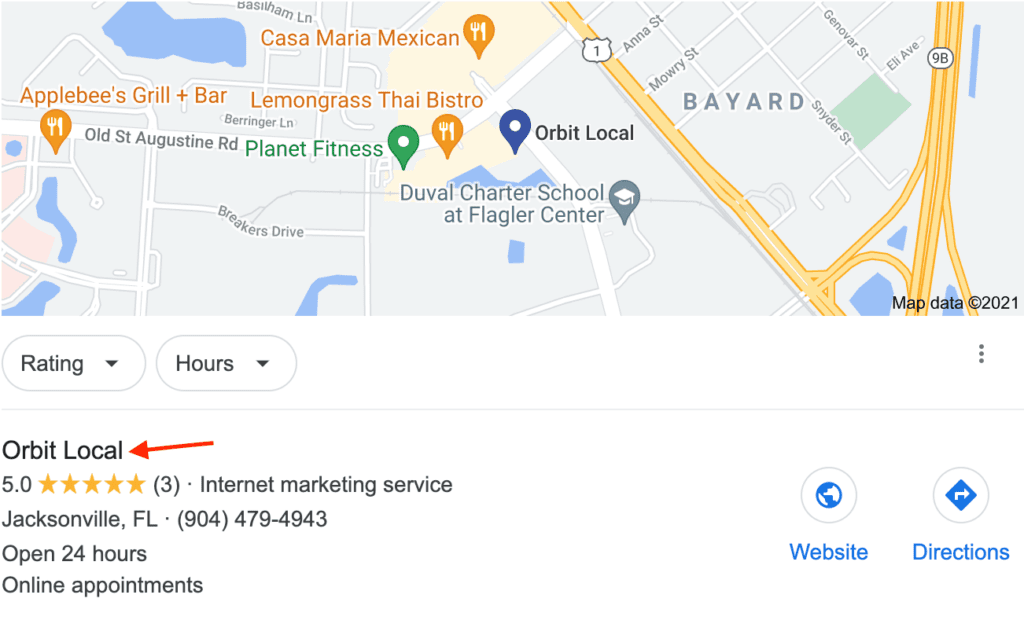 When you enter your business name, physical address, and phone number (NAP), it should be consistent with how it appears on your website and in the real world. You can boost your NAP consistency online by adding your business to local directories or a social media platform like Yelp.
You can also create a distinct name and URL for your GMB listing. This will make it easier to share your GMB Profile so you can solicit more reviews. Reviews also impact your search engine rankings.
Step 2: Get Your Profile Verified with Google Postcard
If you aren't seeing your business on Google Maps despite having claimed it, you still need to verify it. This process is designed to ensure that only a small business owner and not somebody else claims the business.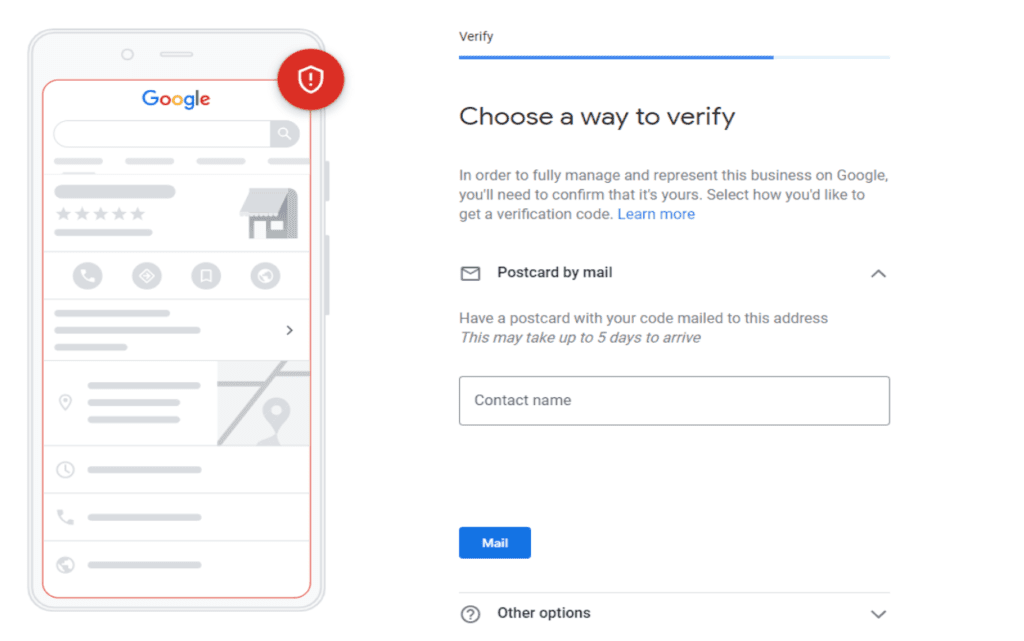 Usually, your business is verified in a way that may seem surprisingly old-fashioned for Google: a postcard is sent to your business address. It has a 5-digit verification code which you will put into your Google Business Profile account.
Another verification option is by email or phone. However, this isn't possible for all businesses. If it is possible for your business to be verified in some other way than the postcard, you will be alerted during the verification process.
If you're still unsure if this step is complete: if you haven't gotten your verification pin number, then you haven't verified your business on Google Maps.
Step 3: Optimize Your Profile to Boost Your Online Presence
You may have already filled out some basic information when you claimed your business. However, to make the most of attracting new local customers, you'll want to complete your profile in its entirety when you add your business to Google Business Profile.
People are more likely to take your business seriously when they find it on Google Maps if it has complete information. Plus, when you optimize your Google Business Profile profile, it can help you show up on Google. You'll appear in local search and generate leads.
It's a good idea to update your business logo and your cover photo. You can also add photos of your business to the photo display to give potential customers a complete impression of your store.
For instance, if you are a restaurant, consider adding pictures of your menu, food, and seating areas. If you are a retail store, post pictures of merchandise displays and happy customers shopping.
The same sort of pictures that are featured on your website and social media pages are likely a good option for your Google Maps listings. Plus, cross-posting your social media posts onto your GMB account can help you save time!
Step 4: Use Local SEO To Improve Your Visibility
Do you want your business to be found by the people most likely to want to interact with it? If so, you need to optimize it for the keywords that are most relevant to your business.
To determine what keywords you should focus on for your local SEO strategy, think about the words that are most relevant to what your business does. Also, look for terms that indicate attributes that will attract people to your business.
For instance, if you are advertising your restaurant on Google Maps, you will want to use keywords relating to the kind of food you sell. You'll also want to advertise things that may attract people to your business, like whether it is open late, handicapped-accessible, etc.
Step 5: Maintain Your Online Presence For Higher Rankings
Unfortunately, too many business owners establish their business on Google Maps but fail to provide active engagement after it has been set up. Being active in your Google Maps listing makes it much more likely that you will come up in Google search results.
The more you come up in search results, the more likely you'll be to generate business from your listing. There are two primary things that you can do to keep your Google my business up to date:
Update Business Details to Stay Relevant
Have you opened another business location? Did you join social media and business listing platforms like Facebook or Yelp? Have you changed anything else about your business? Be sure to update your business listings with anything that has changed about your business. This tells Google signals that you're trustworthy and that the information is accurate. An easy way to stay active is to share posts regularly.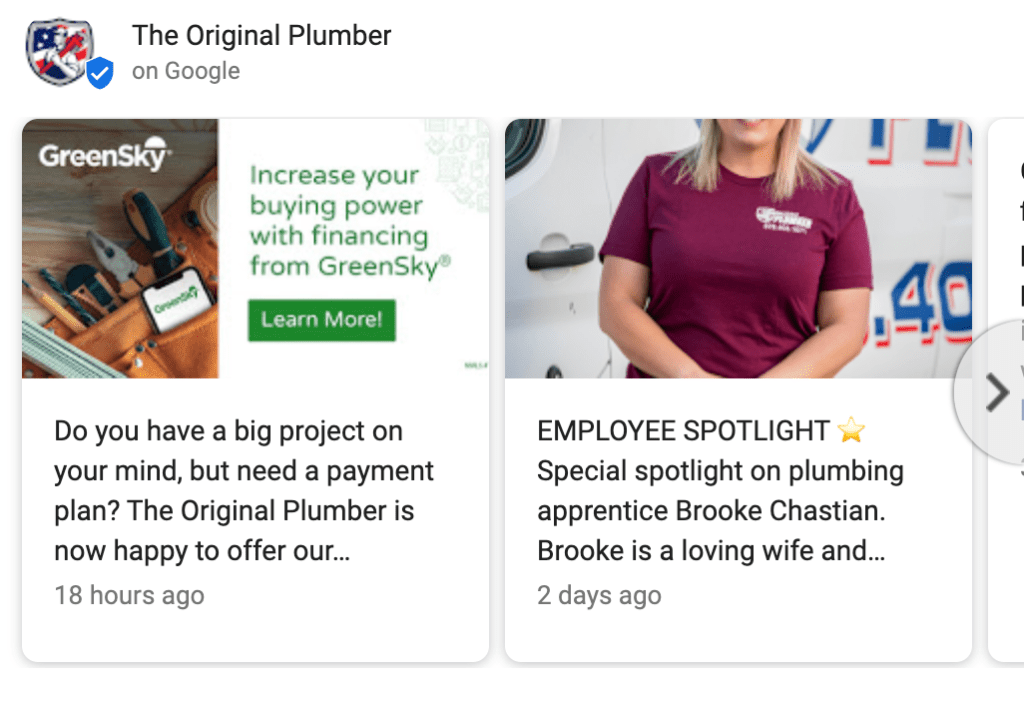 Respond to Google Reviews to Build Consumer Trust
Google Reviews can be a double-edged sword. Positive reviews make it much more likely that new customers will give your business a try, plus helps. On the other hand, negative reviews may scare new customers away if you haven't responded or responded too defensively.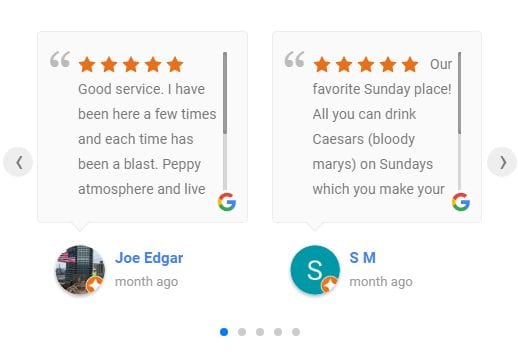 One of the best ways to make the most of reviews is to always respond to them, whether they are positive or negative. Be polite, respectful, and give reviewers the opportunity to reach out to you directly to resolve whatever their concerns might have been.
How to Get Your Local Business at the Top of the Map Pack
Naturally, you want your business at the very top of Google Maps results (also known as the map pack or three pack). There is no single fast track to the top of results, but there are three key categories that impact your ranking: prominence (how trustworthy and established you are), relevance (how close to the searcher's intent you are), and proximity (how close to the searcher's location you are).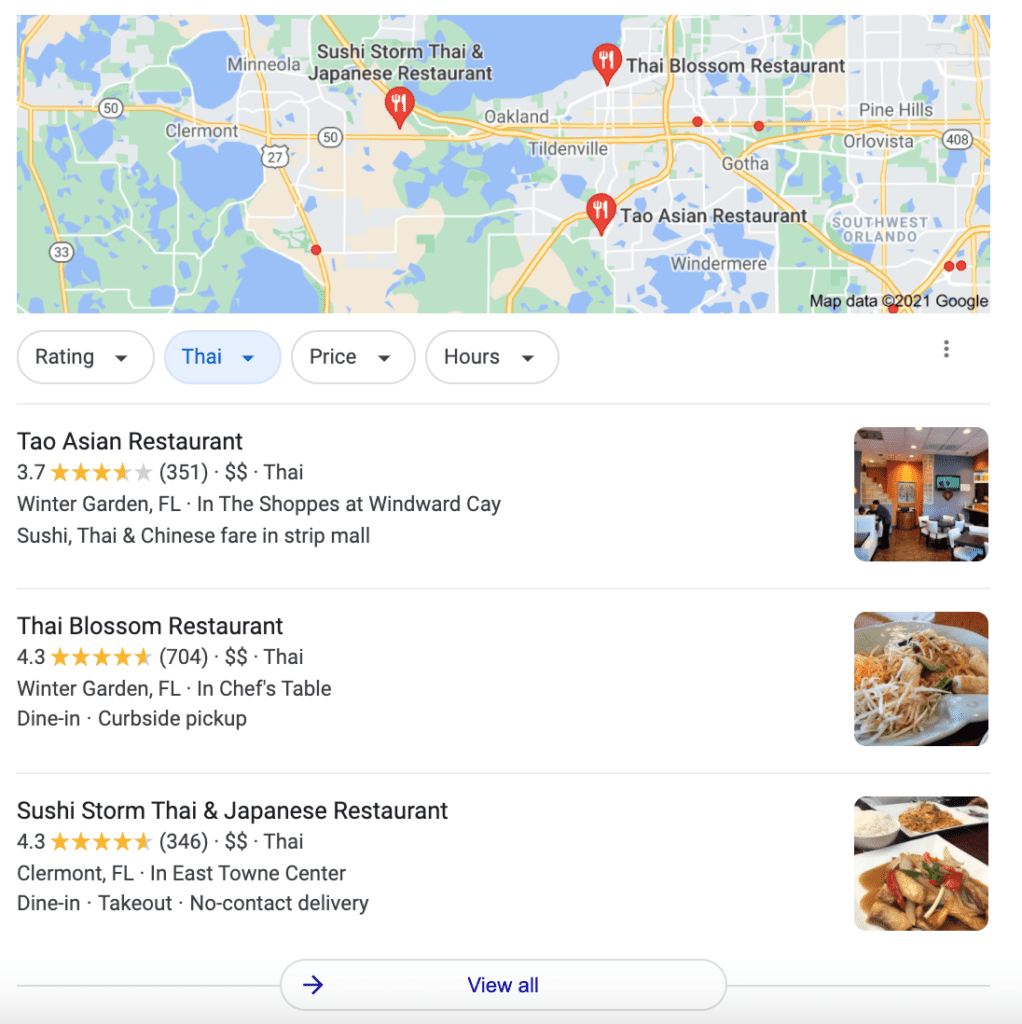 Here are some tips that can help you to rank higher faster:
Choose the right category. Your business may fit into a couple of different categories, but you want to choose the category for which you get the most potential customers. If you're stuck between two categories, look at your competition and choose the business category with less competition. This can help with your relevance rankings.
Set up a Google Business Profile account for each business location. This can help with your proximity rankings. If you have multiple physical locations, making a Google Business Profile account for each one makes it more likely that you'll be highly ranked for local searches for each area.
Add plenty of photos. If you don't have high-quality photos of your business, consider paying a photographer to take some for you. Customers are more likely to click on businesses with high-quality photos. Businesses with lots of clicks are more likely to rank highly in Google Maps thanks to prominence.
Encourage your customers to leave reviews. Make sure that your customers know that reviewing you on Google Maps is good for your business. Encourage them to leave reviews there if they are happy with the services that you provide to boost your prominence rankings.
Always respond to reviews. Whether they are positive or negative, do your best to respond to every review. This proves to Google that you are active on your account and are trustworthy. It also makes customers more likely to click on your business.
Google Maps FAQ
How does Google Maps relate to my Google Business Profile Listing?
Google Map is one of the business information areas that is covered by a Google Business Profile listing. When your Google Business Profile account is active and up-to-date, you will show up in not only Google Maps results but also in Google search and a variety of other Google services.
Can Google Maps be managed from my Google Business Profile dashboard?
When you make changes to your Google business profile from the business dashboard, those changes can also appear wherever your business is found. Changes will appear on both Google Maps and Google searches. This can make it very simple for you to keep your business updated everywhere it may be found. You just need to update your local listings from one convenient place.
How much does it cost for your business to be found on Google Maps Results?
If you are looking for affordable ways to advertise your local businesses and find more customers locally, Google Maps cannot be overlooked. This is a completely free way for you to increase exposure and attract customers.
Why is my business not showing on Google Maps?

The most common reason that your business may not be showing up on Google Maps is that you have not verified your business. Many people go through the steps of claiming their business on Google but do not verify it, so the verification process is never complete. If you haven't received a verification pin, your business has not been verified on Google Maps.
Is Google Business Profile worth it?
Considering that getting your business on Google Maps and in Google Business Profile is completely free, there is very little downside to doing it. It will take some time and effort to set up your account and manage it, but the potential for increased business through local search results is well worth the extra effort.
Enjoy Increased Visibility Thanks to Google Maps
Google Maps is a superb way to attract more customers and get more business without investing very much time, effort, or money. You may be amazed by the results that you get with relatively little effort by listing your business on Google Maps.
If this feels overwhelming, Orbit Local can help you! We offer Google Business Profile optimization services for small businesses looking to attract potential customers. Contact our team of marketing experts today!