There are tons of benefits of Google Business Profile profiles for small businesses to take advantage of. Google Business Profile is a powerful marketing tool and a great way to get in front of your customers. GMB helps you attract more leads to your doorstep or website.
Google lists a few benefits of having a Google Business Profile listing, including:

Getting in front of your customers
Increasing your online credibility
Make the most of your online advertising
Increasing customer retention and loyalty
Still on the fence about Google Business Profile? Here are seven benefits of Google Business Profile that small business owners shouldn't miss out on if they want to boost their online presence.
Show Up in Local Search Results on Google Maps
Customers are taken to your Google Business Profile profile when they search for businesses in Google Maps. Most of these potential customers are searching for businesses on the go from their smartphones, so having a Google Business Profile profile will put you in front of them sooner.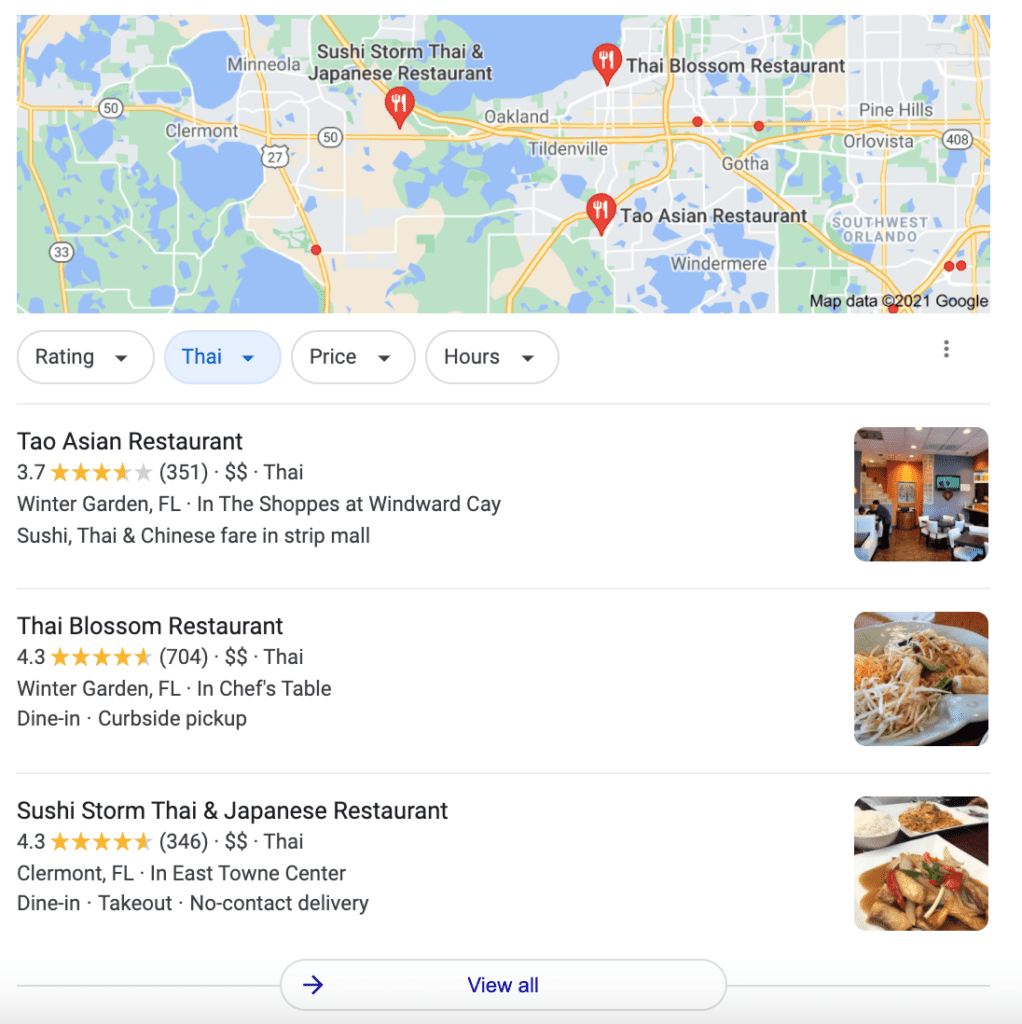 Stand Above the Crowd in the Map Pack
Your Google Business Profile profile allows you to show up in the Google Maps' three-pack. When you search for a local business, three locations close to you will show up in the Google Maps search results. If you want to earn your spot in the three-pack to get more customers, then having a Google Business Profile profile is a must.
Gain Insights to Consumer Behavior
Google Business Profile gives you a unique opportunity to better understand your customers with their analytics and reporting. These consumer insights can help your decision-making when working on marketing campaigns to attract new leads.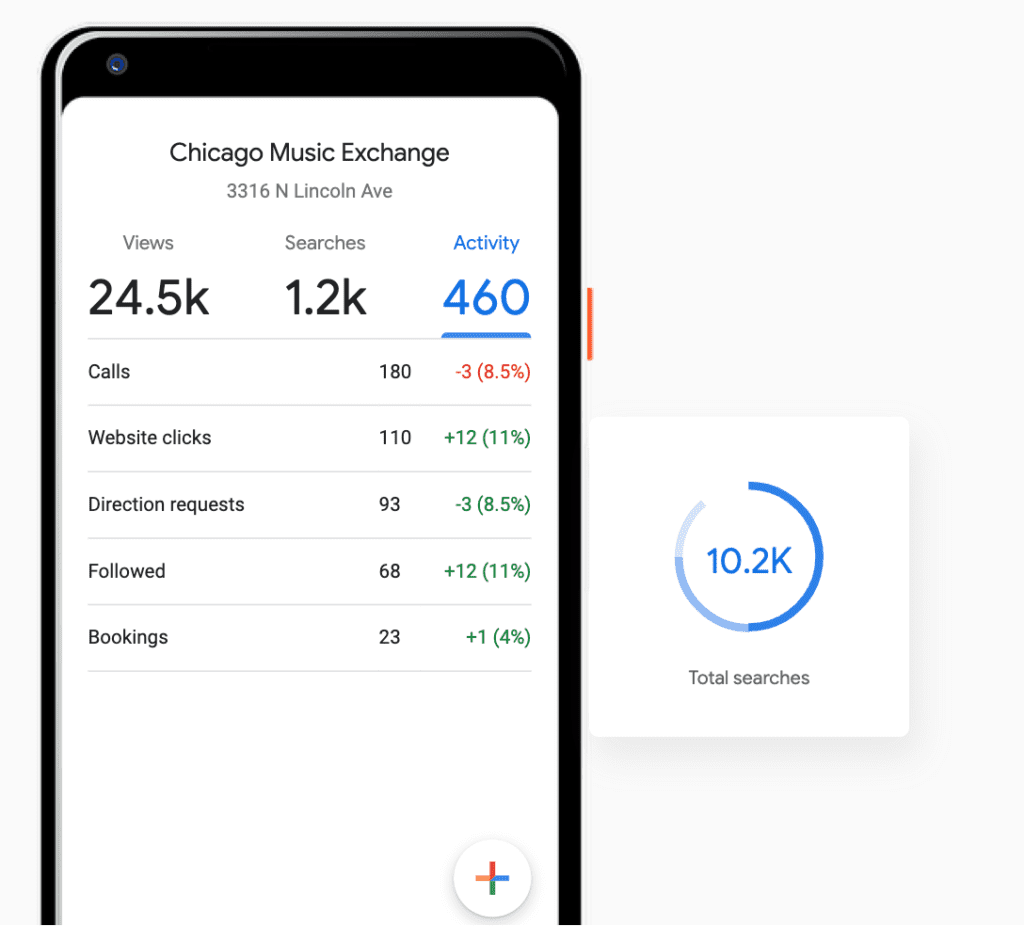 If you have more than one business location, each GMB profile will have its own insights. Some of the insights you can get from your Google Business Profile page are:
How Customers Find You
Where Customers Find You
Customer Actions
Direct Requests
Phone Calls
Post Analytics
You should be using Google Analytics and your GMB insights to determine what is or is not resonating with your audience. Tailoring your insights means you can potentially increase your engagement and conversions.
Connect with Customers Directly
Google Business Profile also gives you the chance to directly connect with your customers. You can do this in a few ways: Google Business Profile Messages and Posts.
Set Up Google Business Profile Messages
Customers can contact your business directly if you set up Google Business Profile Messages. This is a great way to establish a positive first impression with a customer before they even walk in the door.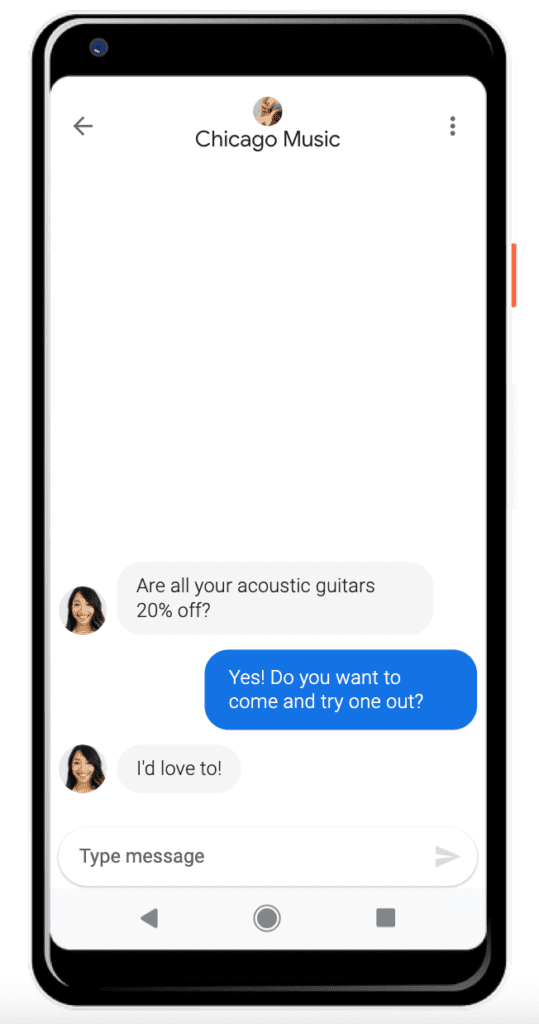 Google recommends responding within 24 hours. We recommend setting up automatic replies to greet your customers and keep your response times up.
Also, Google doesn't share your phone number with customers! Messages can go to your phone, but you can set up a different phone number with tools like Google Voice or Allo by Google.
Share Updates with Google Business Profile Posts
Google Business Profile Posts function very similarly to Facebook posts. These allow you to share updates and company information with your customers. We recommend posting at least once a week with some keyword-rich captions to boost your visibility and to maintain a relationship with customers.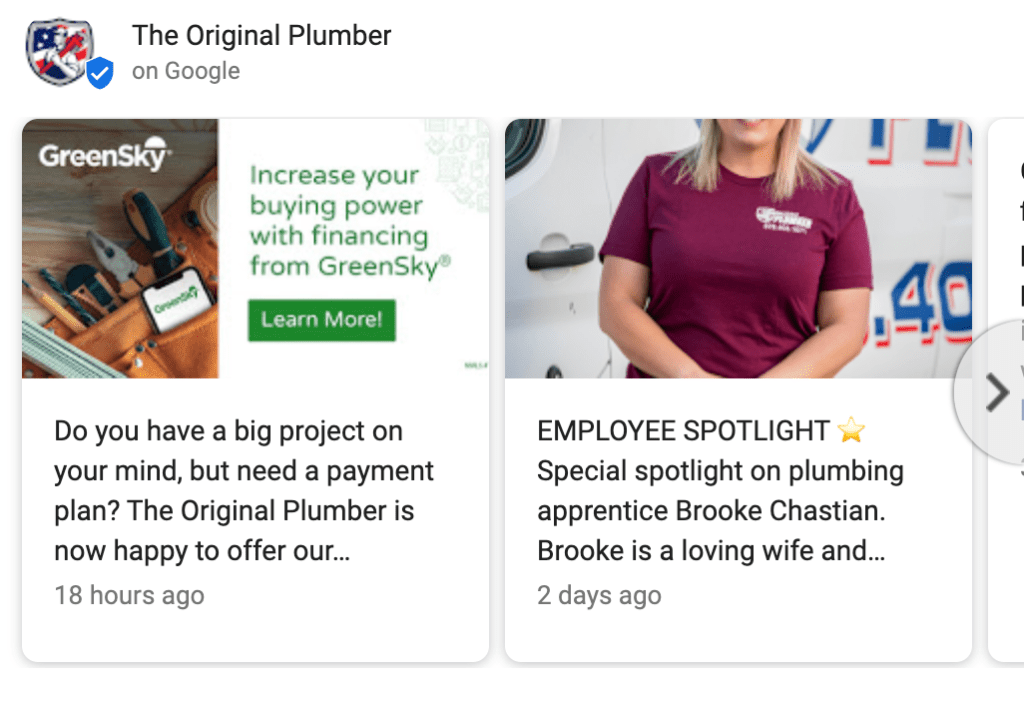 There are six different types of GMB Posts you can share:
What's New Posts
Products Posts
Offers Posts
Events Posts
Hours Update
COVID-19 Info
No matter which one you share, be sure to take advantage of the CTA buttons. The unique call-to-action options can help boost traffic, calls, and more.
Build Trust with Reviews
Another way you can directly connect with your customers on Google Business Profile is via reviews. Responding to all of your reviews helps build consumer trust, especially when you respond in a customer service-centric manner.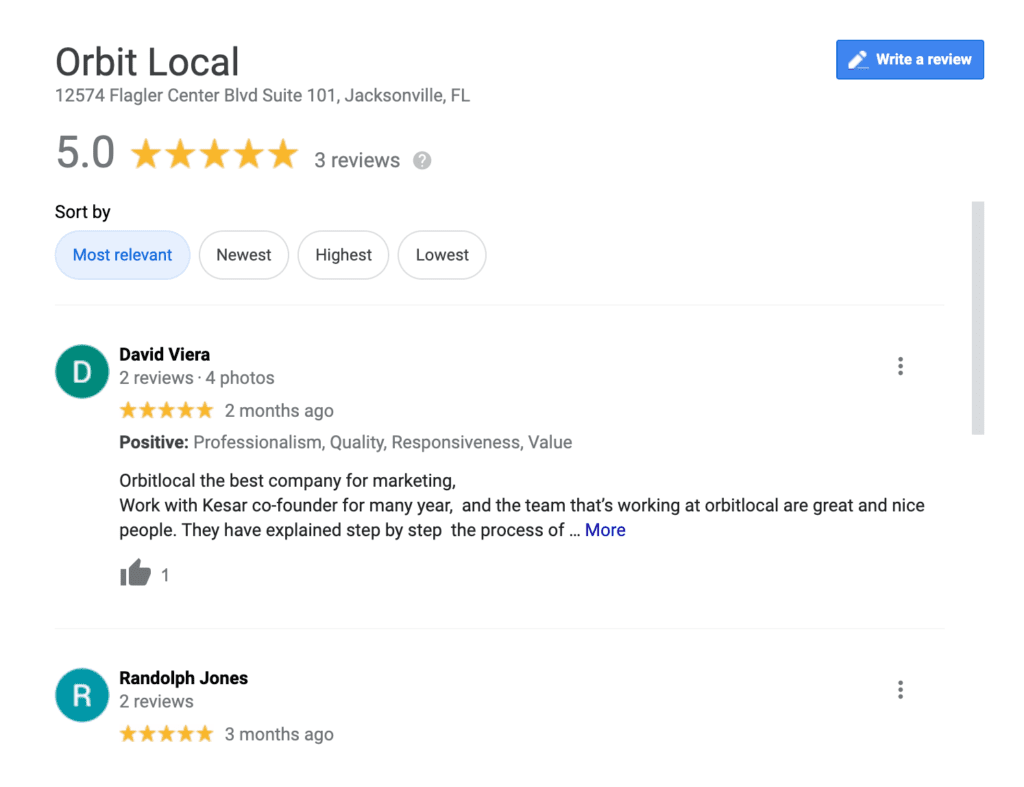 Why You Should Respond to All Reviews (Even the Bad Ones!)
Knowing how to respond to all reviews – yes, even the bad ones – is crucial for your marketing strategy.
When you get a negative review, it can be easy to let your emotions take over. However, you don't want to sound defensive as a business owner.
Your reviews are public, so customers will be able to see how you responded. In fact, 94% of consumers said a bad review convinced them to avoid a business. But as the business owner, your response gives you the opportunity to turn that around.
To maintain a positive brand image, be sure to handle negative reviews with empathy and by offering solutions. It's also a good idea to take the conversation offline by providing an email or a phone number that upset customers can contact.
How Reviews Help SEO
There are a few ways that Google Reviews can help your local SEO efforts.
For starters, reviews build consumer trust. Given that Google search rankings do factor in expertise, authority, and trust, it makes sense that reviews would be a part of that equation.
Positive Google reviews can also drive more traffic to your site. This will help your organic SEO efforts by telling Google your site has positive authority.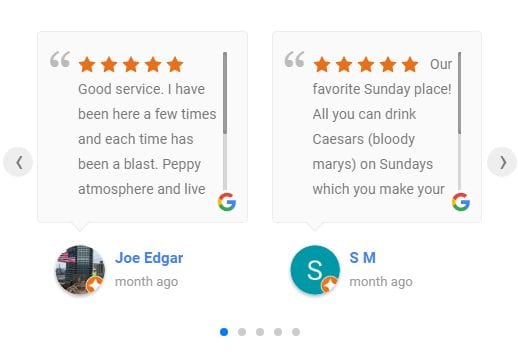 Finally, Google Reviews help Google understand what your website is about. The reason it is so important to have detailed, descriptive content on your profile and website is that Google's bots will crawl it to learn more about your business. The same can be said for Google reviews! What your audience says about your business can help the bots paint the full picture. 
Get an SEO Boost with a Google Business Profile Account
A Google Business Profile profile offers tons of opportunities for an SEO boost for your business. While your Google Business Profile profile doesn't directly impact your local SEO, it does play an indirect role.
When you have a fully optimized Google Business Profile profile, it increases your chance of appearing at the top of the map pack. This means you'll see an increase in traffic to your website, which sends positive authority signals to Google.
A Google Business Profile profile also gives you the opportunity to upload your business information. Keeping your NAP consistent in your online profiles is a major ranking factor.
NAP Consistency 101
NAP is short for name, business address, and phone number. Keeping your NAP consistent online is critical for SEO ranking factors. NAP consistency verifies the legitimacy of your business and location information as Google crawls your website.
You may also hear this referred to as local citations. You can share your local citations in a few places to show your NAP some TLC:
Online publications: This includes news articles, blog posts, and maps.
Review sites and platforms: This includes Facebook, Yelp, and Google Business Profile.
Local business directories: These directories are focused either on niche/industry or your geographic location. When submitting to these, make sure they ask you to verify your information. Directories that allow anyone to upload anything can be spammy and hurt you in the long run.
It's Completely Free to Use!
The best part? Google Business Profile is a completely free tool. Sure, you can pay for Google Ads to quickly boost your business to the top of the Google Maps pack. But that's completely optional – and a well-optimized profile should help your local search engine rankings as-is.
Another great part of Google Business Profile is that you can set up a free business website. This is a fantastic option that is easy to use for a local company without a website yet.
GMB Optimization Services
This might sound overwhelming, especially if you're too busy running your business to juggle a new platform. Don't worry – just consider Orbit Local your mission command.
With our Google Business Profile optimization services, we launch your local business listing into orbit (and into local searches). Our services include:
Google Business Profile listing verification
Google Business Profile profile optimization
Geo-tagging your images and videos
Regularly posting on your Google Business Profile profile
Monitoring and responding to Google Reviews
Google Business Profile listing management
Local rank tracking
Fighting spam listings
And more!
Our Google Business Profile optimization services start at just $299 per month. Contact us today for a free consultation with our experienced digital marketing agency. We know that no two businesses are alike, so our online marketing team offers customized plans.
Frequently Aasked Questions