Law firm SEO is the practice of optimizing your website to rank higher in the search engines for relevant keywords and phrases. These keywords are specific to your local area and the type of law you practice. It serves as a marketing tool to bring additional clients to your business.
With law firm SEO, you aim to build a fast, informative, and helpful website that supports your online and offline advertising and marketing efforts. Beyond bringing in more clients, it should help increase brand awareness and word-of-mouth.
Why is it so important? More than half of smartphone users have contacted a business directly through the search results.

That means when people are searching for legal help in your area, and if you're not showing up, your competition gets the business.
In this ultimate guide, we cover all you need to know about law firm SEO and break it down into various strategies you can use for improvement.
What is Law Firm SEO?
Law firm SEO is a niche of search engine optimization and local marketing that focuses specifically on lawyers and their practices. You may also hear it referred to as law firm SEO marketing or attorney SEO marketing. It focuses on a variety of tactics, all designed to draw your ideal customers to you.

Chapter 1: The Fundamentals of Law Firm SEO Marketing
Before you can start improving your website's search engine rankings, you must understand the basics. Google's algorithm is under lock and key. But through a combination of research and information directly from Google, we know specific things that matter. Some of these things include:
Website speed — How quickly your website loads. Ideally, it should load within three seconds or less. Visitors don't have the patience to wait long for a site to load and quickly find an alternative. We cover this in Chapter 2.
Ease of use — The easier a website is to use, the more likely visitors will stick around and look at more of your content. Keep things simple. Don't make users have to scroll or click around too much to find whatever they are looking for. We cover this in Chapter 2, as well.
Mobile-Friendliness — Mobile search query volume, especially with local intent, increased dramatically from 2014 to 2019, and the trend shows no signs of slowing down. That means your website needs to display correctly across a variety of devices. Does yours make the cut? Use the Mobile-Friendly Test tool to find out. More detail in Chapter 2. According to the American Bar Association's (ABA) TechReport 2020, 68% of respondents say their sites are mobile-friendly. Most of the ones that aren't? Law practices without partners.
Security — Purchasing an SSL certificate for your website adds an extra layer of security for your visitors. It's what makes a website reachable at HTTPS://domain.com and is crucial for ecommerce websites. Only 40% of respondents say their website is secure. That's another topic we address in more detail in Chapter 2.
Content quality — When choosing where to rank a site, Google considers their users (the searchers) first. Google wants to connect users to the most relevant, comprehensive, and valuable content, so content that hits those marks will naturally rank higher. Skip to Chapter 5 if this is what you want more of.
Backlinks — The number of links to your website from other domains. Skip to Chapter 7 to learn more about link building.
When Google sends someone to your website, it learns based on the action the visitor takes. If the visitor stays on your website, Google is more likely to continue referring traffic to you for similar searches. If the searcher returns to Google to find another result, you're less likely to continue getting referrals for similar keywords.
With the basics out of the way, the following chapters go into more detail about these elements. And when it comes to promoting your website, Chapter 4 covers paid advertising methods, Chapter 6 covers social media, and Chapter 8 covers on-going efforts.
Additional Resources:

Chapter 2: Your SEO-Friendly Law Firm Website
Technical SEO is a for a website to be SEO-friendly, there are several things to consider.
Crawlability & Indexability
Crawlers are the bots Google (and other search engines) uses to read the web content. Crawlability refers to the bot's ability to navigate through the website. Errors in code, excessive redirects, and other issues can create issues for the bots. If they cannot crawl the content, they can't index it.
That's where indexability comes in. That refers to the bot's ability to analyze a page and add it to the search index. Even though Google may be able to crawl your site, it may not index all of the pages.
What factors influence crawlability and indexability?
Website structure: All the pages on your site should be linked to one another. If there are pages on your site that aren't linked to from anywhere else, it may be difficult for the crawlers to access them. That said, if there are external links to those pages from other sites, it may still be possible for the crawlers to find them.
Internal link structure: You follow links to navigate the web, and that's what the crawlers do, too. When it crawls your site, it can only find the pages you link to from other content. With a good internal link structure, the crawlers will reach the deep pages in your site structure. If it gets sent to a dead end, though, the bot may miss some of your content.
Redirect loops: Redirects are sometimes necessary, but if the redirects are broken, the crawler stops, causing issues.
Technology factors: Did you know crawlers cannot follow forms? If you gate content behind a form, you'll have crawlability issues. Ajax and Javascripts can block web crawlers.
Server errors: Broke server redirects and other issues with your server can also prevent crawlers from accessing all of your content.
Blocked crawler access: With robots.txt, you can intentionally block web crawlers from indexing pages on your site. This is useful when there are pages you want to prevent public access to. However, mistakes in this file could block bots from other areas of your site, too.
To improve crawlability and indexability:
Speed up your website: Generally, crawlers have a limited amount of time they can spend crawling and indexing your website. This concept is the "crawler budget." Once that time passes, they leave your site for the next one on the list. The faster your pages load, the more productive the bots will be in crawling and indexing.
Increase internal linking: Check to make sure none of your internal links are broken. Look for ways to strengthen your interlinking to increase the likelihood of Google's crawlers locating all your content.
Add new content to your website regularly: The more often you update your website, the more often Google will crawl it. The faster they crawl your site for new content, the quicker it will be indexed.
Submit your sitemap to Google: Your sitemap.xml file is a small file found in your domain's root folder. It lists all direct links to every page on your site. Uploading this file to the Google Search Console submits every page on your site to Google. Submitting it tells Google about the content and any updates you've made.
Usability
Usability refers to how easily your website visitors can access the information on your site and navigate through it to get to what they need. Several factors influence usability, including:
Page load time: The faster your page loads, the better. Google suggests your website should load within three seconds or less.
Mobile-friendliness: About half of the global internet traffic comes from mobile devices. To accommodate those users, your website should be mobile-friendly.
Navigation: Make links obvious. Keep a streamlined navigation bar. Use clear, descriptive language. Build site navigation so that someone who lands anywhere on your site can find what they need within three clicks. Keep the navigation menu in the same location on all pages of the site.
Accessibility: The Americans with Disabilities Act (ADA) applies to websites, too. To ensure those with disabilities can access what they need online, build your site with them in mind. Include ALT text for all your images so screen readers can describe them. Structure your content with headings. Make sure people can access your website with the keyboard only. Rely on tables just for tabular data — not for layout. Use unique and descriptive text for links.
Logical calls to action: Try to limit the action you want someone to take to one specific action per page. Make it as easy as possible for people to accomplish that action.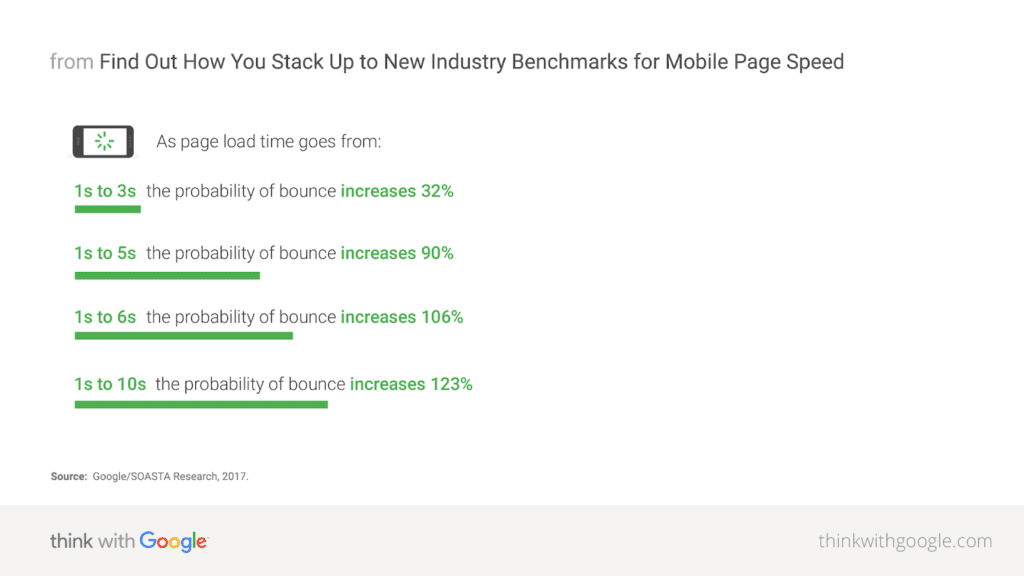 To improve usability:
Test site speed: Find out how fast your website loads with the PageSpeed Insights Tool. Google will offer recommendations to improve speed. Implement them to see your page speed improve.
Use a responsive design: Responsive designs automatically adjust to the screen they're viewed on. Many WordPress themes are built with responsive design in mind, so you don't have to worry about making sure your site is mobile-friendly.
Simplify navigation menus: Avoid complex dropdown menus. Use breadcrumbs to make it easier for people to see how they reached a specific page, so they can go back if they need to.
Use alt text, use descriptive titles for links, etc.: This makes it easier for screen readers and other accessibility tools to operate correctly.
Security
Security is essential for your website technical SEO if you want to build trust. When security is ignored, hackers can quickly wreak havoc on your site. They can use it to steal visitor information and may even take it offline.
Website security isn't always part of your web hosting plan. Purchasing an SSL certificate helps and makes it possible to access your site from HTTPS://domainname.com, but not all SSL certificates are created equal.
In addition to HTTPS, WordPress websites need additional security measures to prevent hackers from accessing data. Beyond keeping all files (content management system, plugins, themes, etc.) up to date, it's crucial that passwords are secure and changed frequently. Only those who need access to the website should have permission to access it. Granting role-based permissions can help.
Always keep a backup of your site so it can be rolled back to the latest working version should it ever be compromised. See our post on the best web hosting for small business for more info.
If you want to be sure you have a quality, SEO-friendly website, let us take care of your website design.
Additional Resources:

Chapter 3: Find Your Ideal Clients with Local SEO for Lawyers
Building your website is only the first step. To improve the chances that your website will show up on the first page of the search engine results pages (SERPs), you'll still need to do quite a bit of digital marketing work.
That starts with a local SEO strategy that focuses on building local citations through directories like Google Business Profile and other relevant websites.
Google Business Profile (GMB) Profile
Search your law firm on Google. If you see a Google Business Profile listing, claim it. If you don't have one, create one. It's completely free and only requires a Google account. For best results, provide as much information as possible.
Your GMB listing helps you inform Google and searchers about your business. You may show up in the organic search results in the "map pack" that Google displays for relevant local searches.
Using GMB, you can provide:
Business location
Hours of operation
Name, Address, and Phone Number (NAP)
Photos of your employees, office interior, and exterior
Website
Areas of practice
Service area
Appointment URL/Bookings
Questions and answers
Google Reviews
Reviews from other websites online
By turning on the Messaging feature, visitors can leave messages for you. The messages they send are routed to your phone through a number Google owns. Then, you can respond from GMB. You can use the GMB app on your phone or visit the GMB website from your computer.
The more information you provide, the better — not just for your potential customers, but for Google rankings, too. Once you start getting reviews, make sure you're taking the time to respond to those Google reviews, whether positive or negative.
Directory Listings
Listing your law office in directories helps build links to your site. These directories also have a lot of traffic and tend to rank high in the search engines too. Because of this, many people use them to find businesses.
While you can use standard directories like Yelp, many of the usual websites like TripAdvisor don't work for sites in the legal niche. That's why niche directories are beneficial. While you do have the option to upgrade to a paid listing on most of these, it's not required.
Avvo
Best Lawyers
FindLaw
HG.org
Justia
Just Great Lawyers
Law Guru
Law Link
Lawyer.com
Lawyers.com
Martindale
Mediate
Nolo
PublicLegal
Super Lawyers
There are also law directories for specific areas of legal practice, such as personal injury law. In addition to these targeted directories, you can also secure links from:
The American Bar Association
State Bar websites (not available in all states)
Local chambers of commerce
Online Reviews
Online reviews are an essential part of the equation, as well. According to a FindLaw survey, consumers are more likely to hire lawyers who have online reviews.
It can be challenging to build reviews if you're a brand new practice, but even a small number of reviews can be better than none at all.
In many businesses, it's perfectly fine to ask for reviews. But for the legal industry, there can be some ethical issues. You have to maintain your clients' confidentiality while preserving the integrity of any reviews that get posted. The client-attorney relationship, in its entirety — including information related to representation itself — is protected by the confidentiality rule.
That means lawyers who use third-party client feedback/review collection platforms must get "informed consent" from clients, allowing them to collect and share data for review purposes. Lawyers are perfectly fine to request that their clients leave a review, sharing only information they're comfortable with, but like any other business cannot force or incentivize reviews, and they can't draft the content of the review itself.
While you can reach out to past clients to help get things rolling, it's best to ask for feedback after representation is complete. Send an email to thank them and gently ask for a review. Include links where you'd like them to leave reviews so that the client can choose the one that is most convenient for them. Make it as easy as possible for them.
Additional Resources:

Chapter 4: Expanding Reach with Paid Advertising for Lawyers
Pay per click (PPC) advertising is common for small businesses but can be especially useful for lawyers. These ads display in various places online, including search engines, social media websites, and affiliate websites.
The amount you'll pay for the ad depends on the keyword you're trying to advertise for. That price is based on how competitive that keyword is and the monthly search volume for that keyword.
The more competitive it is (how many people are bidding on it) and the higher the search volume is, the more expensive you can bet it will be. That's why keywords like "divorce lawyer" could easily cost you $100 or more a click. And while the click may eventually turn into a paying client, it may not.
If it can get expensive and may not bring in clients, why would you use it?
It's all in how the ads are set up. There are ways to make it work without relying on those expensive, highly competitive keywords.
Think about how broad "personal injury lawyer" is. But you're not just any personal injury lawyer. You work in a specific locale with a particular service radius. That alone goes a long way toward narrowing the field of competitors.
When done correctly, PPC offers many benefits:
Control over your firm's advertising budget
Easy to test several ad options and methods
Places ads in front of the right audience at the right time
Increased brand awareness
Analysis of how well your ads are doing compared to your budget
Google Ads: Paid Search
These ads display for relevant keywords across Google's Display Network, which includes the search engine. You can choose between a variety of ad formats, such as:
"Click-to-Call" ads
Text-only ads
Responsive ads (adjust to the screen they're viewed on)
Image ads
Video ads
Depending on where you want to advertise, some formats may not be available. For instance, image and video ads display on Google partner websites, but not on the SERPs.
Social Media Ads: Paid Social
Every major social media platform has advertising capabilities. These operate on a PPC basis, much the same way Google Ads do. Beyond using the ads to drive traffic to your website, you can also use social media ads to build your following and engagement. You can also use social media ads for retargeting people who've visited your website or fall into the same demographics as your clients.
Instead of advertising on every social media platform you can think of, your money will be far better spent advertising in places you know your audience to be.
While PPC is separate from SEO, PPC works to support SEO. It can drive traffic to your website fast and generate income while working on SEO long term.
And while paid search and paid social are two separate things in the PPC world, the two of them often work well together.
Additional Resources:

Chapter 5: Crafting a Content Strategy for Your Law Firm
When it comes to your website content, there are virtually limitless options. For best results, you'll want to spend time crafting customer avatars, also known as customer personas, representing each significant section of your target audience. This exercise ensures you're writing to your audience and helps you see the kinds of content you should create for your site.
After you have your customer personas written, keyword research can help you find the specific words and phrases that people are using to find the kind of content you want to create. Crafting your content around these keywords is a critical part of ranking in search engines.
An excellent place to start for ideas is to look at what your competition is doing. Pay attention to the keywords they are ranking for. If you find they're covering a topic you need to cover as well, think of ways you can make your content better.
Can you add more content, so your blog post or article is longer? Data from SEMRush shows that long reads (3,000+ words) get 3x more traffic than average length content (901 to 1,200 words). And HubSpot research shows that articles between 2,250 and 2,500 words earn the most organic traffic.
Can you add images and other visual elements to make the content more engaging?
Can you add a resource to the content – a downloadable worksheet, checklist, etc. to add value for your readers?
Can you present the content in another format?
Any idea you can use to make your content a better resource than what's available from your competitors can boost your ranking.
If you have the resources available, consider going beyond the standard blog post or article. It's perfectly fine to start with blog posts, and then as your budget and audience grow, add different forms of content into the mix.
When you're ready, opt for other forms of content such as:
Videos
Podcasts
Infographics
TechReport 2020 reports law firms are slow to adopt video marketing, with only 24% of respondents saying they use it as part of their marketing effort. It's much more common among larger firms – those that have anywhere from 10 to 49 lawyers. Even still, the percentage is low at 27%. If you start using it before the rest of your competition, especially as a smaller firm, it could do wonders for your online presence.
87% of respondents report having a blog on their website, but only 59% of solo lawyers feature one on their site. It's much more common at larger firms, with 95% reporting using blogs as a marketing vehicle.
You don't have to be a writer, graphic designer, videographer, or audio expert to take advantage of these types of content. Plenty of experts are available to help you. Get started with Orbit Local's law firm SEO services.
What kind of topics should you cover on your blog?
Any recent law changes in your practice areas
Advice on legal issues in your practice area
Myth-busting
What to expect at [your practice area] trials guides
You can also use tools such as Google Suggest, People Also Ask, and Answer the Public to generate ideas.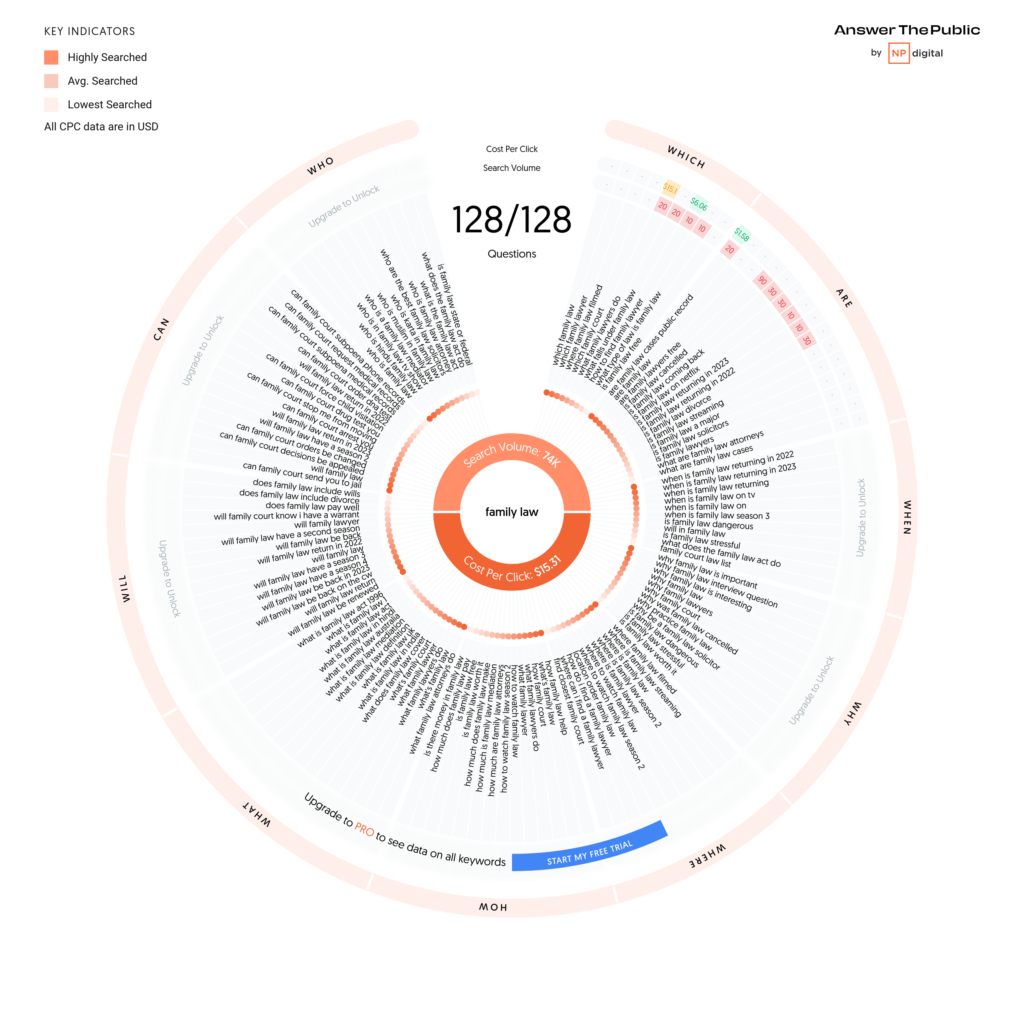 No matter what kind of content you decide to create, focus on creating something that's well-written and matches user intent. In 2018, Google introduced E-A-T guidelines (Expertise, Authority, and Trustworthiness) to improve overall content quality. As a result of this update, many affiliate sites promoting health products saw their rankings plummet because they weren't seen as an authority in the health field. As law firms, you'll have no trouble establishing E-A-T in the legal industry. But, that doesn't mean you should skimp on your content.
Additional Resources:

Chapter 6: Drive Traffic with Social Media for Lawyers
Google doesn't use social signals to rank content, so why would we cover social media marketing in a guide on law firm SEO? It's simple. Social media platforms give you another way to connect with potential clients.
And when you make connections with people on social networks, they're sharing (and maybe even linking to your content), which drives more traffic and backlinks. Though it's a bit outdated (Google+ is long gone), and I may be a bit biased (I wrote it!), this piece of content at Search Engine Journal explains why social is still critical to your online marketing strategy.
According to TechReport 2020, 81% of firms responded that they have some kind of social media presence. Among those that do make use of social media, the majority (76%) use LinkedIn. Not far behind: Facebook at 60%, and Twitter at 35%.
The most successful companies on social media start with a plan and adjust it as they go. They set goals to determine what they want to get from their social media marketing efforts.
With those goals, they develop the social media content strategy and content calendar to support it. This includes the kind of content they'll create and how often they'll post and curate content from other sources.
So how can you use social media to attract new clients to your law firm?
Create Original Graphics
Visuals will grab attention more than text posts. Though not all your social media posts need to be visuals, it's worthwhile to include them in your content calendar. You can create graphics that show:
Interesting statistics
Inspirational quotes
Industry updates
Basic legal information
These graphics will be vital if you plan on becoming active on a predominantly visual platform like Instagram or Pinterest.
When you work with Orbit Local for social media marketing, we'll create original images to share for you, but you're also free to supply images you'd like us to use.
Create Video Content
If you, or someone in your office, are comfortable in front of a camera, consider creating video content. You can share it on your website and social media. And once you've got an audience, you may wish to add live streaming to the mix.
What kind of video content can you create?
Q&A about your practice area
Interviews with industry experts and thought leaders
Explainers on trending topics
Courtroom etiquette
Office tours
The informational content you create for your blog is great to share on social media. You're far better off sharing useful, valuable information on your social profiles. While a bit of promotion is okay, too much of it and your audience will start to ignore you.
Demonstrating your expertise is crucial for the legal industry. Your prospects aren't going to make a decision based on a promotion. They want to know that the lawyer they hire is knowledgeable and has a good track record.
The good news is, you don't have to create all the content you share on your social channels yourself. It's a good idea to curate content from other reputable sources, too. The rule of thumb is, if it helps your social media followers in any way, it's worth sharing. It doesn't always have to be about the law. You can also include related topics and industries.
Engage in Conversation with Your Followers
When your followers take the time to ask questions or share comments on what you've shared, respond to them. Answer their questions. Thank them for taking the time to leave a comment. Direct followers to contact you via private message, email, or phone, where appropriate. The important part is creating conversation.
One way to get the conversation started is to ask questions when you share content. For instance, if you share a video on courtroom etiquette, at the end of your description, you could say something like:
Did you learn something new from this content? Share your thoughts in the comments.
Do you have any questions this video didn't answer? Leave them here, and we'll answer them for you.
Invest in Social Listening
Social listening keeps a virtual ear to the ground to "hear" what people say about your brand online. This wealth of information makes it easy to jump in when someone asks questions or makes a comment.
You can thank them for positive comments and quickly address any negative feedback. This shows your audience you're paying attention and responsive. Since the internet can sometimes feel like screaming into a void, this attentiveness level improves the customer experience.
Additional Resources:

Chapter 7: Link-Building for the Legal Industry
Adding your law firm's website to directories discussed in chapter 3 is part of link building. But, it doesn't stop there. The more quality websites you have linking to your content, the better. Google sees each domain that links to yours as a "vote" for your content.
If you ever run across an offer to buy links, avoid it. This is against the Google Terms of Service. Engaging in this type of activity will damage your ranking and may even get your site blacklisted. It may be tempting to cut corners to see results faster, but in the long run, it only hurts you.
Focus on slow and steady link-building efforts because those will get you the best results. Some tactics include:
Guest posting: By producing content for websites with more authority and larger audiences, you can grow your following while building links. The key is to provide quality content and mutual benefit.
Sponsoring local events: Whether it's a fundraiser for a local non-profit, a legal conference, or a local little league sports team, you can reap the benefits. Remember, though, that a smaller local organization isn't going to have the same link authority as a national directory specific to lawyers. And that's okay – because the audiences aren't the same. The link will still add value to your backlink profile. What's important is here is more than the link itself — it's also the corporate social responsibility and positive press you'll get.
Participating on community websites and forums: Participating in forums like Quora and Reddit can help build niche authority and links. Plus, you can use these platforms for market research, too. If you notice many people are asking the same questions, you can create a blog post on the topic. Then, answer the questions on the platform with a link to that blog post.
Start a scholarship: This one is only worth your time if you're going to maintain it. Many businesses — not just lawyers — created small scholarships for link building. As the tactic was abused, Google admitted it doesn't hold as much weight as it used to. Ultimately, if you decide to start a scholarship program, do it for the fact that you'll be helping a future student handle law school expenses. Consider the links a fringe benefit. If you're doing it solely for the links, you may be disappointed.
Create original infographics: Infographics take data that's boring or hard to understand and break it down into something visually appealing and helpful. When you create an original infographic, you can include the embed code and encourage others who find it beneficial to share it on their websites and social media.
Use Help a Reporter Out: HARO connects reports with leads and sources for their stories. Major news outlets like the Associated Press and brands like American Express rely on it. Stories submitted through HARO are distributed across the web, which helps build links.
Additional Resources:

Chapter 8: Ongoing Management and Optimization Efforts
Your law firm's website is never truly finished. By monitoring your current site and its content, you can find ways to improve it. Adding new content regularly gives you additional keyword ranking opportunities. It helps to bring new readers in, which ultimately increases the potential of converting leads into paying clients.
Keep an eye on your Google Analytics and Google Search Console accounts. The data presented here will tell you a lot about what's going on with your website, including:
How many people are visiting your website
Which pages they're landing on when they first visit your website
Which pages they're leaving your website from
How long people are spending on your site
Keywords that people are using to find your website
Which external sites are sending traffic to your website
How Google sees your website
And more.
Using this information, you can determine where you could improve your website. If you find that people aren't sticking around long on certain pages, you may need to edit the content to better match user intent or add more information and detail.
Keeping an eye on your competition makes it easier to find content gaps in your site so that you can add more value to your visitors.
Additional Resources:

Common Questions About SEO for Lawyers
Why does my practice need SEO?
Your practice needs SEO because online marketing is an essential part of bringing in new clients. Chances are your competitors are using SEO to improve their online presence. If you're not, you may as well hand clients to your competition.
My website is already ranking well. Is SEO still something I need to consider?
Just because your website is ranking well now doesn't mean it will continue to do so forever. Google constantly makes updates to their algorithm to fine-tune results for users. One of these updates may cause your site rankings to fluctuate. A competing law firm may start an SEO campaign of their own at any given time, designed to push themselves ahead of you. That's why most businesses consider SEO an ongoing investment.
When should I expect to see results?
SEO campaigns don't provide results overnight. Depending on your website's current state, your local competition, and various other factors, you should start seeing results within one to three months.
Marketing Your Law Firm
When it comes to your law firm marketing strategy, our SEO company can help. If you're ready to bring in high-quality clients, get in touch with us today. Our law firm SEO experts are ready and waiting to send your visibility to the stars!