WordPress Speed Optimization Service For Better Rankings
Are you dealing with slow WordPress? Orbit Local's speed optimization services are the answer you've been looking for. Our team is ready to help.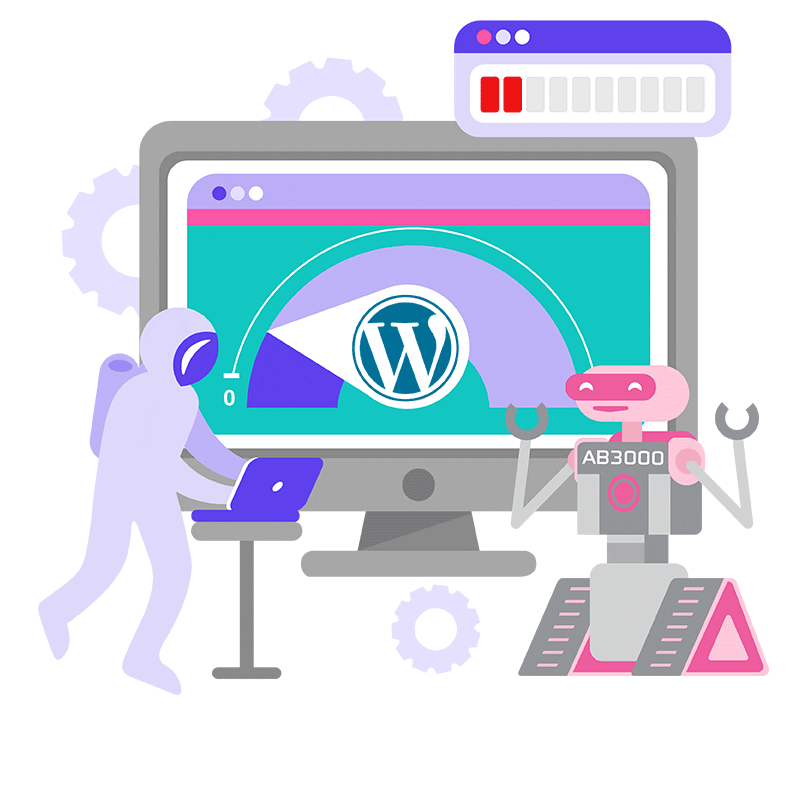 Hands-On Speed Optimization Service
If you're here, chances are you're looking to improve your website speed after seeing the results of a recent speed test. A slow website is costing you money because your customers lose patience and go straight to the competition. Your search engine rankings, ads, and leads that come through your site are directly connected to your site speed and user experience.
Why Site Speed Matters
If your site loads slow and frustrates your prospects and customers, Google will eventually penalize you for it. They're in the business of keeping searchers happy, and if they send traffic to a website that doesn't meet user expectations, they'll push your site further down the search results.
Working with clients on their SEO has shown this to be true. The recent introduction of Google's Core Web Vitals has placed stronger emphasis on fast loading websites, making now the time to ensure sites load quickly and operate as smoothly as possible.
Google has made it no secret that site speed will have a stronger impact on search engine results pages in the future.
You can't really dispute that a slow loading website negatively affects your business performance, brand image, and ultimately, your profit.
The good news is that improving site speed is a fairly simple and direct process. It starts with a review of the current state of the site. From there, all it takes is implementing a set of technical best practices that focus on site speed. By adding some recurring maintenance tasks into the mix, you can be sure your site continues to load quickly in the future. You can use any number of speed optimization plugins like WP Rocket on the market today, but they aren't as effective as the hands-on approach.
At Orbit Local, we understand how much speed and website performance impact your SEO rankings. That's why we use a variety of speed optimizations, more than what typical speed tests offer to ensure your website performance is the best it can be. If your site load time is suffering, and your bounce rates how that people are impatient with your website, we can help.
Here's a sample of what we can do to to help your website load faster:
Custom Development
Orbit Local has a team of skilled developers that go beyond basic plugin configuration. If you can't find a theme or plugin that works for your needs, our developers can develop a custom solution for you.
Server Stress Tests
Stress tests identify the point at which the server degrades performance or reaches failure. Knowing the point at which your website fails helps to ensure we can spot any critical performance issues that may prevent the optimal experience for visitors.
Minify and/or Combine JS and CSS
We minify JavaScript and CSS files as a method of code optimization. It reduces the file size of your code and markup. This reduces load time and bandwidth to increase site speed for a better user experience.
Lazy Loading
Instead of loading everything needed for your website at once, lazy load loads only what is needed at the time. This reduces load time, ensuring a faster and smoother user experience for website visitors.
Server Caching
Server caching stores content, code, and other data on the server to improve site speed and performance. We do more than use a caching plugin. We leverage browser caching, too.
Database Clean Up
Every page, post, and plugin you have on your site is stored in your database. Over time, the database can get bogged down with records you don't need. Database cleanup optimizes everything for ideal performance
Gzip Compression
We speed up your website by compressing the data to deliver it to the visitor's browser much faster. The compression algorithms work on various website files like HTML, CSS, JavaScript, and images to reduce file size by up to 70%.
Image Optimization
Images are a large part of your page size. Our WordPress speed optimization includes lossless compression with Smush and other speed optimization techniques to reduce file space and improve page speed and load time performance.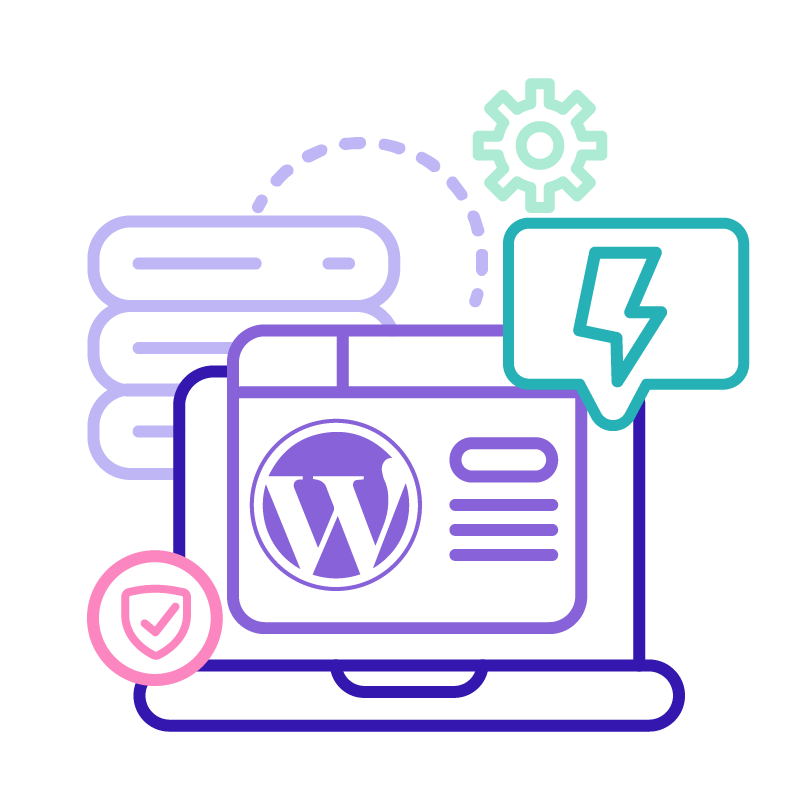 Speed Optimization
Our WordPress speed optimization services ensure your page load times are two seconds or less. This is not only crucial to the customer experience but essential for keeping Google happy.
Google Page Speed and Core Web Vitals
Google now uses core web vitals as page experience signals to adjust rankings, and websites that are built with these in mind tend to see higher rankings. Google will be soon integrating these into the ranking algorithm. Where building links to your site used to play a major role in your place in the search results, this solidifies the shift to focusing on the user experience.
First Contentful Paint (FCP)
This measures your page's loading performance, by looking at response time and the time to first byte, or TTFB. For a good user experience, you should aim 2.5 seconds or less. This is how long the page takes to load from the user's point of view. Anything longer than four seconds is rated "poor."
First Input Delay (FID)
This measures interactivity. For a good user experience, your FID should be less than 100 milliseconds. This metric measures load responsiveness – or how long it takes to see and be able to interact with your site. While it's normal for browsers to have a slight delay, anything long than 100ms becomes notice
Cumulative Layout Shift (CLS)
This measures visual stability. For a good user experience, your CLS should be less than 0.1. The more the page elements move around on your site as it loads, the higher your CLS.
What could cause CLS?
Web fonts causing flash of invisible text (FOIT) or flash of unstyled text (FOUT)
Images without dimensions
Embeds, ads, or iframes without dimensions
Dynamically injected content
Everything we do in our optimization process to improve your WordPress site speed is aimed at getting your core vitals where they need to be.
What improves LCP and WordPress speed:
Lazy loading
Removing unnecessary third-party scripts
Minifying CSS
What improves FID:
Removing unnecessary third-party scripts
Minify JavaScript
Using a browser cache
What improves CLS:
Use set size attribute dimensions for all media
Add new user interface elements below the fold so it doesn't push content down away from where users expect it to be
To make sure your website meets Google's standards, the best thing to do is think about your users first. This means making sure your content is written for the average user – not the search engine. It means:
Focusing less on keywords and more on the topic at hand
Matching keywords and content to searcher intent

Informational
Navigational
Transactional
Commercial

Adding captions to video
Adding transcripts to audio
Making your website as accessible as possible

Adding ALT text to images so that screen readers can "read" the images on the page
Using a color palette that's easy on the eyes
Making text resizable
Using Google Fonts to keep file sizes small while keeping your site aesthetically pleasing.
Want to see what the core web vitals look like on your website? Take a look at the Enhancement section of your Google Search Console account. These core web vitals will work alongside other factors like HTTPS, mobile-friendliness, lack of interstitial popups, and "safe-browsing" (malware-free website) to build the page experience score.
Our tool will help you make improvements to get your core web vitals where they need to be. And if you need more help, our digital marketing specialists are available to talk about a custom plan tailored to your company.
Mobile Page Experience
Data shows the slow website frustration isn't just limited to the desktop experience. A one-second delay in your mobile load time may impact conversions by up to 20%. If you've got a 2% conversion rate, that means that 2 people of every 100 will make a purchase. And if you decrease your conversions by 20%, then you'll have to work that much harder to make up the difference.
Did you know the average mobile web page takes 15.3 seconds to load?
In this day and age of instant gratification, that may as well be an eternity. What's more important, though, is the fact that if someone has a negative experience on your mobile website, they're 62% less likely to purchase from you later, no matter how great your marketing campaigns may be.
In terms of mobile website speed, Google recommends a load time of five seconds or less on mobile devices with 3G connections.
The mobile experience is crucial for users since the majority of web traffic now comes from mobile devices rather than desktops.
We'll make sure your website is responsive so that your site looks great no matter what device customers use. Much of recommended guidelines for desktop websites is also applied to mobile, so when we compress images, serve your content from a content delivery network (CDN) like Cloudflare, minify your code and limit external scripts, it will carry over to your mobile site to help it move faster, too.
Mobile usability is an important part of WordPress performance optimization. If there are clickable elements too close together, or text too small to read, the user experience is negatively impacted.
As we work to improve your server response times, we'll make sure that the user experience is just as smooth on a mobile device as it would be on a desktop.
24/7 Managed WordPress
With WordPress speed optimization service, you'll also get our fully managed WordPress service to keep your WordPress website in top condition.
Why would you want your WordPress installation managed for you?
Your website is your most valuable asset. If it goes down due to a web server or DNS issues or gets hacked because the core files, plugins, and themes aren't upgraded regularly, your business suffers.
With standard shared hosting, the server may be running any combination of WordPress, Joomla, Drupal, and a variety of other content management systems and website frameworks. It's impossible to optimize for everything since each platform is built on a different code foundation.
With a managed WordPress host, you'll have the ideal hosting environment for your sites. Everything is optimized specifically for WordPress, with all the servers tailored to the best possible experience. And you'll get peace of mind knowing that:
Your core WordPress files, plugins, and themes are always up to date, making it more difficult for your site to be hacked
Your site is always backed up so you never have to worry about losing files
Your site is regularly scanned for malware
Your site is always optimized for speed so that visitors always have a good experience
You'll have a staging area so you can test changes and see what they look like without pushing them live to users.
You'll get better support for your sites.
You can add a new site in minutes with automatic setup.
WordPress Speed Boost [$499]
Whether it be on mobile or desktop, a slow web page can cost you money in the form of customers leaving your site for your competition. And now with your core web vitals – including site speed – impacting Google search rankings, it's more important than ever to make sure your website is loading quickly.
Give your site the speed boost it needs. Our WordPress Speed Optimization Services include everything you need to make sure your site is fully optimized for both Google and your potential customers.
INCLUDES: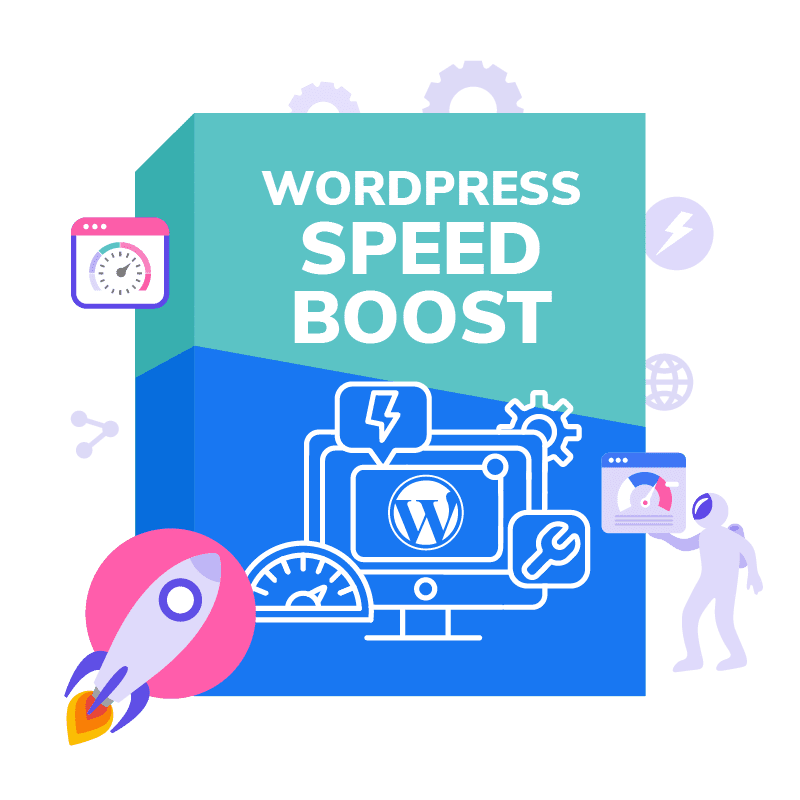 WordPress Management Services
Security and Monitoring
WordPress is open-source software, that's used by nearly 40% of websites across the entire internet. That leaves it susceptible to hacks. Our site security software monitors your website for signs of an attack to stop it in its tracks and fix anything needed.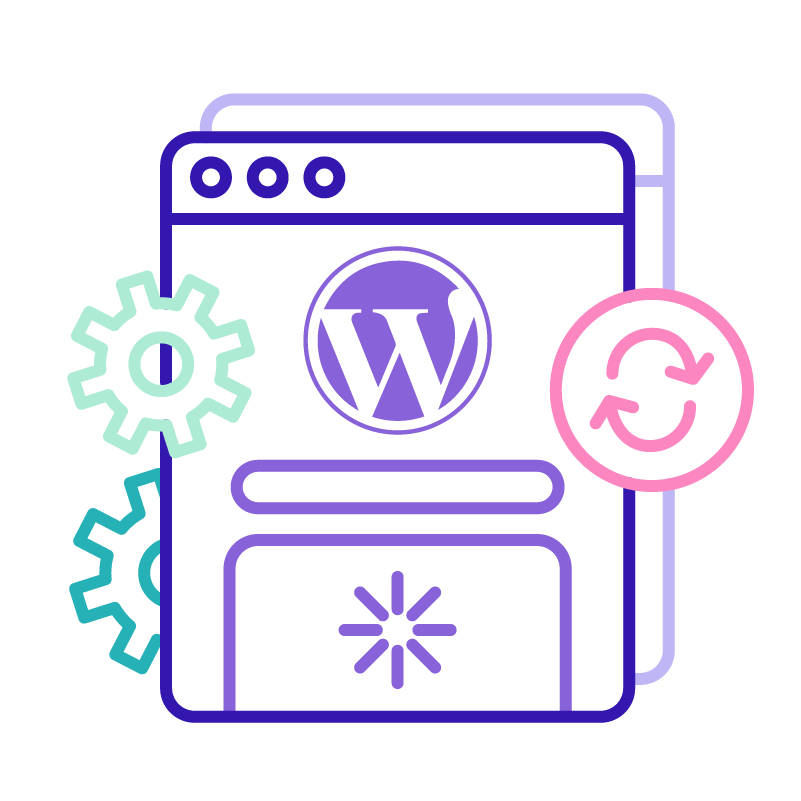 WordPress Updates
Our team updates everything on your WordPress website once a week when your traffic is at its lowest point. We'll take care of core WordPress updates, plugin updates, theme updates, and more.
Content Delivery Network
We use a CDN to copy your website to servers around the world. This way, your site is delivered from the server closest to the website visitor for the best possible website load times.
Webhost Migration
Not all hosting providers are created equally. Our experts will ensure your website is safely moved from your current hosting company to your new one for a smooth transition that doesn't impact users.
WordPress Bloat
Many WordPress sites are full of plugins that have "bloat.' These are excessive files that aren't needed for optimal performance. Too much of this will negatively affect your site speed. Our WordPress speed optimization services will remove the bloat.
WordPress Plugin Conflicts
If you're dealing with plugin conflicts, you could be slowing your WordPress website down without evening realizing it. Our team will analyze your site to find and fix any conflicts that arise.
Managed WordPress Packages Available
WordPress Support Lift Off
Tired of managing your website? Our WordPress Support Lift Off has your back. When you team up with us, we offer you technical and content support and management on WordPress.
$99/Month
INCLUDES: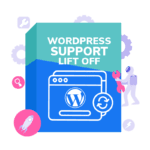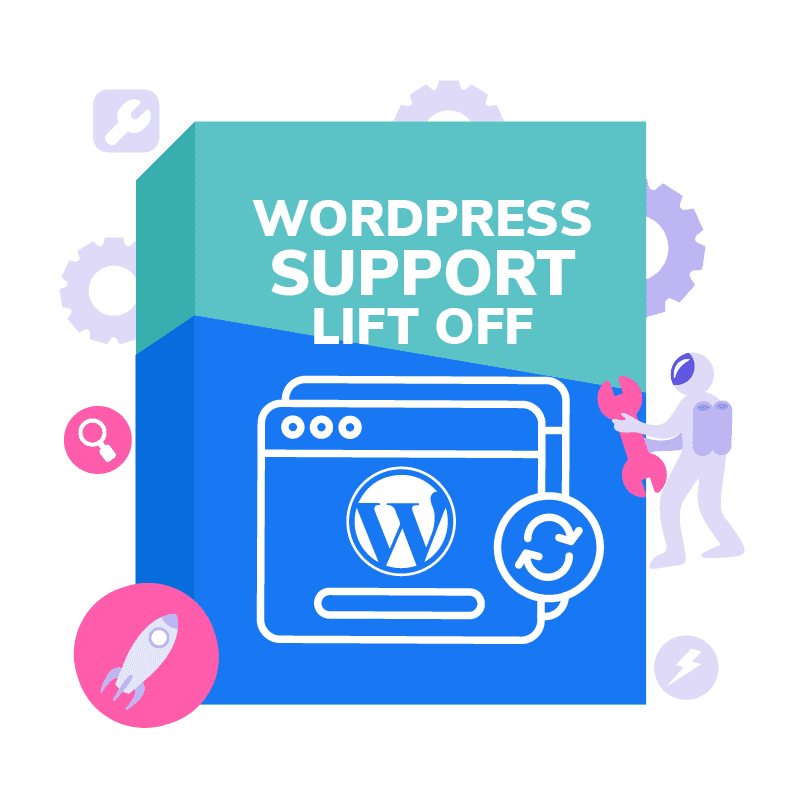 WordPress Support Boost
With our WordPress Support Boost plan, we'll help manage your website and take your marketing strategy up a notch. This plan integrates and sets up some Google features to help track your analytics and data insights.
$299/Month
INCLUDES: All services in the WordPress Support Lift Off plan, plus: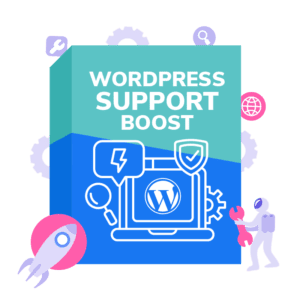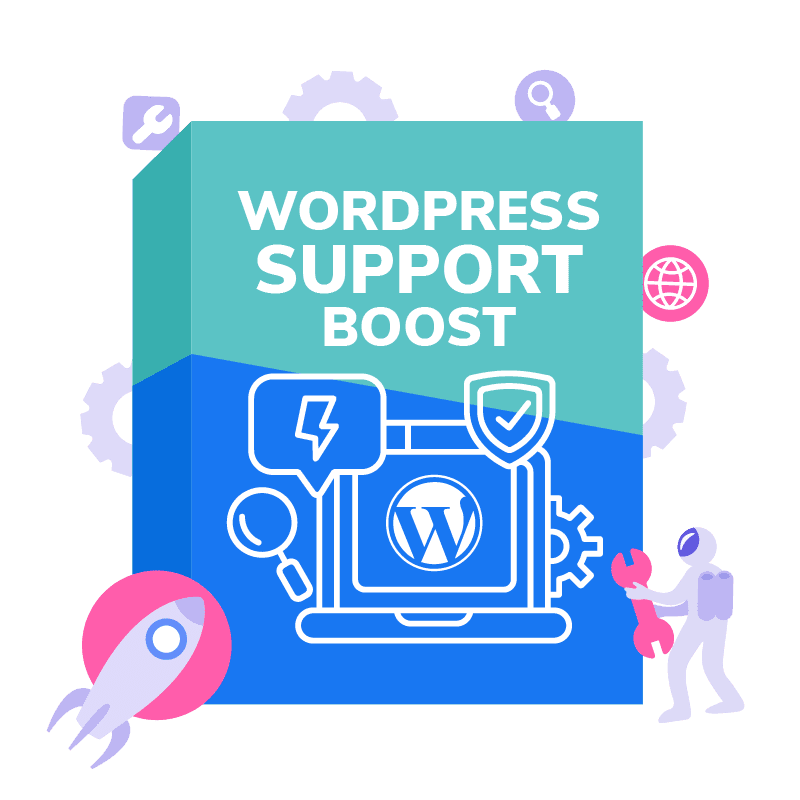 Frequently Asked Questions
Ready to Blast Off?
Ready to see why we're the best WordPress maintenance service out there? Let's chat. After you sign up, all you have to do is sit back and relax. Orbit Local will optimize, update, and keep your site running smoothly. We'll provide you with monthly reports detailing what we did to your WordPress website and provide suggestions for site improvements. Still have questions?

Give us a call: 888-852-0653 to schedule your free strategy session.