---
Finding the best web hosting for small businesses in 2023 can be like finding a needle in a haystack. With so many options available, it's easy to get overwhelmed. And even if you have an idea of the web hosting service you may want to use, determining the level of service you need adds another layer of complexity.
| Host | WPMU DEV | KINSTA | WPXHosting | WP Engine | Siteground |
| --- | --- | --- | --- | --- | --- |
| Dedicated Server Resources | Yes | Additional cost | Additional cost | Additional cost | Additional cost |
| Dedicated IP Address | Yes | Not available | Additional cost | Not available | Additional cost |
| Hosting Type | Cloud | Cloud | Shared | Shared | Shared |
| SSL Certificates | Free SSL | Free SSL | Free SSL | Free SSL | Free SSL |
| Bandwidth | 20TB | 5TB | 200GB | 125GB | Unmetered |
| Storage | 20GB SSD | 10GB SSD | 15GB | 15GB SSD | 40GB SSD |
| eCommerce Plugin | Yes | Additional cost | Yes | Yes | Not all plans |
| Staging | Yes | Yes | Yes | Yes | Yes |
| WordPress Migration | Yes | Yes | Yes | Yes | Yes |
| Uptime Guarantee | 99.95% | 99.90% | 99.95% | 99.99% | 99.90% |
| Speed and Performance | 1.200 seconds | 1.323 seconds | 1.294 seconds | 1.357 seconds | 1.549 seconds |
| Monthly Visitors | 100k | 25k | 20k | 75k | 100k |
| Monthly Cost | $19 | $35 | $25 | $40 | $14.99 |

Disclosure: As a reader of our blog, we want to be transparent about the fact that some of the links below are affiliate links. If you choose to make a purchase through these links, we may receive a commission. However, please know that we only recommend products and services we have used and continue to use regularly and trust. These links help us keep these resources running without any additional cost.
What is Small Business Web Hosting?
If you want a website design, you first need web hosting. It's the service that stores and delivers your website content — audio, video, images, etc. — to your website visitors. It comes in all shapes and sizes, and plenty of companies compete for your hard-earned money, including WPMU DEV, Kinsta, WPXHosting, WP Engine, and Siteground.
When searching for web hosting options for your small business website, it's important to consider your specific needs. Unlike a personal blog or hobby website, a business website may require features like a dedicated IP address, an uptime guarantee, and a free SSL certificate. Prioritizing these features can help you find an affordable and reliable web hosting solution.
How Web Hosting Works
Web hosting is made up of three components: the domain registrar, the domain name service (DNS), and the web host (server).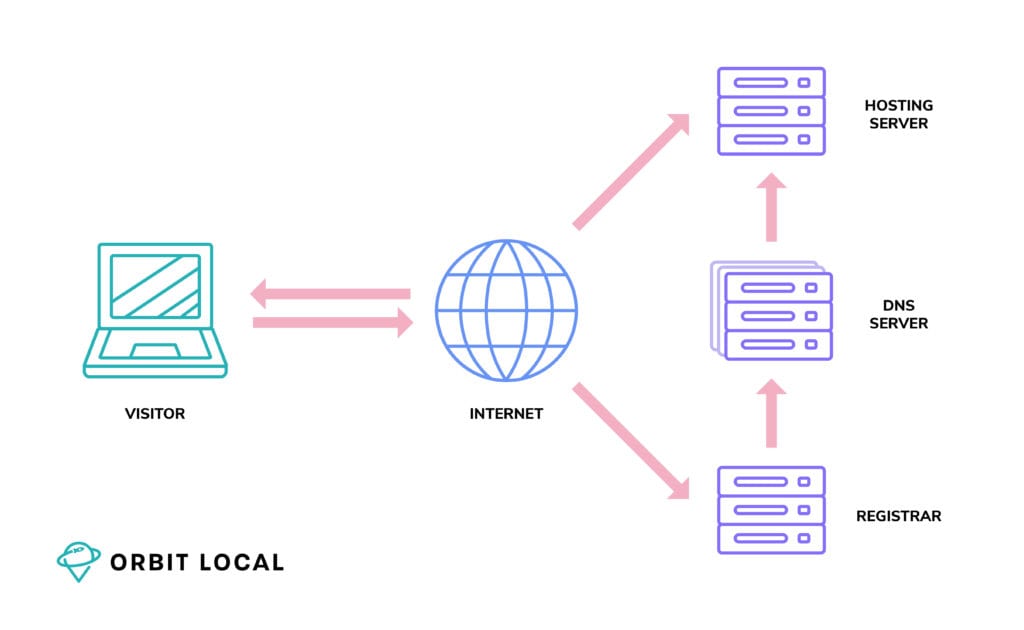 What is a Domain Registrar?
The domain registrar is the company that provides you with a domain name for your website. This is the web address that people will use to access your website. To keep things simple for consumers, many web hosting providers include domain registrar services, too.
Something to keep in mind is that all registrars are selling the same thing, despite the wide range of prices out there. The difference is in what services are included. When you shop for an airline ticket, even when buying directly from the airline, you'll get the same thing – a seat on a flight – regardless of which vendor you purchase it from or the price you pay for it. That's basically the deal with domains, too.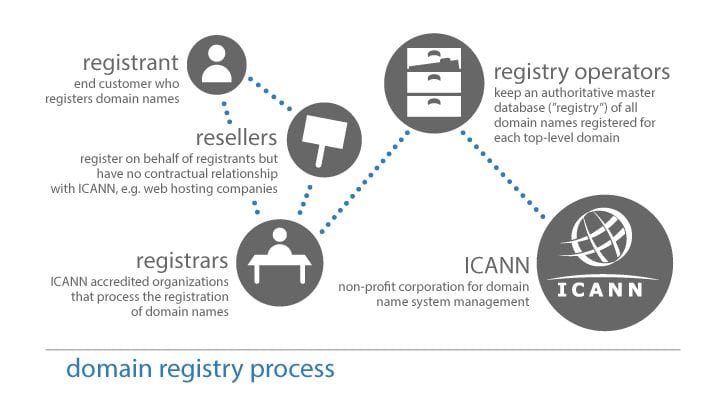 If you need a reliable domain registrar, consider the following providers:
What is the DNS?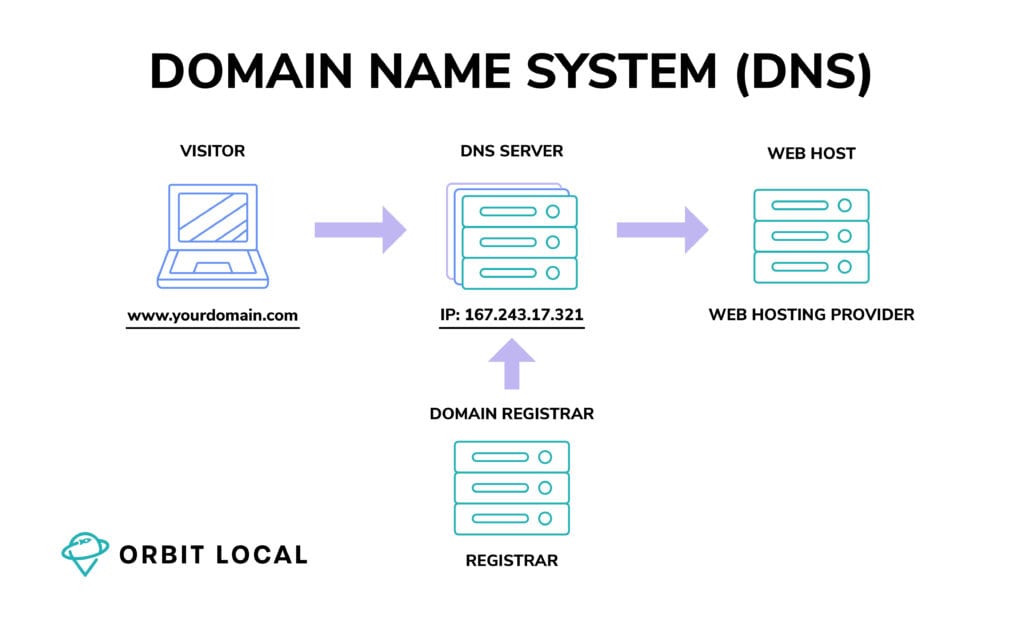 Your domain name is an alias, which makes it easier for people to remember. Your website is actually just an IP address. So, the DNS tells your domain to point to the IP address of the computer where your website's files will be hosted. The DNS is like a switchboard because it's the computer that tracks all the IP addresses and tells everyone that our new domain name goes to the IP address of the computer where it is hosted. Generally, when you sign up for hosting, your host will provide the DNS you need to point your domain to before you can start to see the files you've uploaded to your host.
The hosting is the computer, or server, that holds all your website's files. You pay the hosting provider for space on one of their computers. What you pay depends on the type of hosting you purchase. And the type of hosting you buy plays a major role in the level of control you have. More on that in a bit…
So, let's look at how it all fits together when someone visits your website.
A website visitor enters your domain name (that you bought from the registrar) into their browser's address bar.
The DNS is what ensures the visitor gets connected to the right computer.
That computer is the server where your website's files are stored, which allows the website to display to the visitor.
Types of Web Hosting
Not all web hosting is created equal, so it's essential to understand the types your potential hosting provider will offer. Which one you need depends on your business goals – both in the short and long term. You need a hosting plan that not only handles your current needs but that will grow with your business.
Shared Hosting
Shared hosting plans are the least expensive option, regardless of which provider you work with. As the name suggests, shared hosting plans mean you share the server with other businesses. This is a good place to start for many small business owners, but not somewhere to stay for long – especially if you're running an ecommerce business. At some point, using shared hosting is likely to limit your business growth.
A shared hosting service can be thought of as an apartment building. Within one building (server), there are multiple residences (websites).
Managed WordPress Hosting
Managed WordPress hosting is a relatively new product offering in the world of web hosting. It's designed specifically for those who use WordPress. Generally, it is much faster than mainstream shared hosting services. A bonus is you can expect better security and uptime.
But, if you're working with a highly customized WordPress site, it may be too restrictive. Managed WordPress hosting doesn't support all plugins. And if you're on a budget, it may be too much for you since it tends to be more expensive than shared hosting.
Managed hosting can be considered a homeowner's association of sorts. In the neighborhood, you own your home, but you pay a fee every month or year – and you have certain restrictions. The fee covers anything from maintaining common areas to some utilities but may mean you can't paint your home certain colors. You get maintenance covered with managed hosting, but some themes and plugins may not be allowed.
Dedicated Hosting
The opposite of shared hosting, dedicated hosting means purchasing a dedicated server that you do not split with any other websites. Often unnecessary for websites that are just getting started, this is the best solution for websites that deal with heavy traffic volumes or expect to do so soon. Dedicated servers are more expensive than shared hosting plans.
And, unless you pay even more for a managed dedicated server, you'll need to handle updates, firewalls, and routine server maintenance yourself.
Where standard hosting is an apartment building, dedicated hosting is a single-family home.
VPS Hosting
VPS, or a virtual private server, is a hybrid plan. It behaves like a dedicated server but is still a type of shared hosting. Each account has more granular control over software and server resources but shares the expense with everyone else hosted on the server.
Compared to dedicated hosting, VPS hosting is more affordable. But, because it costs more than shared hosting, you could be overpaying if your site traffic doesn't require the upgrade. Some hosts do not allocate server resources as well as others, so once you decide a VPS plan is right for you, you'll need to research to see the best host company for your needs.
VPS can be likened to a condominium. You "own" the unit and control various aspects as a homeowner. But you still share resources because there are other units in the building.
Cloud Hosting
Cloud hosting is similar to VPS hosting. Your hosting is spread across a network of servers instead of just one. You'll end up with much better uptimes and protection against distributed denial of service (DDoS) attacks. These cyber-attacks attempt to overwhelm your website with traffic to shut it down.
Your hosting solution can bounce your website around servers as needed by hosting your site across several different servers. If you're dealing with a spike in traffic because of a recent product launch or promotion, cloud hosting can adjust to ensure your site visitors get a good user experience.
What to Look for in a Small Business Web Host
Cost: How much are you willing to pay every month or year? Does the price fit into your budget?
Uptime: Can you rest assured that your website will be up and running 24/7?
Scalability: Will the hosting plan grow with your business? Or will you have to migrate to another hosting service as your business grows?
Ease of Use: Can you easily use the hosting without assistance?
Security: Does your host offer a free SSL? Is your website protected from hackers? If there's a security breach, will the host handle it for you? Are backups performed regularly?
Bandwidth: Most plans offer unlimited bandwidth. Each visitor costs bandwidth, so if you find a plan with limits, consider your traffic volume.
Disk space: Many plans offer unlimited disk space, so you don't have to worry about running out of room to store your assets.
Website building tools: Some hosts have their own website builder, while others include a library of one-click installations of popular software like WordPress.
Free domain name: Does the plan come with a free domain name? If not, how much will you need to pay for it?
Customer support: Is customer support available whenever you need them? Is there a live chat feature? Can they be reached by phone? Are they responsive to their customers?
Web Hosting Features: Extras to Consider
While all you need to host is your domain name and web hosting provider, there are some extras to consider. For many small websites, they're optional. But when it comes to ecommerce, they're required.
Dedicated IP address
A dedicated IP address is exactly what it sounds like. Your domain gets its own address that isn't shared with other domains. It's essentially a dedicated phone line. Shared web hosting, which we'll discuss below, uses a shared IP address, which means more than one domain uses the same IP address. That said, if your site uses a shared IP address, it doesn't necessarily mean you're on a shared web hosting plan.
Most hosts offer the option to add a dedicated IP address to your shared hosting package since you must have a dedicated IP address to use an SSL certificate. This brings us to the next question…
SSL certificate
A secure-socket layer certificate is a small digital file that verifies your website's identity and encrypts information sent to your server. Encryption scrambles the data into a format that cannot be read without the proper decryption key.
Since July 2018, when Google released Chrome 68, websites that do not use SSL have been labeled "Not Secure." Though this doesn't mean there's anything technically wrong with your website, the message could confuse some site visitors.
To prevent the message and to get a small ranking boost, investing in SSL puts the lock icon next to your website in the address bar and is what makes your website "HTTPS" instead of "HTTP." Google confirmed in 2014 that they consider HTTPS a ranking factor, and now that it has become so widespread, failure to include it as part of your website potentially harms your rank and your trust with your audience.
Not all SSL certificates are alike. Let's take a closer look at each type, so you can decide which one you should use.
Domain-Validated SSL Certificate
Also known as a low assurance certificate, this is the standard issue certificate. It uses an automated validation that the domain name is registered and a domain administrator approves the request. For the validation to be completed, the webmaster must either configure a DNS record for the website or confirm via email.
The processing time ranges from a few minutes to a few hours and is recommended only for internal system use.
Organization-Validated SSL Certificate
Also known as a high assurance certificate, this requires real people to validate domain ownership along with organization information. The organization information includes the name, city, state, and country. You must supply additional documentation to verify the company's identity.
The processing time ranges from a few hours to a few days. It is recommended for all businesses.
Extended Validation Certificate
Also known as an EV certificate, this new type of certification requires a strict validation process. This type of SSL certificate requires validation that the business is a legal entity. Business information, along with proof of domain ownership, is needed.
When you purchase an EV certificate, the website browser bar displays a green padlock, which may boost consumer confidence. It also reassures visitors that their connection is secure. This feature is exclusive to EV certificates.
The processing time ranges from a few days to a few weeks. It is recommended for all ecommerce businesses.
It's important to remember that a standard SSL certificate does not represent that a legitimate, verified business operates your website.
Free vs. Paid SSL Certificates
If something is offered for free, why should you pay for it? If your website is secured with a self-signed SSL certificate, the majority of web browsers will post a message about the connection being untrusted.
Though some website visitors will click through to your site, saying they understand the risks and visit the website anyway, others will click the button to leave the site and never return, under the impression that your website could harm their computer.
Self-signed certificates are practically unregulated, so if your site is ever compromised, it may appear to be still secure. Certificates that are issued by a trusted certificate authority can be revoked and alert users of potential threats.
You should only use a self-signed certificate when you're testing behind a firewall. You can get around needing a certificate altogether if you use a third-party service like PayPal to handle your transactions since PayPal secures the transactions on your behalf.
The free SSL certificate is an excellent place to start. If you need a higher security level, your host generally offers the ability to upgrade to a higher certificate for an additional fee every year.
Best Web Hosting for Small Business: Managed WordPress
At Orbit Local, we recommend managed WordPress hosting to all our clients. Why? Because it offers the affordability of shared web hosting with the security and support of dedicated hosting. Below are our picks.
We also recommend you perform a complete website update every 2 to 4 years to adapt to changing search engine requirements and design practices.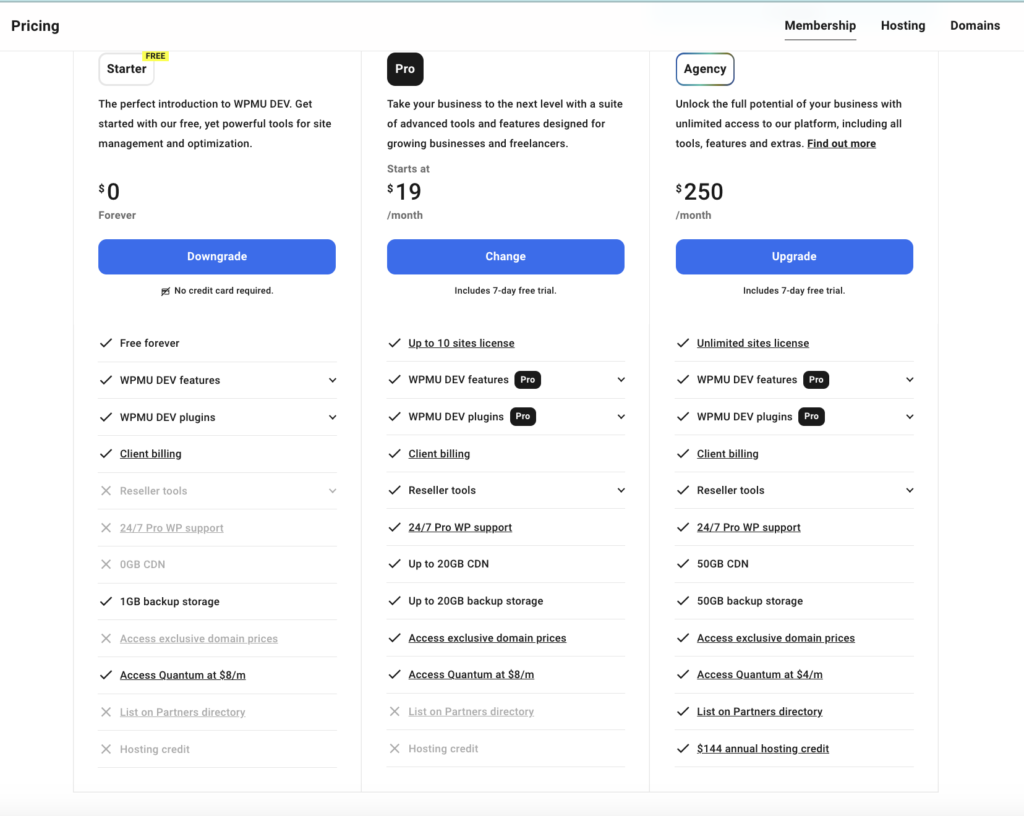 Billed as the fastest, easiest, and best-supported WordPress hosting on the web, WPMU DEV is our number one choice for the best web hosting service. With four cloud-based plans ranging from $10 to $100/month, there's something for businesses at every stage. 90% of customers find the Bronze plan to be more than enough to meet their needs as it provides 25 GB of SSD storage, 1 GB dedicated RAM, and 1 TB bandwidth. All of this is enough for about 20K monthly visits. Plus, speed and performance are stellar, clocking in at 1.2 seconds.
Every plan includes a dedicated IP address for security, SEO, and reliability. You'll also get the following:
Ten free email accounts for each hosted site
Free site migrations
One-click staging
Automated updates
Daily backups
Daily malware scanning
Web application firewall
Multisite with free wildcard SSL
Website analytics
Activity & access logs
Developer tools
24/7 live chat support
30-day money-back guarantee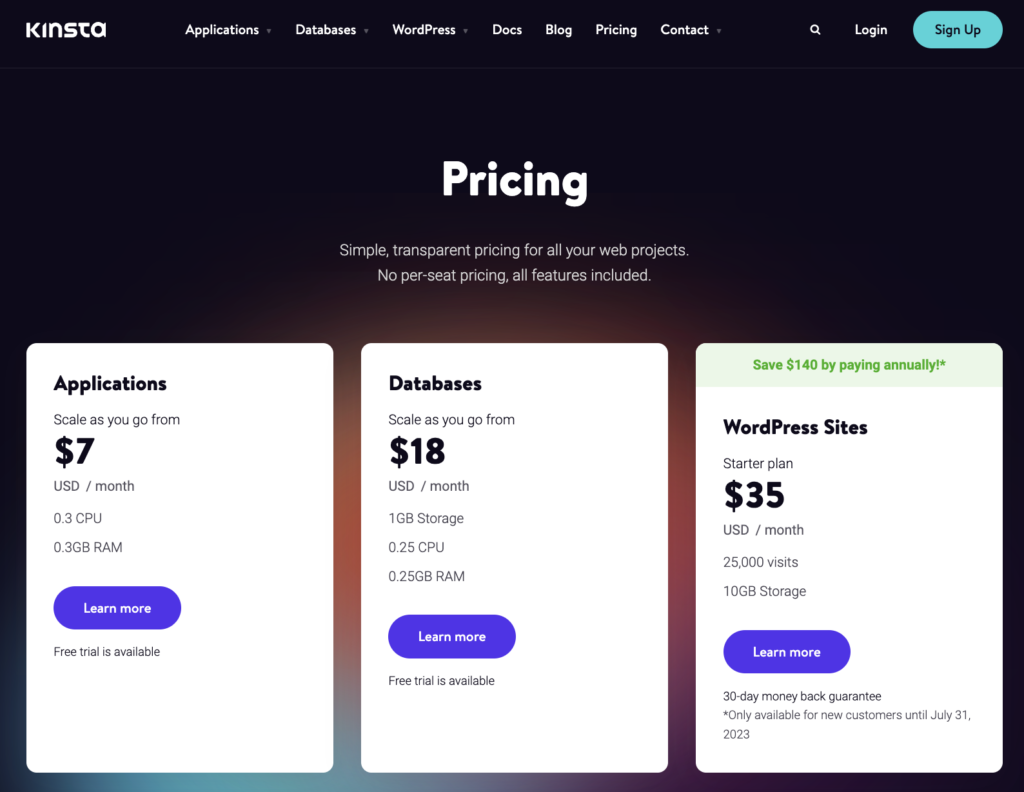 #2 on our list of small business websites is Kinsta. Plans range from $30 to $1,500/month, accommodate anywhere from one to 150 WordPress installations, and provide 25,000 to millions of monthly visits. Speed and performance are great here, too, coming in at just a fraction of a second slower than WPMU DEV at 1.323 seconds. All plans include free migrations, free SSL certificates, and content delivery networks (CDN). Other features include:
Uptime checks are performed every two minutes.
Regular backups
Automatic scaling
24/7 monitoring
Staging area
And more
You'll pay an additional cost if you need dedicated server resources or want support for the WooCommerce e-commerce plugin.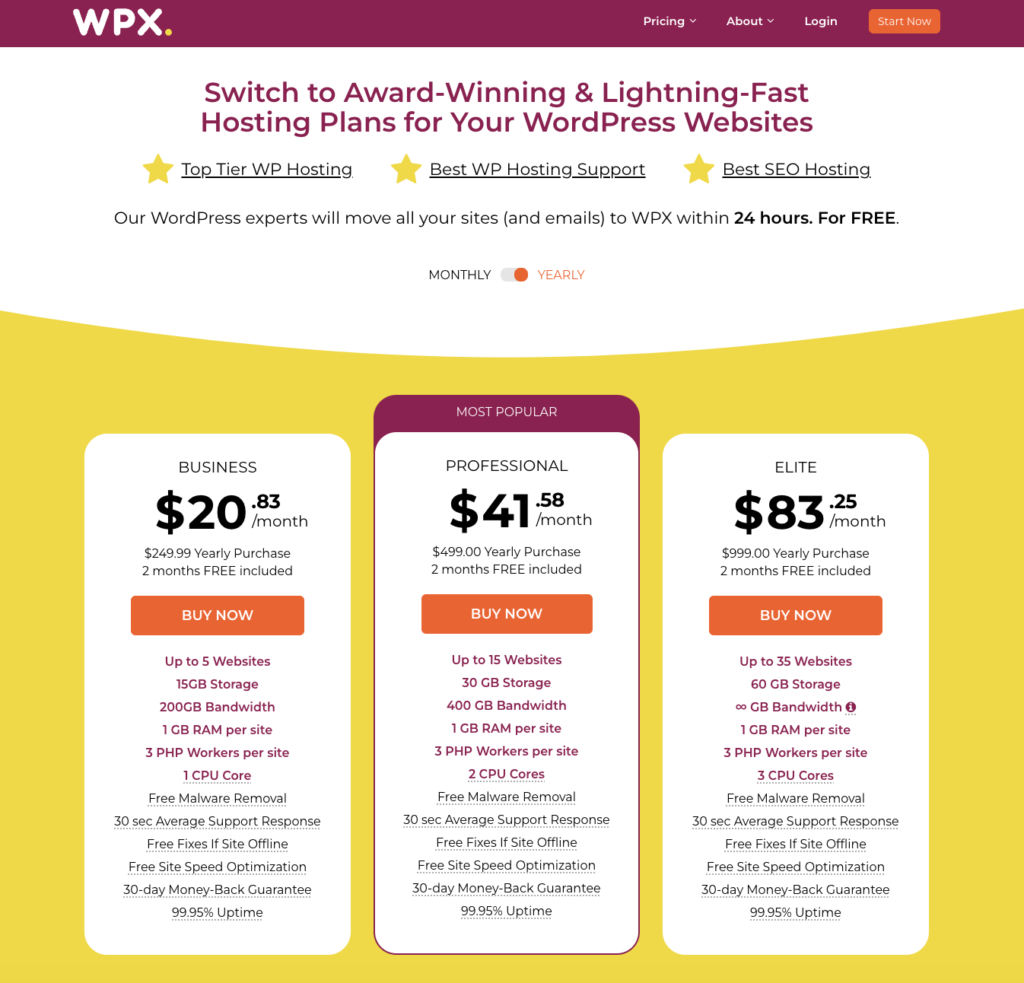 Rounding out our top three is WPX Hosting. Plans start at $25/month (discounted when paid annually), and on the lowest tier, you can host up to five websites. This shared hosting makes dedicated server resources and a dedicated IP address available at an additional cost. We're also impressed with the site speed and performance here, as it clocks in at 1.294 seconds. With WPX, you'll get the following:
Unlimited free site migrations
Unlimited SSLs
One-click WordPress installations
Staging areas
High-speed CDN
Daily malware scanning and removal
Email
Manual backups
28-day automatic backups
99.95% uptime guarantee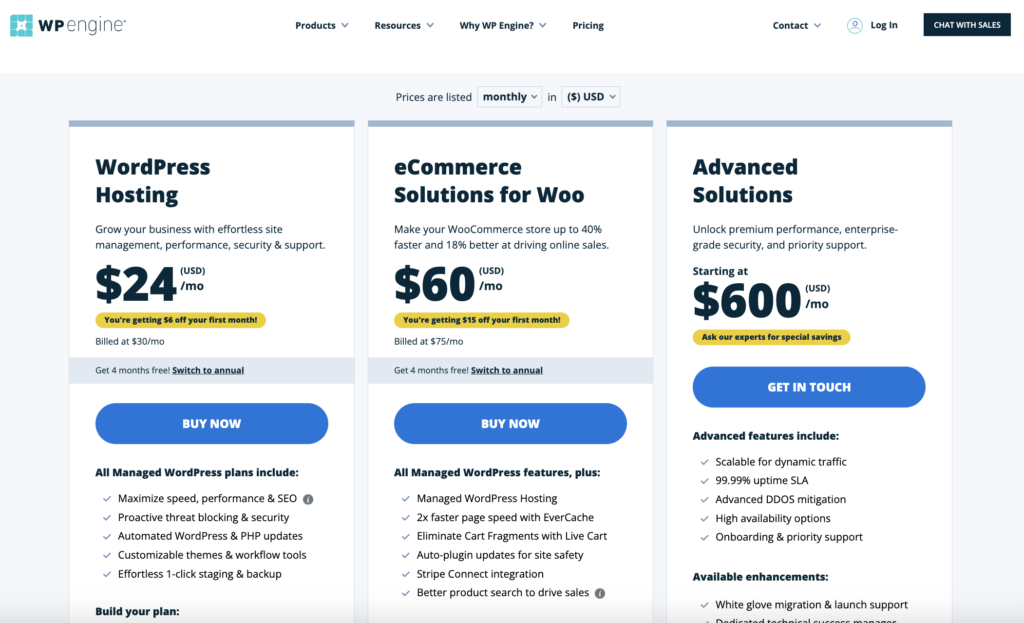 With WP Engine, you'll get shared managed WordPress web hosting. If you want dedicated server resources, you'll pay an additional fee, and dedicated IP addresses are unavailable. Plans start at $30/month (with a discount available for annual commitment) and offer a minimum of 10 GB of local storage and 50 GB of bandwidth every month to handle at least 25K visits per month. Regarding speed and performance, sites hosted with WP Engine tend to load within 1.357 seconds.
Features include:
24/7 support
Daily backups
Page performance monitoring
Free automated migrations
30+ premium themes
Ecommerce plugin support
Staging area
Free SSL
CDN
Advanced security
Threat detection and blocking
Activity log and user permissions
Local developer tools
Chat support
Higher tier plans include phone support, along with support for WordPress multisite.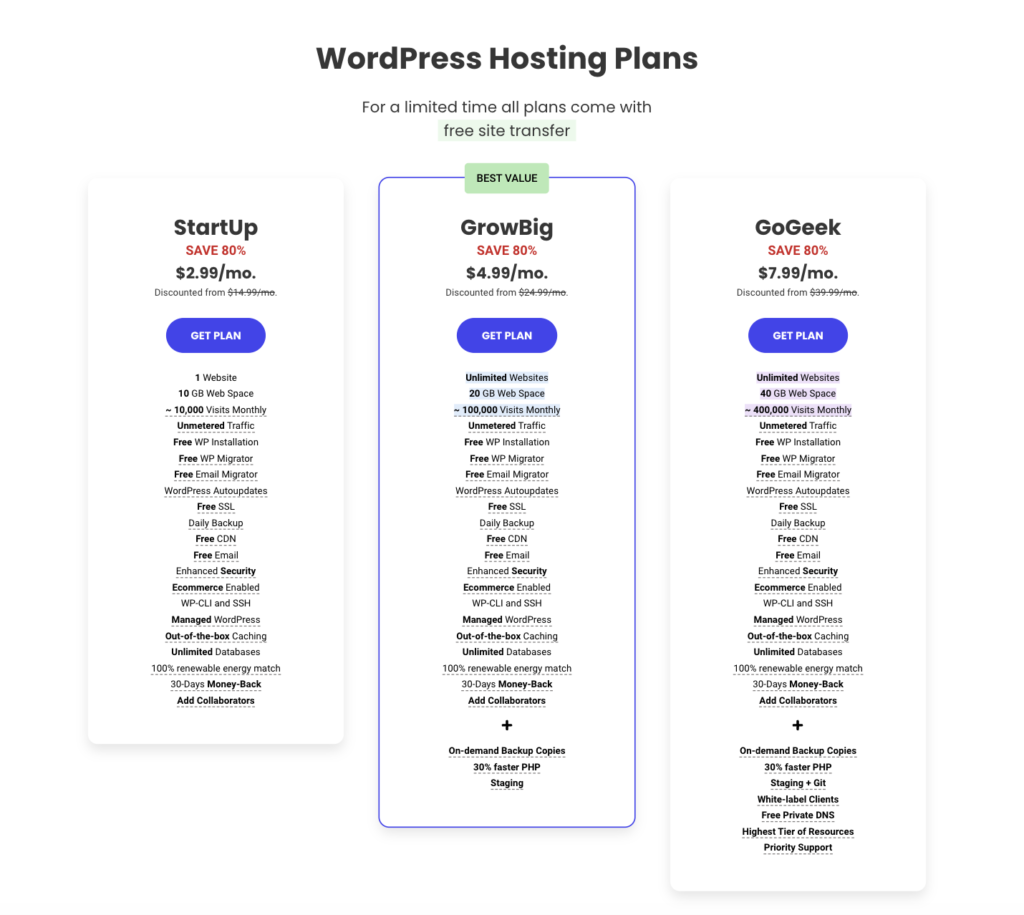 Siteground is a popular web host that offers plans starting at $14.99/month. Though it's a shared host that offers dedicated server resources and IP addresses for an additional cost, it is still worth considering. All plans include unmetered bandwidth and at least 40 GB of SSD storage space. It's middle of the pack in terms of speed and performance, with an average page load time of 1.549 seconds. If you want to run an ecommerce site, note that not all plans support the ecommerce plugin.
Plans include:
Free SSL
Free CDN
Free Email
Free WordPress installation or migration
99.90% uptime guarantee
Automatic WordPress updates
Unlimited Databases
100% renewable energy match
30-day money-back guarantee
Higher tier plans include:
On-demand backup copies
Ultrafast PHP
Staging environment and developer library
Add Collaborators
White-label clients (similar to reseller hosting plans)
Priority support
Depending on the plan you choose, you may also get access to JetPack premium, business review tools, SEO tools, video compression, and PayPal integration. You'll get ticket support with the mid-level plan, but the highest-tier plan offers live chat support.
FAQs about the Best Web Hosting for Small Businesses
What's the difference between hosting and a domain?
Your domain name is the web address of your website — exampledomain.com. The hosting stores the information on your website so that when someone types in your domain name or finds it in a search, they can see the website. 
Think of your domain as your home address and your hosting as the house itself. You can have an address, but it's impossible to live there until there's a building structure on it.
Is a domain registrar the same as a web host?
While many web hosts also provide domain registration, they are not the same thing. Domains are aliases for IP addresses. IP addresses are easy for computers to read and remember, but not so much for humans. A domain registrar is the system administrator that keeps track of all purchased domains. Generally, you purchase the domain for a year at a time, but you can extend it. Many web hosting companies offer a free year's domain registration with their packages since you cannot use a domain without web hosting. That's why confusing them and using the terms interchangeably is easy.
What's the difference between WordPress hosting and web hosting?
WordPress hosting is a specific type of web hosting that focuses on maintaining your WordPress website. By automatically keeping the core, theme, and plugin files up to date for you, scanning and removing malware, etc., your website gets extra protection from hackers, and you have less upkeep to worry about. Basic web hosting allows for WordPress but doesn't provide any extra features to maintain your installation. It also lets you use other software like Joomla or Drupal on your website.
Does hosting affect SEO?
Your website speed, which your web host influences, is one of the many factors search engines consider when deciding where to rank your website for a particular keyword. So while you could say that hosting does affect SEO, in theory, the effect is small, especially compared to other ranking factors.
Does changing hosting affect SEO?
Changing from one web host to another shouldn't impact your search rankings when done correctly. If your website is relatively small, with just a few static pages, the shift is relatively straightforward. The problem surfaces when you have a large site with many pages, multiplier servers, and redundancy factors. 
If you keep the domain name, site structure, and link structure the same, the search engines will adjust as you point the DNS (domain name server) from one host to another. You could run into issues when you change domains, file names, site structure, etc. You may end up with broken links and need to spend time implementing 301 redirects to tell the search engines that the new page location has permanently changed. 
If you're unsure how changing hosts will impact your SEO, talk to Orbit Local experts before making any moves. We can ensure the transition runs smoothly, keeping your current SEO and user experience intact.
How much does it cost to host a website?
How much money you'll spend on web hosting depends on several factors, such as:
– The amount of storage space
– The amount of bandwidth
– The type of hosting you decide to use
– How many websites you're hosting on the plan
– Whether you use a dedicated IP address
– Whether you pay by the month or agree to a longer-term plan. Contracts usually mean you can get a lower monthly rate but require upfront payment for the duration. Whether you opt for 12, 24, or 36 months, you'll pay the entire cost immediately. 
Is free hosting good?
Free hosting exists but is not the right choice for business websites. Free hosting limits disk space, making it impossible to upload video content. It may also mean your site is limited to a certain number of pages. There are also strict bandwidth limits, so once you hit a certain traffic threshold, your site will go down until the next month when your bandwidth renews again. 
Some technology, such as ecommerce, may be off-limits. And in exchange for free web hosting, your site will likely be full of ads you have no control over. There's nothing wrong with ads on a website, but those kinds of ads won't be making you any money. 
One thing to watch for is that free web hosting companies typically make it difficult to move your website to other platforms. If you later decide you want to upgrade to a paid plan with another company, you may not be able to use any part of your existing website.
What is the Best Web Hosting Choice for You?
Shared hosting could be a good option if you're looking for affordable web hosting for small businesses with solid features that can handle your current traffic volume. It is the traditional web hosting solution and is enough for many small businesses. However, cloud hosting is a good choice for companies with inconsistent traffic volume (with high spikes) or who need more security off the bat. And ultimately, businesses that want to be hands-off with the technical aspects of their website often find managed hosting their best option.
Have questions about any of these platforms or your hosting options when working with us at Orbit Local? We're here and ready to help.
Give us a call at 1-888-852-0653 to find out more.