Google Business Profile plays a huge part in local search engine optimization and boosting your website traffic. You can launch your business into orbit with a Google Business Profile listing that stands out from the competition.
Ready for take-off? Learn how to create a Google Business Profile page that attracts leads by landing you on Google Maps and at the top of local search results with this guide.
What Is Google Business Profile
Google Business Profile is a powerful, free tool that small businesses can use to market themselves online. This listing service by Google connects you with customers who are searching for your products or services in the local area.
Businesses who properly utilize their Google business listing can see higher conversion rates and more leads. Customers looking for your services in Google Search will find your business in Google Maps, where it tells them your business hours, address, and ways to contact you.
How to Create a Google Business Profile Page
It's fairly simple to create a Google Business Profile account. Just follow these steps and you'll be up and running!
Make Sure Your Page Doesn't Already Exist!
Even if you haven't created a Google Business Profile profile, one may already exist for your company. A business profile may already exist if customers have provided your information via reviews or other references.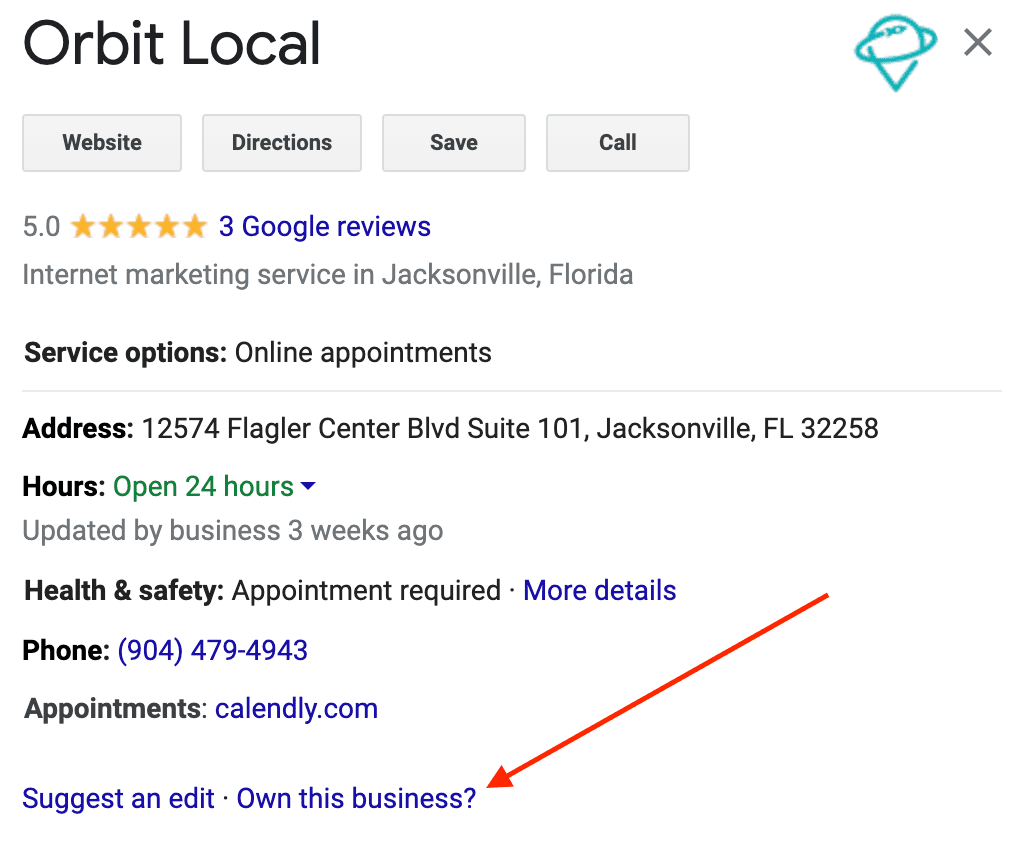 How to Claim Your Business Profile
How to claim your GMB Profile on a computer:
Open Google Maps
Enter your business name in the search bar
Click on your business name and select the correct one
Click Claim This Business and then Manage Now
Select how you'd like to verify your profile
How to claim your profile on an Android device:
Open the Google Maps app
Search for your business
Select the correct one
Scroll down and tap Claim This Business
How to claim your Google Business Profile listing on an iPhone or iPad:
Open the Google Maps app on your Apple device
Search for your business
Select the correct one
Scroll down and tap on Claim This Business
Sign In to GMB
First, sign in to https://www.google.com/business/ with your business email address. If you don't already have a Google account for your business email, we recommend creating one that you can use across Google's properties, including Google Search Console and Google Analytics.
Add Your Business To Google
The next screen will prompt you to find and manage your business. If your page already exists, you can type it in the search bar. Or, you can click on "Add your business to Google" if the page doesn't show up. Be sure to type your business name exactly as it appears in real life.
You'll then be asked to pick a business category. You can add additional categories later, but for now, pick the most relevant primary category for your business. 
Enter Your Location
There are two different options you can take here depending on if you are a service area business or not.
Service area businesses can list their service areas. When a customer searches for your business, this will tell them what neighborhoods you work out of.
If you have a brick-and-mortar location, select Yes to add your address. You can also position a location marker on a map.
Pro tip: do not use a PO Box address for your location. If you don't have a physical address, just set your profile up as a service area business. Using a PO Box could result in your account being suspended.
Enter Your Contact Information
Add your contact information, including your website URL and phone number, so customers can get in touch with you. If you don't have a website, you can create one for free with your Google Business Profile profile.
The Importance of NAP Consistency
NAP stands for name, business address, and phone number. Keeping your NAP consistent across the web helps boost your local SEO. NAP consistency builds trust and confidence with search engines and they crawl your website and other directories for information. So do your best to keep your name, address, and phone number the same on all online platforms, including Google Business Profile, social media, and online directories.
Managing Your Listing
Here are some important tips for managing your Google Business Profile listings.
How to Verify Your Business
There are a few ways you can verify your business, but the most common and easiest way is by mail. Google will send you a postcard with a verification code. This may take two to three weeks.
While you're waiting for your postcard, it's incredibly important that you don't edit your business name, address, or category. Editing your business information can delay the verification process.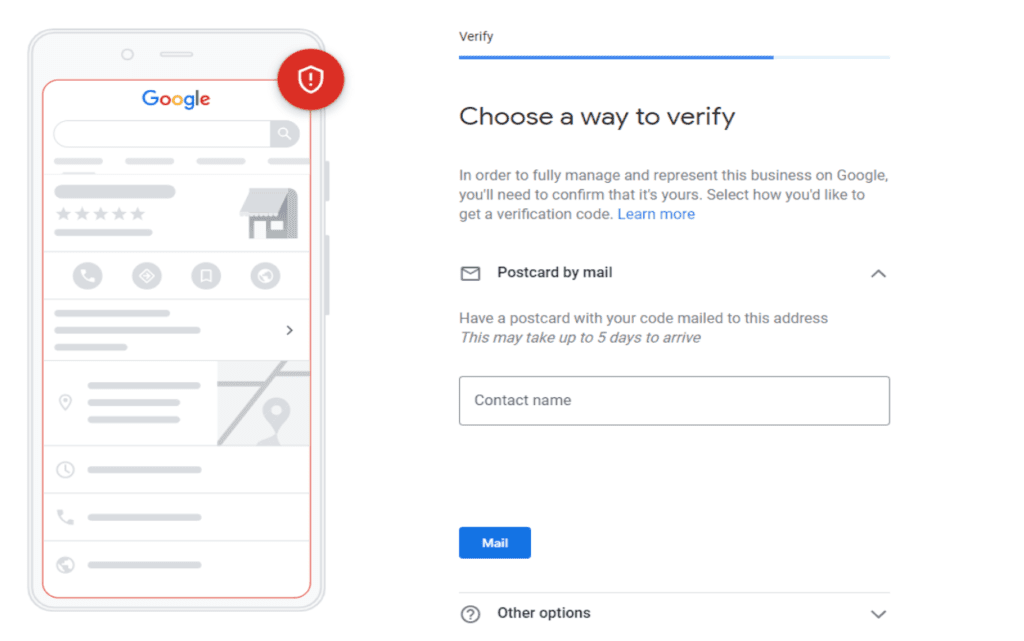 How to Edit Your Business Information
Once your business is verified, you can select the location you want to edit and click on Info. You'll see pencil icons next to the information you can update. Clicking on the X icon removes sections. Just click Apply to save any changes.
How to Add More Than One Business Location
Does your local business have more than one location? Follow these steps to add an additional business location to Google Business Profile.
Head to the Google Business Profile dashboard.
Click on Manage Locations in the left-hand menu.
On the right-hand side, click on the blue Add Location button.
Type in your business name, then click "Create a new business with this name."
Fill in all of the information accurately.
Request to verify the location.
You can bulk add locations if you have more than 10.
Optimizing Your Profile
While having a Google Business Profile profile is important, you need to optimize your profile and update it regularly. This way, you can attract new customers to your business with an optimized listing.
There's a lot to optimizing your Google Business Profile profile. There's a lot more to it than just adding your contact details! Here are a few easy first steps you can take to get started.
Add Photos to Tell Your Story
Adding photos to your Google Business Profile profile is critical. You need a logo and cover photo to represent your business, after all! We recommend using the same logo and cover photo that you use for other social media platforms, like Facebook and LinkedIn. Consistent branding makes it easier for customers to recognize you.
You can also include product photos, pictures from job sites to highlight your services, and pictures of your employees or from company events you've hosted.
Communicate with Customers via GMB Posts
Google Business Profile Posts function similarly to posts on Facebook. You can share company updates, sales or offers, and events with customers to keep them up-to-date. We recommend posting at least once per week. The good news is that you can use the same posts that you publish on your Facebook page. The cross-promotion of your social media posts is encouraged!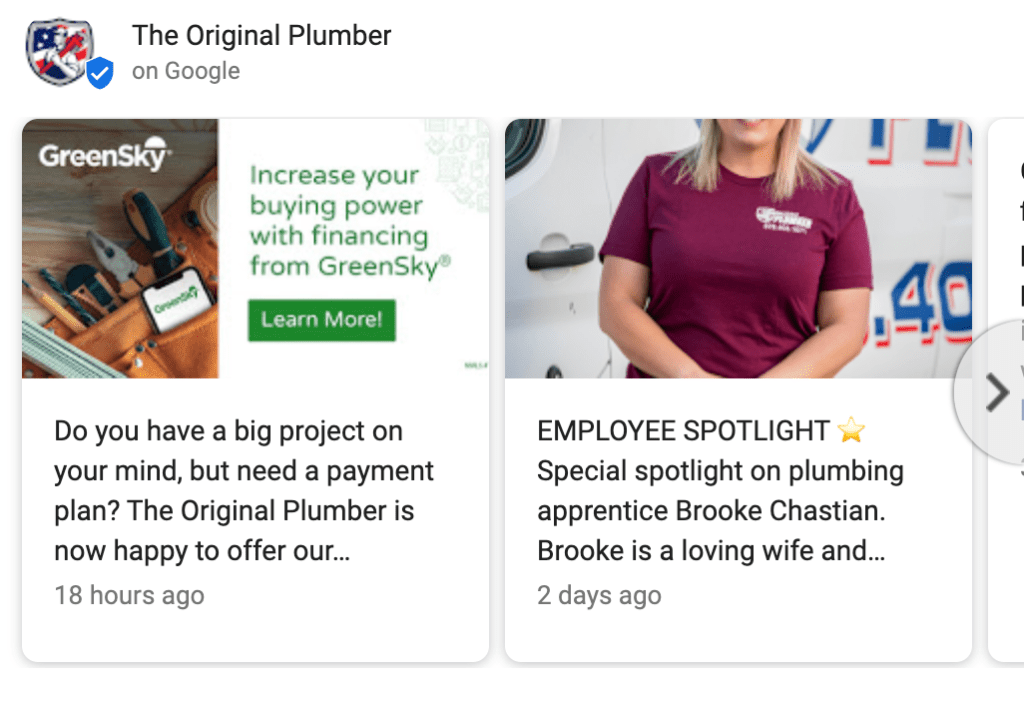 Respond to Google Reviews to Build Trust
You should be responding to all Google Reviews to build consumer trust. Did you know that 79% of consumers trust online reviews just as much as recommendations from friends and family?
It's important to respond to all reviews, even negative ones. Knowing how to respond to a negative review in a customer-centric way can make or break your first impressions. Small business owners should take care to encourage customers to leave honest reviews.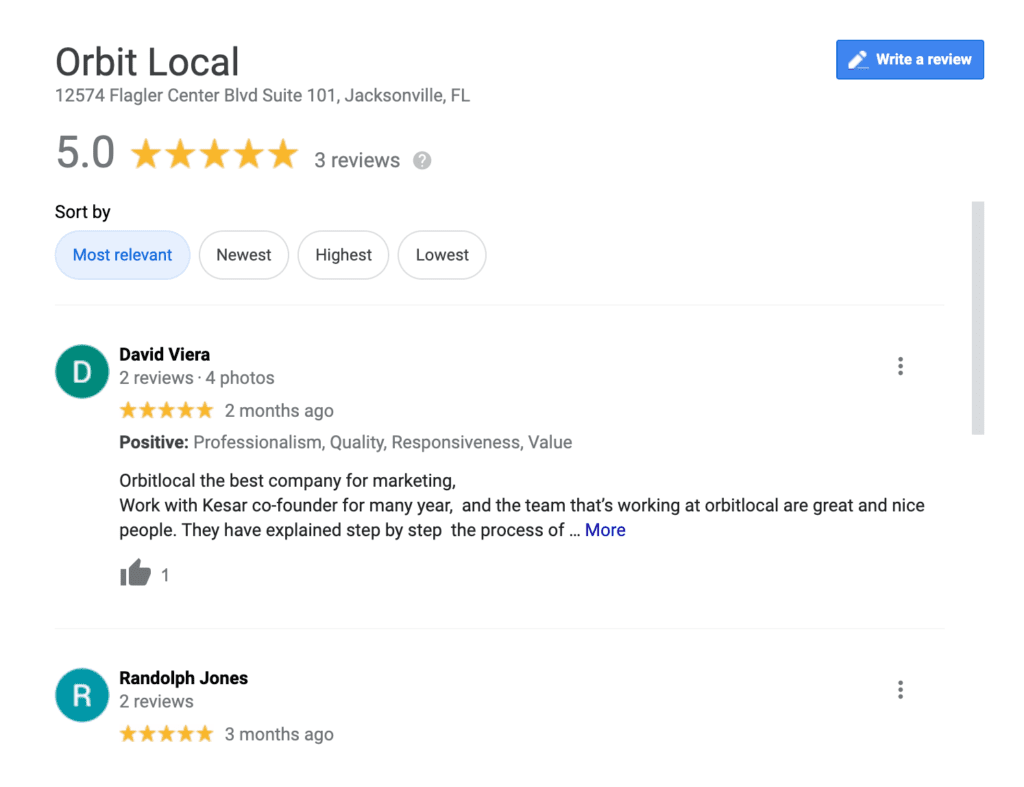 Plus, Google reviews do impact your SEO! This is because reviews help build credibility, an important ranking factor. This is true for both positive reviews and negative ones.
Let Us Do The Work For You
Running your own business takes a lot of time and work. And if you don't have your own marketing crew, setting up a Google Business Profile page can feel like just one more chore. At Orbit Local, our team of digital marketing experts will handle all of the work for you.
Our Google Business Profile optimization services are all-inclusive. If you don't have a Google Business Profile profile, our team will create or claim and verify your business listing.
What Google Business Profile Optimization Services Include
We'll make sure your Google Business Profile listing is fully optimized and includes keyword-rich, engaging content designed to boost your leads. We're a data-driven company, so you'll get analytics reports to see exactly how our efforts are working.
No website? No problem! Our team can help you set up the free website that comes with your Google Business Profile listing. And if you decide you want your own site for real, we can help with that, too.
Contact us today for a free consultation! All of our plans are customized to your business needs. Get started today!