Remember Space Jam? You know, the live-action animation hybrid movie starring Michael Jordan, Danny DeVito, and the Looney Tunes crew? Bugs Bunny, Daffy Duck, Tweety Bird, Elmer Fudd, Foghorn Leghorn, and Sylvester the cat. It's basically the Who Framed Roger Rabbit of the '90s.
Children's movies aren't short on life lessons, but few can share insights beneficial for entrepreneurs. Sure, MJ's success is nothing short of amazing – both on and off the court – but his experience with the Looney Tunes in outer space has a lot to share.
So, let's take a look at the life lessons small- and medium-sized businesses (SMBs) can learn from these Space Jam quotes. But first, a quick refresher for those who've not seen the movie.
Swackhammer, an evil alien theme park owner, sends minions to Earth to kidnap the Looney Tunes so they can become an attraction at his theme park, Moron Mountain. MJ is transported through the golf hole to help support the Tunes in a game of hoops.
Lesson 1: Excellent Customer Service Is the Essence of Good Business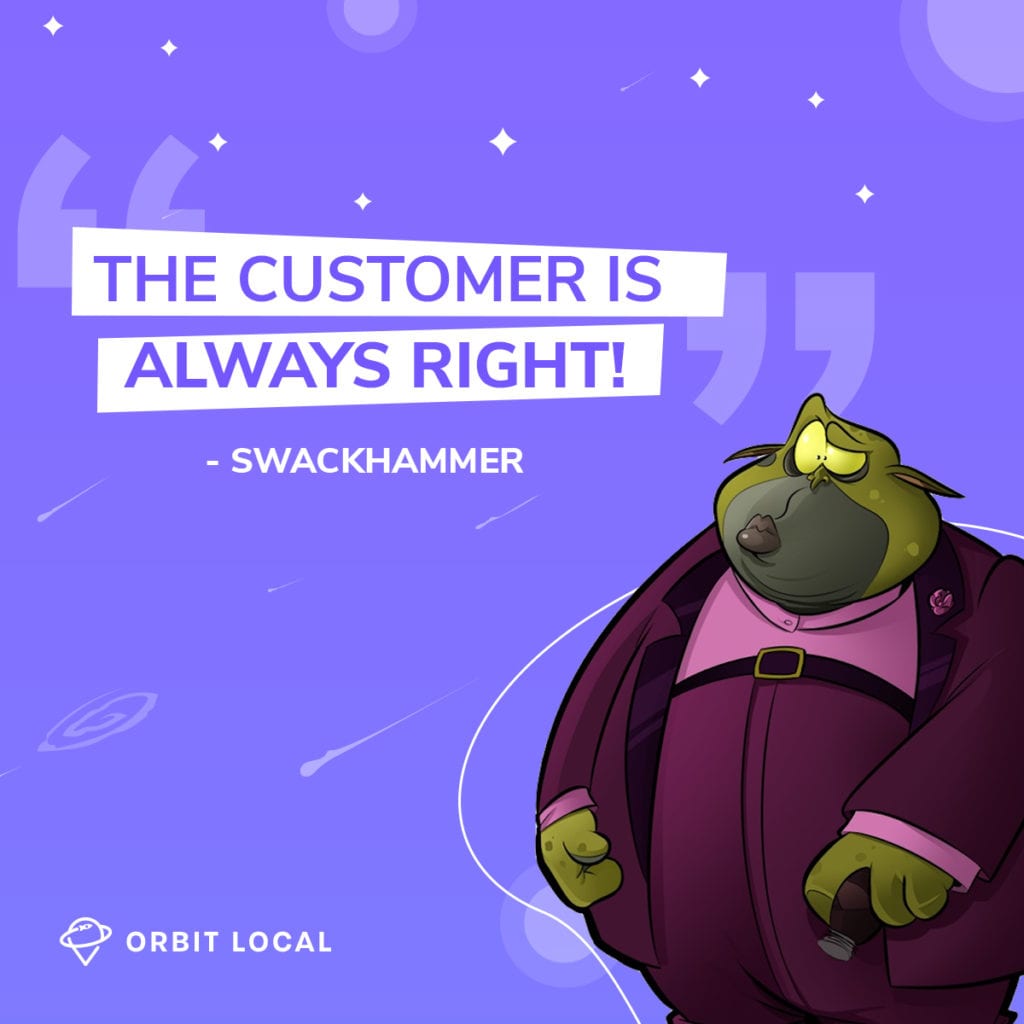 "The customer is always right" is a phrase pioneered by Harry Gordon Selfridge, John Wanamaker, and Marshall Field. The two men were successful retailers and learned early in their careers that their stores' success depended on their customers' happiness. Happy customers spread positive word-of-mouth advertising.
However, do not take the phrase literally; the term wasn't intended to mean the customer is always right in every situation. Instead, it's meant to emphasize the value of a customer. Your customers are special and worth listening to when they have a problem.
Therefore, be thoughtful in your approach to your customer's experience as it will go a long way to serving your business well.
After Swackhammer decides the Looney Tunes would be the perfect addition to his amusement park, he sends his alien gang, the Nerdlucks, to Earth to kidnap the Looney Tunes.
Bugs Bunny tricks them into agreeing to a friendly basketball game to win their freedom. His analysis of his opponents helps him ensure the Looney Tunes' fate.
Lesson 2: Analyze Your Competitors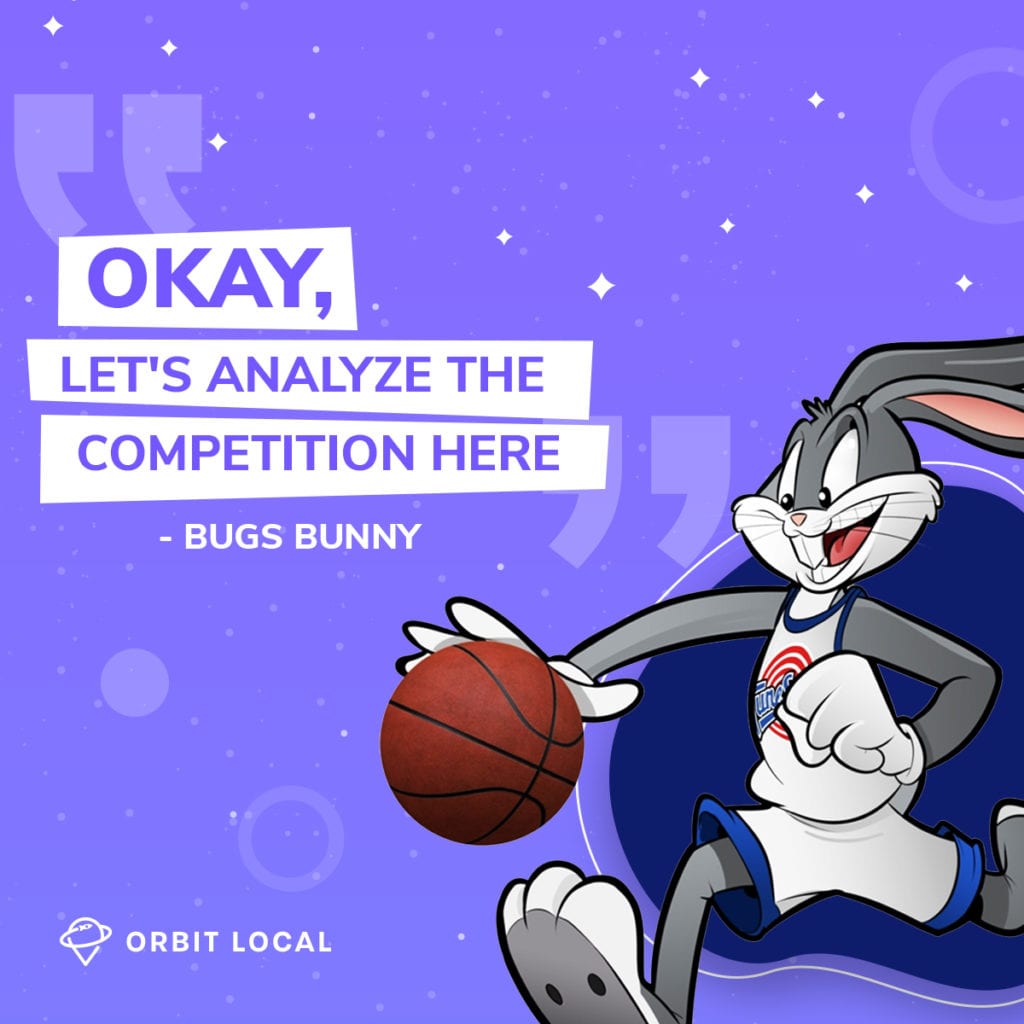 By analyzing competitors, you can identify and understand your competitors' strengths and weaknesses in relation to yours. Furthermore, this can help you develop effective business strategies in your target market to stay ahead of your competitors.
However, Bugs Bunny's plan backfires when the aliens steal the "talent" from NBA basketball players Larry Bird, Muggsy Bogues, Patrick Ewing, and Charles Barkley from "3-D land" (as reality is known in the movie) and become the Monstars – the Mean Team.
That's when Bugs Bunny calls on the aid of Michael Jordan.
Lesson 3: Be Willing to Admit Your Shortfalls and Ask for Help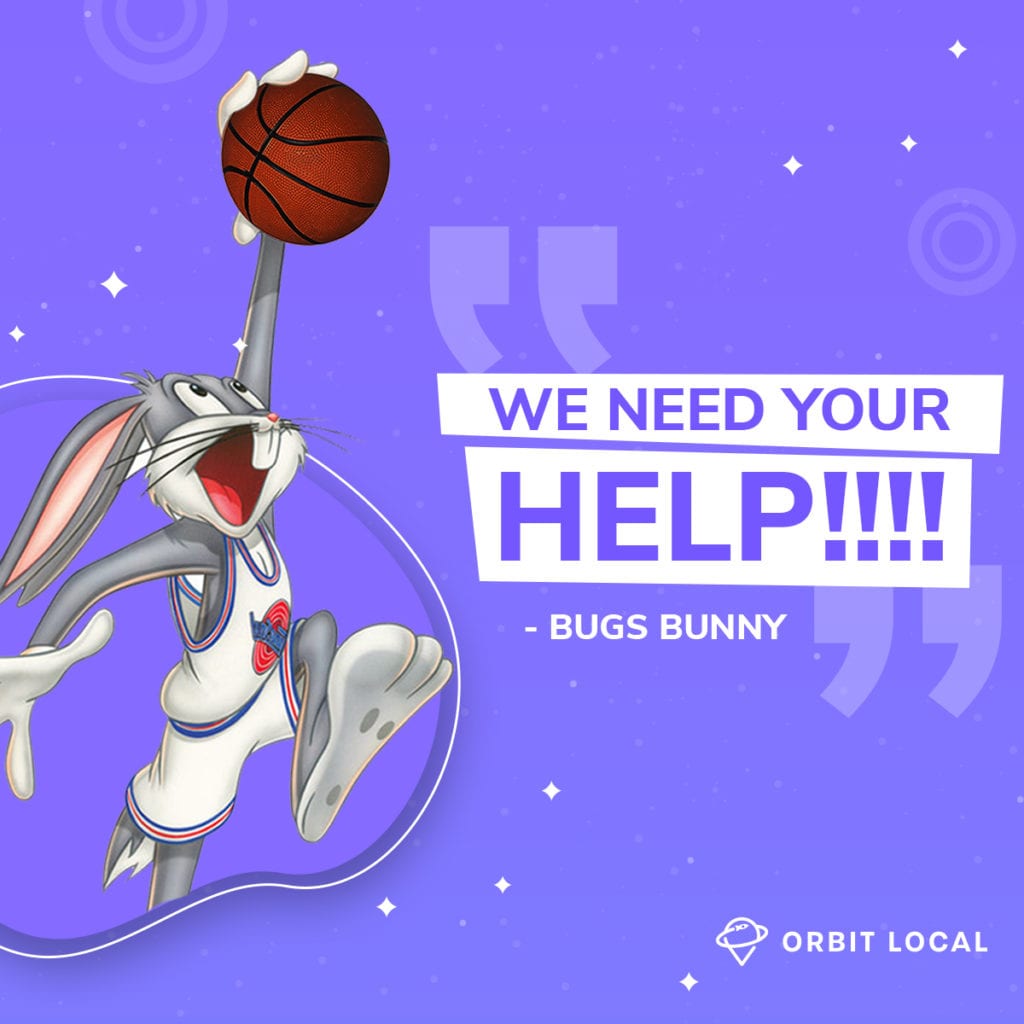 While asking for help may seem complicated and chip away at that stubborn portion of your ego, asking for help can get you better results. Having the support and asking for advice gives you fresh ideas and a new perspective in solving problems, making your business more successful. Diversity of thought leads to creative collaboration.
Without the self-awareness and willingness to ask for help, your chances of success are lowered. That's why Bugs Bunny went to MJ for help. It gave them a better chance of winning against the dream team.
Now, the big game takes place.
Lesson 4: Excellence Is a Learned Habit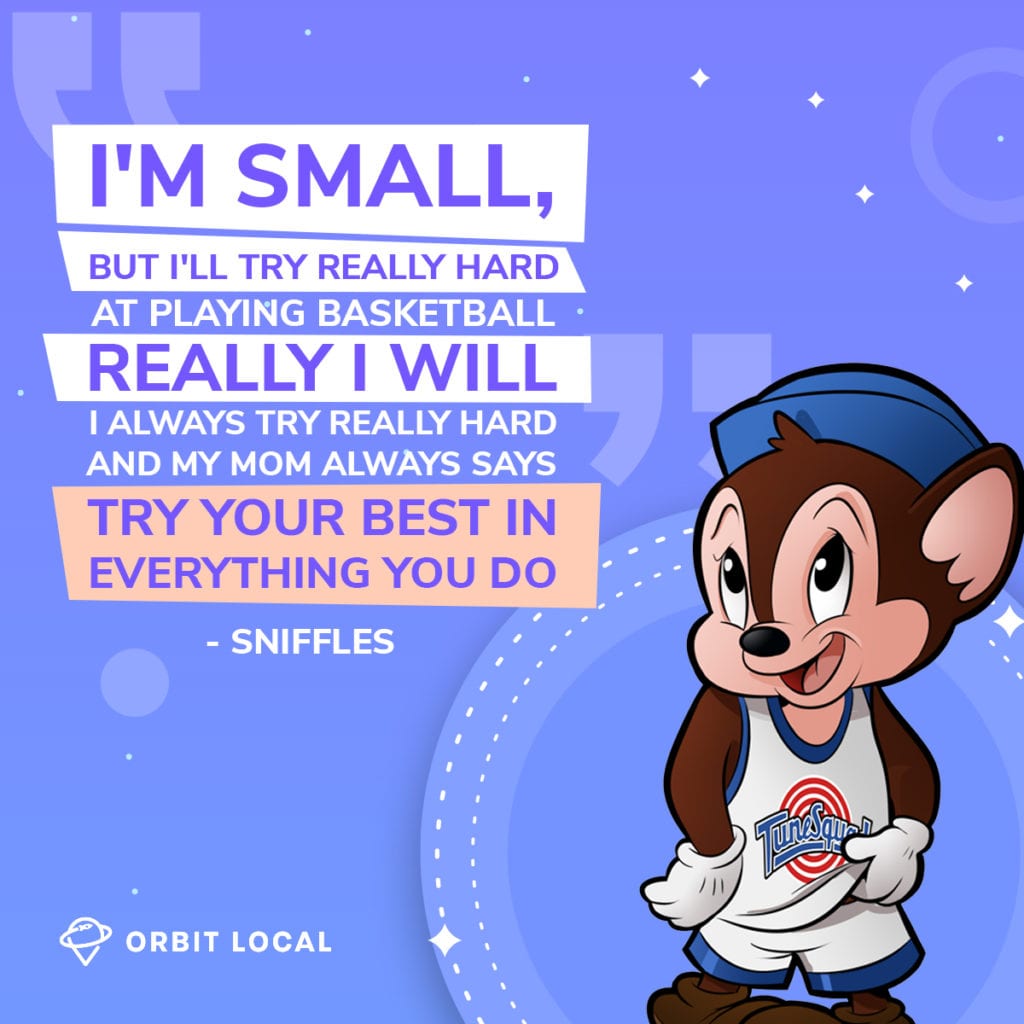 To do your best means to try your hardest. Striving for excellence helps you develop confidence and improve your skills. That makes way for a better you; a better you means a better business. Ever heard the saying, "practice makes perfect?"
At half-time, the Nerdlucks are clearly in the lead, and the Looney Tunes are ready to quit. Yet, as a true leader, MJ gives the team an inspiring pep talk to get their morale back up.
Lesson 5: Quitters Never Win, Winners Never Quit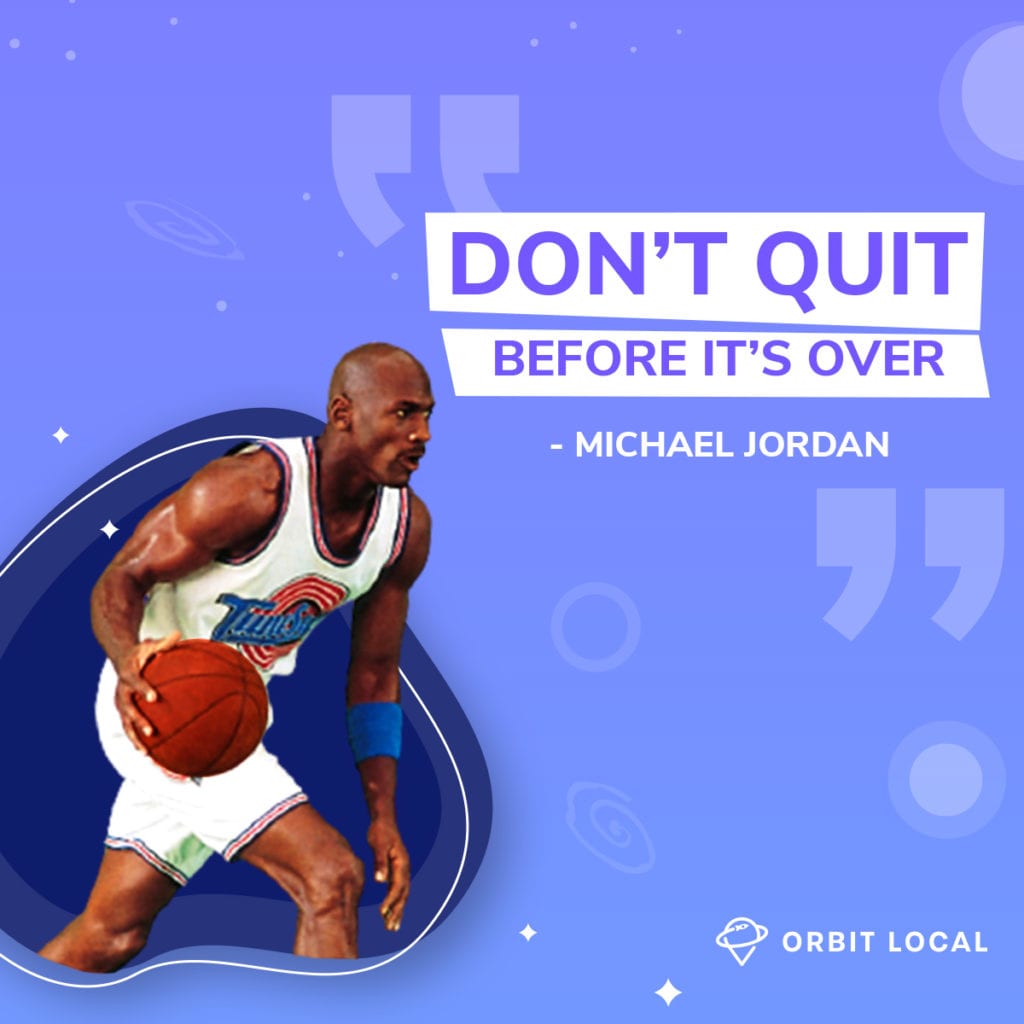 Never quit when the going gets tough. Achieving goals never happens linearly. If you haven't reached your business goals yet, keep working towards them and reevaluate if they are the right goals. Have a relentless commitment to keep going and persevere. If you do, you'll find a way to win (succeed). But if you quit, you won't.
Even though MJ hadn't played basketball in a few years and was worried he'd lost his edge, he still pushed forward. And he boosted his team's morale to keep everyone motivated to the end.
Lesson 6: Teamwork Makes the Dream Work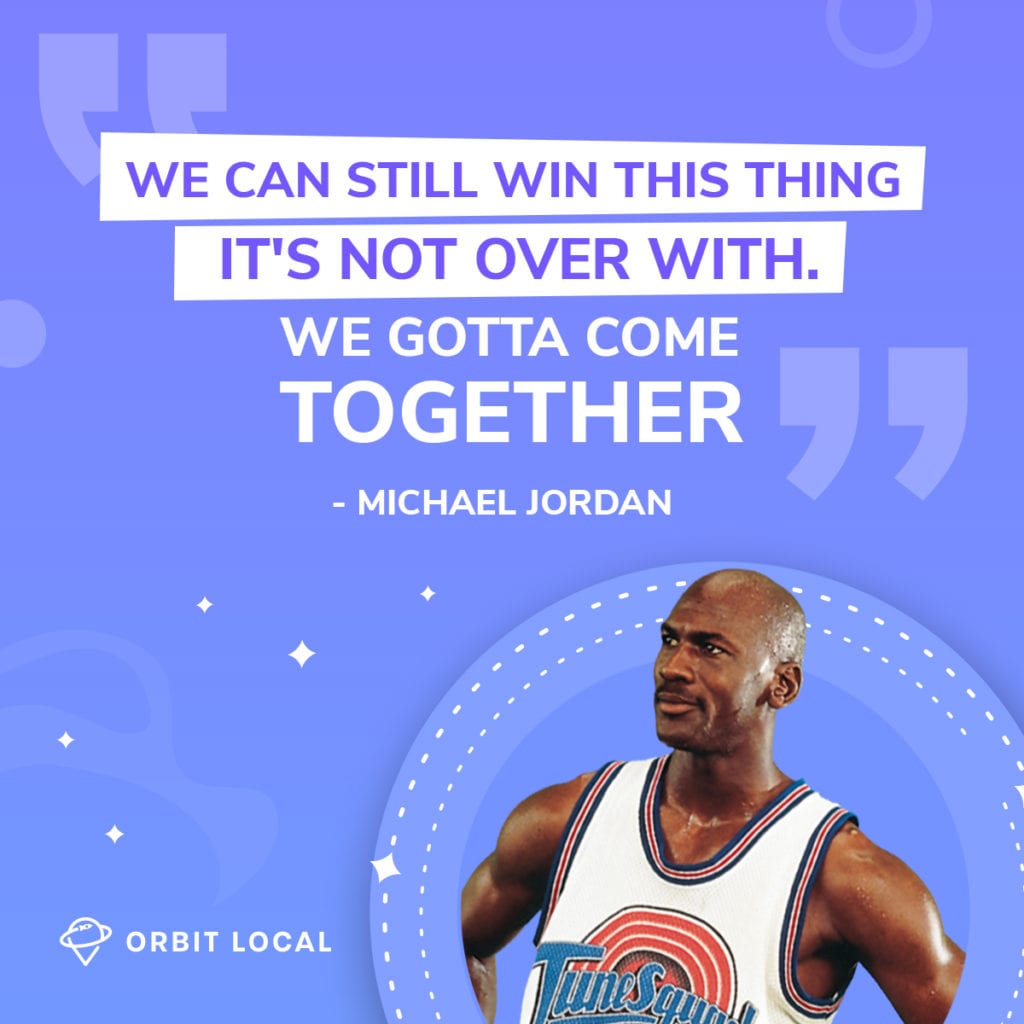 Business owners are leaders, and great leaders provide a clear vision for their team.
In today's economy, most jobs involve interacting with others that are not even in the same profession line. Therefore, the need for effective teamwork is critical for any business. Simultaneously performing as an individual and with your colleagues or employees in an effective partnership is key to attaining growth and success.
Lesson 7: Believe in Yourself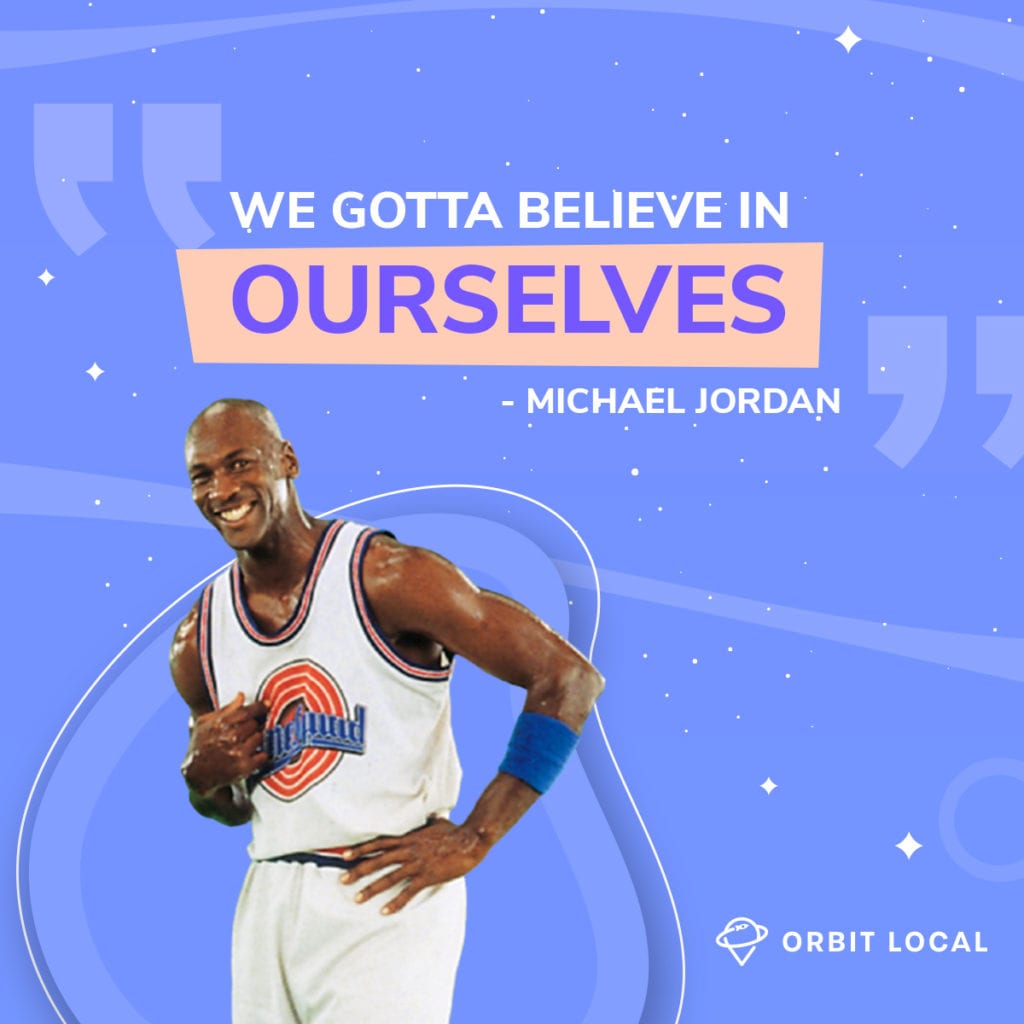 Being resilient is a staple of any good entrepreneur. The road to success can be long. Continue to have faith in your business, and don't give up. As a leader, you set the tone for your organization. The team will work as hard as you do.
If you don't take the shot, you'll definitely miss it. And if you don't believe in yourself, your team will struggle to believe in themselves, too.
Lesson 8: Have the Courage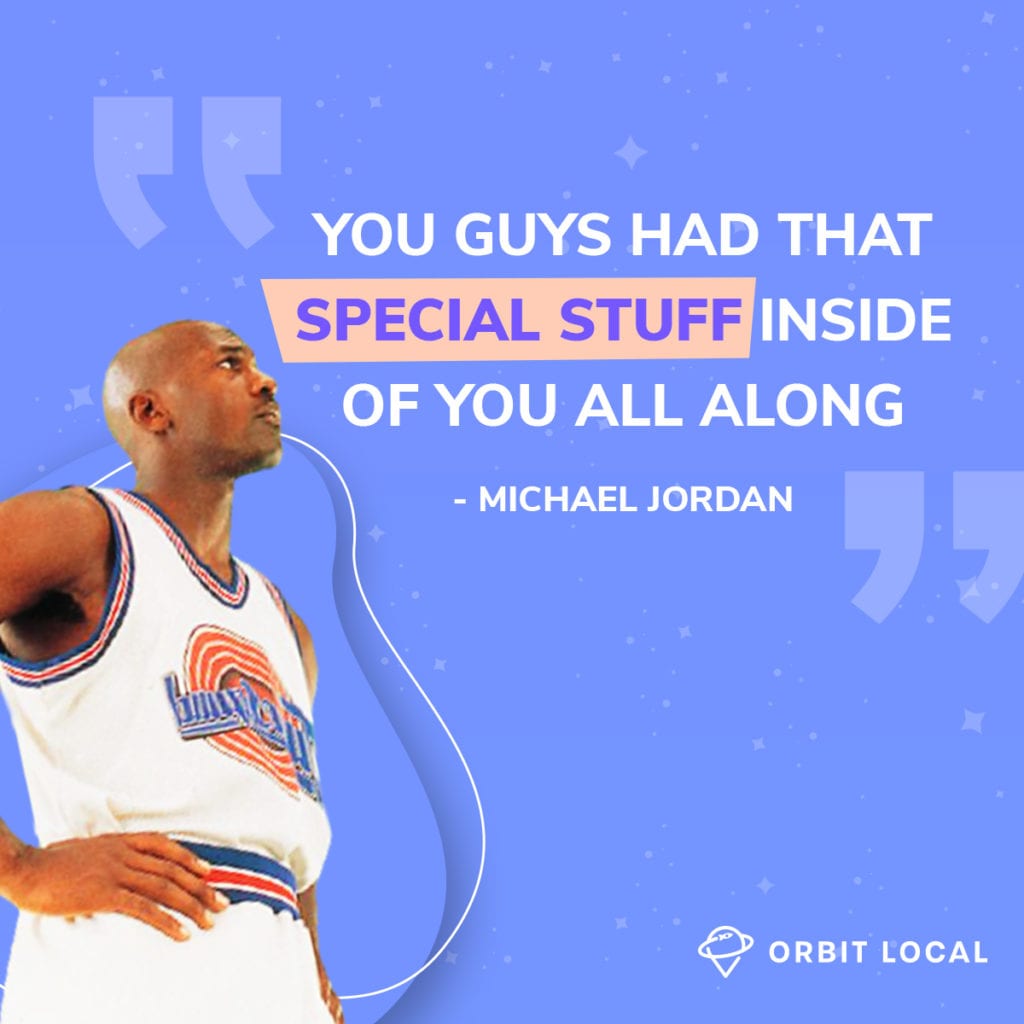 Michael's secret stuff that Bugs Bunny gives to the team before the second half to encourage them was only water. MJ lets them believe the drink gave them his special abilities, but later, he explains that the "special stuff" is within them.
So,
Lesson 9: Dream Big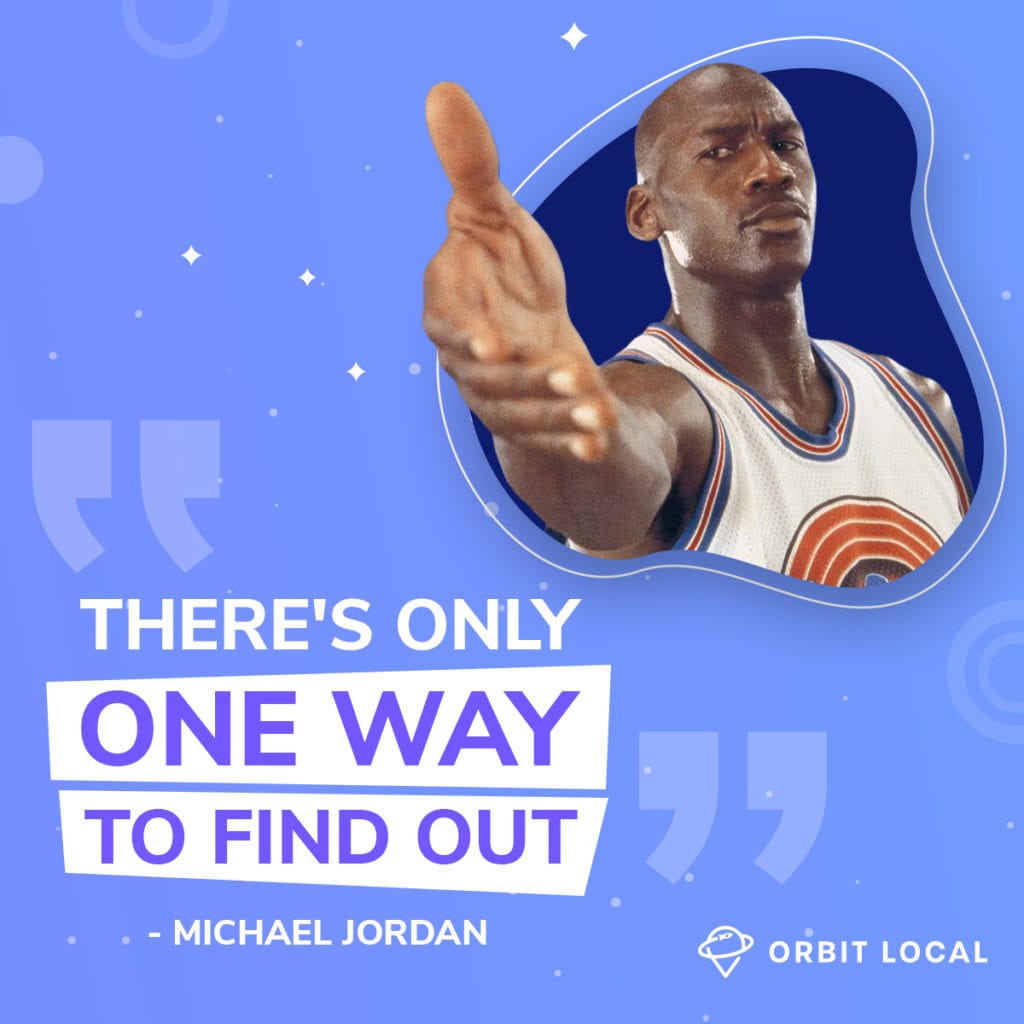 Stan Podolak: Michael, do you hear them? I don't think you can play the game anymore.
After spending three years away from basketball, as a baseball player, the future Hall-of-Famer came back to the league. And the Chicago Bulls welcome back Michael Jordan!
You don't know unless you try. So you want to be the CEO of a Fortune 500 company, play in the NBA or successfully run your own business? You'll never know what you can do unless you try. The sky's the limit!
Bottom line: If You Want to Be like Mike, Reach for the Stars
The iconic Space Jam song, I Believe I Can Fly, won three Grammy Awards and is ranked #406 on Rolling Stone's list of the 500 Greatest Songs of All Time.
"If I can see it, then I can do it.
If I just believe it, there's nothing to it.
I believe I can fly."
Your only limitation is the one you set for yourself. But if you can see it, you can achieve it.
Just like the Looney Tunes did, as the team went on to win the game, with MJ's help, of course.
Being a great leader, entrepreneur, or business owner takes courage, confidence, resilience, commitment, and the willingness to achieve.
So,
"C'mon..! It's game time! Get your Hanes on, lace up your Nikes, grab your Wheaties and your Gatorade, and we'll pick up a Big Mac on the way to the ballpark." -Stan Podolak
A sequel, Space Jam: A New Legacy starring LeBron James is scheduled for release on July 16, 2021, in theaters and on HBO Max. Will we find any more nuggets of business wisdom? We'll have to wait and see!